Metabolic regulation by p53 family members.
Bottom Line: The function of p53 is best understood in response to genotoxic stress, but increasing evidence suggests that p53 also plays a key role in the regulation of metabolic homeostasis. p53 and its family members directly influence various metabolic pathways, enabling cells to respond to metabolic stress.These functions are likely to be important for restraining the development of cancer but could also have a profound effect on the development of metabolic diseases, including diabetes.A better understanding of the metabolic functions of p53 family members may aid in the identification of therapeutic targets and reveal novel uses for p53-modulating drugs.
Affiliation: The CR-UK Beatson Institute, Glasgow G61 1BD, Scotland, UK.
Show MeSH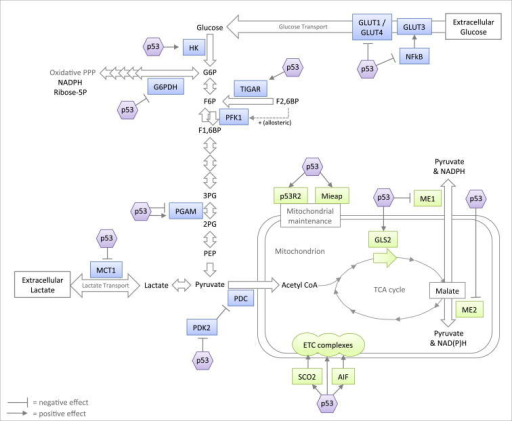 © Copyright Policy
License
getmorefigures.php?uid=PMC3824073&req=5
Mentions: p53 regulates both glycolysis and oxidative phosphorylation and also modulates PPP activity (Figure 3). True to its role as a tumor suppressor, p53 has been described to counteract the Warburg effect by dampening aerobic glycolysis and promoting oxidative phosphorylation through multiple mechanisms. Phosphofructose kinase 1 (PFK1), which catalyzes the third step of the glycolytic pathway, is allosterically regulated by various metabolites in the glucose metabolism pathways. Metabolites such as ATP, citrate, and lactate, which indicate an adequate supply of energy, directly inhibit PFK1, whereas PFK1 can be activated by AMP and fructose-2,6-bisphosphate (F2,6BP). p53 plays a critical role in this pathway by inducing the expression of TP53-induced glycolysis and apoptosis regulator (TIGAR), which acts as a phosphatase that degrades F2,6BP and thereby decreases the activity of PFK1. Hence, p53, via TIGAR, lowers the glycolytic rate and would be predicted to promote the diversion of glycolytic intermediates into the PPP (Li and Jogl, 2009; Bensaad et al., 2006). Other glycolytic enzymes are also inhibited by p53 (Figure 3). In fibroblasts, protein levels of phosphoglycerate mutase (PGAM), which catalyzes the conversion of 3-PG to 2-PG, are downregulated by p53 (Kondoh et al., 2005). p53 also negatively regulates the expression of pyruvate dehydrogenase kinase 2 (PDK2), which inactivates the pyruvate dehydrogenase complex (PDC), a protein that converts pyruvate to acetyl-CoA. Hence, p53 activates PDC, thereby favoring the production of acetyl-CoA at the expense of lactate production (Contractor and Harris, 2012). In addition to regulating glycolytic enzymes, p53 decreases intracellular glucose levels by inhibiting glucose uptake. The expression of the glucose transporters GLUT1 and GLUT4 is directly downregulated by p53 (Schwartzenberg-Bar-Yoseph et al., 2004), whereas p53 can also modulate the NF-κB pathway in order to regulate glycolytic flux (Kawauchi et al., 2008b). Although p53 enhances the DNA-binding activity of NF-κB, it also suppresses its transcriptional activity by inhibiting the activity of IKKβ (Kawauchi et al., 2008a, 2009). The net result of these opposing p53 activities appears to be the inhibition of NF-κB activity, which results in decreased GLUT3 expression (Kawauchi et al., 2008b). Furthermore, the repression of monocarboxylate transporter 1 (MCT1) expression by p53 prevents the efflux of lactate under hypoxic conditions, which also dampens glycolytic rates (Boidot et al., 2012). However, some of the described activities of p53 seem to enhance rather than inhibit glycolysis. For example, the promoters of both PGAM and hexokinase II (HKII, which catalyzes the first step of glycolysis) contain p53-responsive elements (Mathupala et al., 1997; Ruiz-Lozano et al., 1999). The exact mechanisms underlying these apparently opposing p53 activities are largely unknown. To some extent, the regulation of the glycolytic pathway by p53 is likely to be tissue- and context-dependent (Vousden and Ryan, 2009; Maddocks and Vousden, 2011). Indeed, a muscle-specific isoform of PGAM is transcriptionally activated by p53 in cardiocytes (Ruiz-Lozano et al., 1999), which is in contrast to the p53-dependent destabilization of PGAM protein in fibroblasts (Kondoh et al., 2005). Opposing p53 responses have also been reported in the p53-dependent regulation of the PPP. The simultaneous activation of hexokinase II and inhibition of PFK-1 (via the expression of TIGAR) would lead to an increased flux into the PPP. In contrast, p53 was recently described to inhibit the diversion of glycolytic intermediates into the PPP by binding and inhibiting G6PDH, the enzyme that catalyzes the first and rate-limiting step of the PPP. These seemingly contradictory roles of p53 in regulating the PPP most likely reflect, at least in part, the differential p53 response to different types of stress. Oxidative stress necessitates the upregulation of PPP activity in order to increase NADPH production and support the antioxidant response, and TIGAR has indeed been shown to be critical in protection against oxidative stress (Bensaad et al., 2006), metabolic stress (Bensaad et al., 2009; Wanka et al., 2012), and hypoxia (Cheung et al., 2012). TIGAR-deficient mice are more sensitive to acute intestinal injuries, and the growth defects of TIGAR- cells can be rescued by ROS scavengers and nucleotides (Cheung et al., 2013). On the other hand, by downregulating PPP activity in developing cancer cells, p53 may counteract the production of the building blocks that are critical for growth and proliferation and thereby hinder tumor development.