Metabolic regulation by p53 family members.
Bottom Line: The function of p53 is best understood in response to genotoxic stress, but increasing evidence suggests that p53 also plays a key role in the regulation of metabolic homeostasis. p53 and its family members directly influence various metabolic pathways, enabling cells to respond to metabolic stress.These functions are likely to be important for restraining the development of cancer but could also have a profound effect on the development of metabolic diseases, including diabetes.A better understanding of the metabolic functions of p53 family members may aid in the identification of therapeutic targets and reveal novel uses for p53-modulating drugs.
Affiliation: The CR-UK Beatson Institute, Glasgow G61 1BD, Scotland, UK.
Show MeSH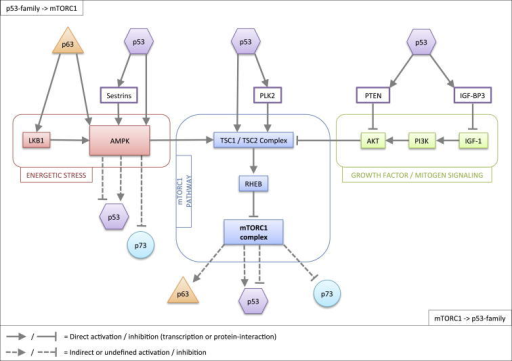 © Copyright Policy
License
getmorefigures.php?uid=PMC3824073&req=5
Mentions: The mTOR protein is an important positive regulator of cell growth and proliferation that can influence the development of diabetes, aging, and cancer (Zoncu et al., 2011). mTOR forms two multimeric protein complexes, each with distinct functions (Laplante and Sabatini, 2009). The mTORC1 complex (consisting of mTOR, Deptor, mLST8 [GβL], PRAS40, and Raptor) has been studied extensively. Its downstream effectors control cell growth and energy metabolism by regulating protein translation and synthesis, mitochondrial biogenesis, lipid synthesis, and autophagy (Howell and Manning, 2011). The functions of mTORC2 (consisting of mTOR, Deptor, mLST8 [GβL], Rictor, Sin1, and Protor-1) are less well defined but include the regulation of the cytoskeleton (Jacinto et al., 2004) and cell survival (Berchtold and Walther, 2009). mTORC1 is active in the presence of both adequate growth conditions (the availability of nutrients, oxygen, and energy) and mitogens that positively signal for cell division. Conversely, mTORC1 is inhibited by the absence of nutrients or adequate growth conditions and by cellular stresses, which can introduce genomic damage during the process of cell division (Sengupta et al., 2010). Consequently, a number of important signaling pathways converge on and coregulate mTORC1 activity (Figure 2), including the IGF/AKT/PI3K growth-factor-signaling pathway and the p53 stress-signaling pathway. The presence of nutrients and energy can be sensed by mTORC1 via various mechanisms. For example, energetic stress signals to mTORC1 via the cellular fuel sensor AMPK. The activation of AMPK (in response to an increase in the AMP to ATP ratio) exerts an inhibitory effect on mTORC1 (Hardie et al., 2012) and coordinates activities that allow cells to adapt to metabolic stress. mTORC1 can also be activated in an amino-acid-dependent manner. The presence of amino acids stimulates the recruitment of mTORC1 to the late endosomal and lysosomal compartments, which enables mTORC1 to interact with sensors of growth factor signaling (Zoncu et al., 2011). By integrating amino acid sensing with growth factor signaling, this mechanism ensures that mTORC1 is only activated in the presence of both.