Metabolic regulation by p53 family members.
Bottom Line: The function of p53 is best understood in response to genotoxic stress, but increasing evidence suggests that p53 also plays a key role in the regulation of metabolic homeostasis. p53 and its family members directly influence various metabolic pathways, enabling cells to respond to metabolic stress.These functions are likely to be important for restraining the development of cancer but could also have a profound effect on the development of metabolic diseases, including diabetes.A better understanding of the metabolic functions of p53 family members may aid in the identification of therapeutic targets and reveal novel uses for p53-modulating drugs.
Affiliation: The CR-UK Beatson Institute, Glasgow G61 1BD, Scotland, UK.
Show MeSH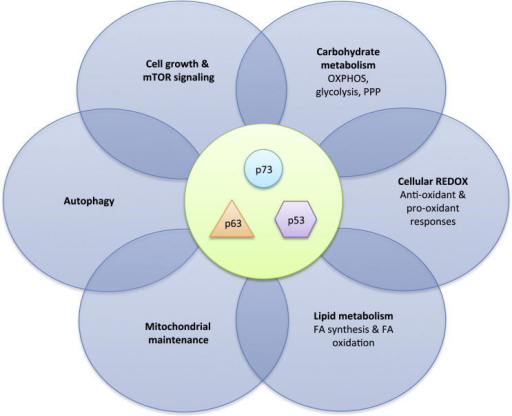 © Copyright Policy
License
getmorefigures.php?uid=PMC3824073&req=5
Mentions: The transcription factor p53 is best known for its role as a tumor suppressor, and a wealth of evidence underscores the importance of p53 in inhibiting cancer development (Vousden and Prives, 2009). Mice lacking p53 are prone to the development of early-onset spontaneous tumors (Donehower et al., 1992). In most human cancers, p53 function is lost (Hollstein et al., 1991), whereas patients that inherit one mutant TP53 allele display an enormously increased cancer risk, a condition known as Li-Fraumeni syndrome (Varley, 2003). As a key component in the cellular response to stress, p53 is activated by numerous intrinsic and extrinsic stress signals, including genotoxic damage, oncogene activation, loss of normal cell contacts, and nutrient or oxygen deprivation—many of which may be encountered during malignant transformation (Horn and Vousden, 2007). The outcome of the p53-mediated stress response depends on cell type and context as well as the extent, duration, and origin of the stress. Severe or sustained stress accompanied by irreversible damage, such as extreme genotoxic damage or the activation of oncogenes, results in the induction of cell death or senescence. Such responses effectively eliminate the affected cells, thus limiting the inappropriate accumulation of cells with heritable genomic damage and inhibiting malignant development. On the other hand, mild stress results in a subtler p53 response consistent with repairing or preventing damage. In such cases, p53 may engage antioxidant responses in order to decrease ROS levels or participate in DNA damage repair processes while inducing a transient cell-cycle arrest, thereby allowing cells to survive safely until the damage has been resolved. Transient metabolic stresses—such as fluctuations in oxygen or nutrient availability—also trigger a more adaptive response, in which p53 induces metabolic remodelling and promotes catabolism, while coordinating a decrease in proliferation and cell growth (Figure 1) (Jones et al., 2005; Scherz-Shouval et al., 2010; Maddocks et al., 2013). These metabolic functions of p53 are emerging as important components of the p53 response that not only aid in maintaining normal cellular homeostasis but also contribute to the control of tumor development. The mechanisms through which p53 is activated by metabolic and other stress signals are complex and have been reviewed elsewhere (Kruse and Gu, 2009). Once activated, p53 primarily exerts its functions by acting as a transcription factor, regulating the expression of both genes and microRNAs (miRNAs). p53 has also been reported to possess cytosolic functions. For example, cytoplasmic p53 has been reported to inhibit autophagy (Tasdemir et al., 2008; Morselli et al., 2009; Maiuri et al., 2010), interact with Bcl2 family members to promote apoptosis (reviewed in Green and Kroemer, 2009), promote necrosis by opening the mitochondrial permeability transition pore (Vaseva et al., 2012), and regulate glucose metabolism by binding to glucose-6-phosphate dehydrogenase (G6PDH) (Jiang et al., 2011). Hence, the outcome of p53 activation is complicated, and cell-fate decisions are mediated by transcription-dependent and -independent responses that can vary according to the level and posttranslational modifications of p53 and its interaction with other proteins, including other transcription factors (we will return to this theme later).