Dominance of P/Q-type calcium channels in depolarization-induced presynaptic FM dye release in cultured hippocampal neurons.
Bottom Line: Analysis of the release kinetics and the fractional release amplitude demonstrate that, whereas in only 15% of the synapses release depended exclusively on P/Q-type channels, the majority of synapses (85%) contained both N- and P/Q-type channels.Nevertheless, the kinetics of FM dye release in synapses containing both channel types was determined by the P/Q-type channels.Together, our data suggest a more direct coupling of P/Q-type channels to synaptic release compared to N-type channels, which may explain the high prevalence of neurological P/Q-type channelopathies.
Affiliation: Division of Physiology, Medical University Innsbruck, Fritz-Pregl-Str. 3, 6020 Innsbruck, Austria.
Show MeSH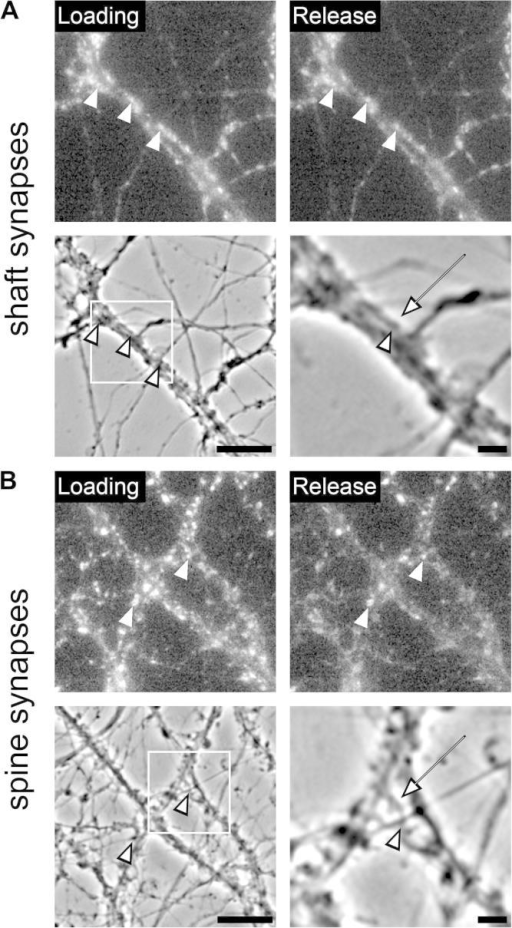 © Copyright Policy
License
getmorefigures.php?uid=PMC3824072&req=5
Mentions: To understand which of the two types of presynaptic Ca2+ channels are involved in high potassium-mediated synaptic release in cultured hippocampal neurons, we characterized the individual or combined application of the N- and P/Q-type channel blockers CTx and Aga, respectively. If both channels are involved, we would expect release to be reduced according to the relative contribution of the channel (Wheeler et al., 1994). However, we identified that P/Q-type channels determined FM dye release kinetics, which is supported by three lines of evidence. First, single application of Aga shifted the release properties (Rf) of the entire population of synapses (Fig. 4C, D). Second, blocking only N-type channels did not alter mean release kinetics and Rf (Fig. 3D, E). Third, Aga treatment alone induced a complete block of approximately 15% of synapses (Fig. 4D) while none of the synapses were blocked by CTx (Fig. 4B, D). The dependence of the release kinetics on P/Q-type channels is also in agreement with previous studies on neurotransmission in central glutamatergic neurons (Luebke et al., 1993; Kimura et al., 1995; Harvey et al., 1996; Ahmed and Siegelbaum, 2009). While kinetics was determined by P/Q-type channels, the majority of synapses also contained N-type channels. This is evident by the fact that the Rf value distribution of the entire synapse population is strongly left-shifted if CTx is applied together with Aga in comparison with the Aga-only condition (Fig. 4C). Thus, our study supports a model according to which the N- and P/Q-type channel distribution across the majority of synapses in cultured hippocampal neurons is non-uniform (Reid et al., 2003). However, it also revealed a small portion of synapses (15%) with segregated P/Q-type channel dependence. This segregated population could belong to a subset of randomly distributed synapses throughout all neurons, or it could indicate a preferential association of P/Q-type-only synapses with a special type of neuron. We have previously shown that cultured mouse hippocampal neurons consist of 90% glutamatergic and 10% GABAergic neurons (Obermair et al., 2003). Thus, a primary association of P/Q-type-only synapses with GABAergic neurons is feasible and has previously been reported (Bucurenciu et al., 2010). GABAergic synapses are typically located directly along the shafts of dendrites, while glutamatergic synapses are positioned at a slight distance to the dendritic shaft, preferentially terminating on dendritic spines (Obermair et al., 2003). Indeed, exemplary post hoc identification of synapses with P/Q-type channel-dependence revealed that some of these blocked synapses were located along the dendritic shaft, a localization indicative for GABAergic synapses (Fig. 5A). However, we also observed P/Q-only synapses being located juxtaposed to the dendritic shaft and terminating on dendritic spines (Fig. 5B), as is expected for glutamatergic synapses. Together this suggests the existence of a minor population of P/Q-channel-only synapses among both, GABAergic and glutamatergic synapses.