Dominance of P/Q-type calcium channels in depolarization-induced presynaptic FM dye release in cultured hippocampal neurons.
Bottom Line: Analysis of the release kinetics and the fractional release amplitude demonstrate that, whereas in only 15% of the synapses release depended exclusively on P/Q-type channels, the majority of synapses (85%) contained both N- and P/Q-type channels.Nevertheless, the kinetics of FM dye release in synapses containing both channel types was determined by the P/Q-type channels.Together, our data suggest a more direct coupling of P/Q-type channels to synaptic release compared to N-type channels, which may explain the high prevalence of neurological P/Q-type channelopathies.
Affiliation: Division of Physiology, Medical University Innsbruck, Fritz-Pregl-Str. 3, 6020 Innsbruck, Austria.
Show MeSH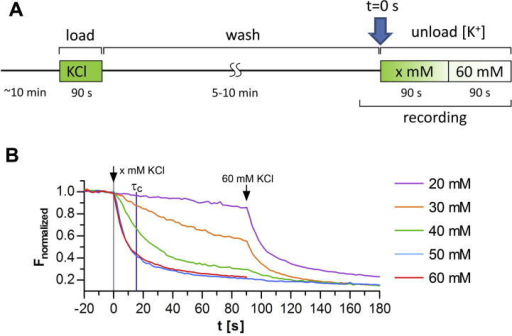 © Copyright Policy
License
getmorefigures.php?uid=PMC3824072&req=5
Mentions: 18 mm cover glasses with cultured hippocampal neurons (days in vitro (DIV) 17–31) were mounted in a Ludin chamber in a modified tyrode solution (130 mM NaCl, 2.5 mM KCl, 2 mM CaCl2, 2 mM MgCl2, 10 mM HEPES, 30 mM glucose, 10 μM CNQX, 50 μM DL-AP5, pH 7.4 with NaOH). Distinct high KCl concentrations ([K+]) were generated by equimolar replacement of NaCl by KCl. Synaptic vesicles were loaded by bath perfusion of 60 mM [K+] Tyrode solution containing 15 μM FM1–43 for 90 s (Fig. 1A). After 5–10 min of continuous rinsing, synaptic release was induced by applying varying concentrations of [K+] through a microperfusion applicator for 90 s. After inducing FM dye release with varying [K+] the overall responsiveness of the synapses in all experiments was confirmed by a second depolarization step using 60 mM [K+], which resulted in a robust FM dye release independent of presynaptic N- and P/Q-type channels. Twelve-bit grayscale images were recorded at 0.5 Hz using an inverted Zeiss Axiovert 200 M epifluorescence microscope (Carl Zeiss Inc., Jena, Germany) equipped with a cooled CCD camera (SPOT; Diagnostic Instruments, Stirling Heights, MI, USA), Metavue image processing software (Universal Imaging, Corp., West Chester, PA, USA), and a 63 × 1.4 NA Zeiss Plan Apochromat oil immersion objective. Recordings were performed at 26 °C. For quantification of FM dye destaining, circular regions of interest (ROI, 3 × 3 pixels) were located manually over the center of FM dye fluorescence of spatially separated synapses. Their average intensity was measured using the ImageJ software package (Wayne Rasband, National Institutes of Health, Bethesda, MD, USA). The background-corrected intensity was normalized to the average intensity of the last five frames before initiation of high [K+] stimulation. The FM dye release curves of single synapses were fitted mono-exponentially from 2 to 90 s using Clampfit 10.2 (Molecular Devices, Downingtown, PA, USA). A successful mono-exponential fit was defined by positive values for amplitude (A), time constant (τ), and offset. Fits not fulfilling all criteria were excluded from further analyses. In order to obtain an additional and unbiased measure of release efficacy including all release traces (also the traces which did not fulfill the mono-exponential fitting criteria), we determined the fractional release (Rf) of each synapse in each condition. Rf is defined as the percentage of total release determined at the time constant (τ) of the respective control condition. Standard errors are in the order of 1% and lower and thus not presented in the release diagrams.