Proteome turnover in bacteria: current status for Corynebacterium glutamicum and related bacteria.
Bottom Line: With the advent of high-resolution mass spectrometry together with sophisticated data analysis and interpretation algorithms, determination of protein synthesis and degradation rates (i.e. protein turnover) on a proteome-wide scale by employing stable isotope-labelled amino acids has become feasible.These dynamic data provide a deeper understanding of protein homeostasis and stress response mechanisms in microorganisms than well-established 'steady state' proteomics approaches.Although the number of available case studies for Corynebacterium glutamicum and related actinobacteria is still very limited, our review illustrates the potential of protein turnover studies for an improved understanding of questions in the area of biotechnology and biomedicine.
Affiliation: Department of Plant Biochemistry, Ruhr-University Bochum, 44780, Bochum, Germany.
Show MeSH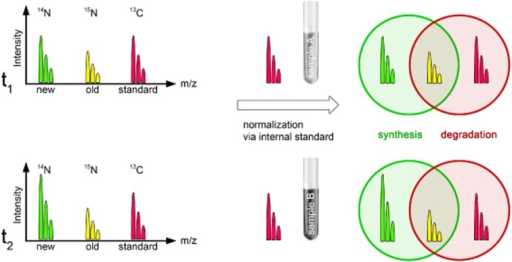 © Copyright Policy - open-access
License
getmorefigures.php?uid=PMC3815937&req=5
Mentions: Unsatisfied by existing platforms for bacterial protein turnover analysis and the lack of biological data, we put efforts into the development of a flexible multilabelling method that gives access to protein-turnover, de novo synthesis and degradation on the proteome scale for C. glutamicum (Trotschel et al., 2012). For the first time, it was now possible to examine protein synthesis and degradation separately in actinomycetes. To this end, C. glutamicum was cultivated in minimal medium with 15NH4Cl as sole nitrogen source. Incorporation of the heavy isotope was maintained until the maximal rate of protein synthesis was reached. At an enrichment rate of ≥ 98%, a 14N-Pulse was applied by a culture medium exchange. At this time-point newly synthesized proteins incorporated the light N-isotope, allowing for specific detection of 'old' (heavy) and 'new' (light) proteins. De novo protein synthesis could now be estimated by comparing the respective peak-ratios (see Fig. 1 for a description of the procedure). Concurrently, 13C-glucose was added to incorporate heavy carbon isotopes. The obtained protein sample was subsequently used as an internal standard to be added to pulse chase cultivations, allowing for the calculation of protein degradation using the 15N-peak as reference (Fig. 1). This 15N enriched synthesized protein could only be altered by means of degradation. The internet application QuPE (Albaum et al., 2009) was developed to calculate protein synthesis and breakdown, and also has the ability to securely store, statistically analyse and visualize obtained data, e.g. using cluster-analysis. Special care was taken with respect to the incorporation of heavy-N into newly synthesized protein. The initial 15N-pool will eventually be replaced but was initially incorporated into newly synthesized proteins as well. Verification was performed by combining labelled with unlabelled samples with defined 14N/15N ratios, allowing for exact calculation of incorporation rates. For a proof of principle, heat-stress was selected as well-characterized and experimentally controllable bacterial adaptation process. Corynebacterium glutamicum was cultivated at 30°C in the presence of the 15N-isotope and upon the transition into the exponential phase heat-stress was applied to one culture while simultaneously setting a 14N pulse to both. Next, samples were taken at 30, 60, 120 and 210 min and analysed with and without 13C internal standard. Apart from cytosolic protein, membrane proteins were analysed in-depth. In total, 805 proteins were identified (∼ 25% genome coverage), with 85% of these passing quantification criteria (698 proteins). Taken together, de novo synthesis is higher at 30°C as compared with 40°C, albeit that both cultivations had similar growth-rates. Hierarchical cluster analysis was used to identify co-regulated proteins. In total 36 clusters could be determined grouping, for example, several heat-shock-related proteins, ribosomal proteins, and ATPase subunits each into one cluster. The resulting cluster information is then used to calculate cluster-wide synthesis and degradation rates using linear or non-linear, respectively, regression (Fig. 2 and Fig. 3). Heat-shock protein synthesis was, as expected, upregulated at 40°C, with the majority of de novo synthesis taking place during the first 30 min following heat-stress application. For other proteins, synthesis at 40°C was significantly reduced, as for example for ATPase subunits (cluster 32 in Fig. 2). With respect to protein degradation at 30 and 40°C, rates for 158 and 156 proteins could be estimated respectively (Fig. 3). Subsequently, 79 and 93 proteins were degraded at 30 and 40°C, with thiol-disulfide isomerase and methionine synthase II showing enhanced degradation. Heat-shock, hence, resulted in significantly higher protein degradation rates, as shown previously (Araki, 1992) for other species, too.