Microbial alginate production, modification and its applications.
Bottom Line: Alginate is an important polysaccharide used widely in the food, textile, printing and pharmaceutical industries for its viscosifying, and gelling properties.All commercially produced alginates are isolated from farmed brown seaweeds.Here, we will discuss alginates produced by bacteria; the molecular mechanisms involved in their biosynthesis; and the potential to utilize these bacterially produced or modified alginates for high-value applications where defined material properties are required.
Affiliation: Institute of Fundamental Sciences, Massey University, Private Bag 11222, Palmerston North, New Zealand.
Show MeSH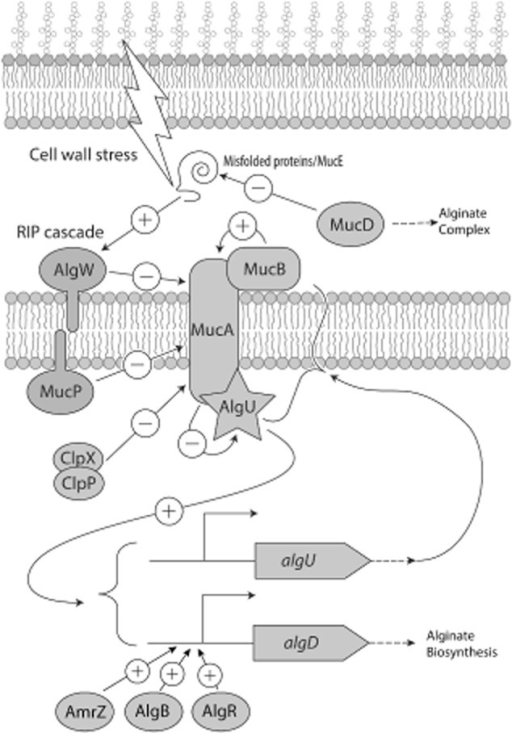 © Copyright Policy - open-access
License
getmorefigures.php?uid=PMC3815931&req=5
Mentions: Most of the genes involved in the genotypic switch are located within a single self-regulated operon (algU, mucA, mucB, mucC and mucD). This region is somewhat homologous to the well-characterized σE region in Escherichia coli, containing the genes rpoE (encoding the σE), rseA, rseB, rseC. AlgU is a key alternate σ22 factor, which is at the apex of a hierarchy of regulators involved in alginate biosynthesis and is ultimately required for transcription starting from the AlgD promoter (Chitnis and Ohman, 1993; Deretic et al., 1994; Firoved and Deretic, 2003; Ramsey and Wozniak, 2005). AlgU is sequestered at the IM (and thus unable to bind RNA polymerase and initiate transcription) by the membrane anchored anti-sigma factor MucA (Schurr et al., 1996; Xie et al., 1996; Mathee et al., 1997). The periplasmic protein MucB binds to the periplasmic side of MucA and plays a negative regulatory role in alginate biosynthesis by protecting MucA from proteolysis. Release of AlgU and subsequent transcription appears to be initiated by a regulated intramembrane proteolytic (RIP) cascade leading to the degradation of MucA (Wood et al., 2006; Cezairliyan and Sauer, 2009). Several steps of the RIP cascade have recently come to light: The periplasmic protease AlgW (E. coli DegS homologue) initially cleaves MucA in response to envelope stress. Particular misfolded proteins (in particular, the outer membrane protein MucE) can bind to the PDZ activating domain of AlgW and cause its activation (de-repression). After cleavage by AlgW, MucA becomes susceptible to cleavage on the cytosolic side by the intramembrane protease MucP (E. coli RseP/YaeL homologue) leading to the release of AlgU (Qiu et al., 2007, Damron and Yu, 2011) (Fig. 5). Three further cytosolic proteases, ClpX, ClpP1 and ClpP2, have recently been shown to be involved in the proteolysis of MucA (Qiu et al., 2008). MucD is a periplasmic protease that appears to be playing a role antagonistic to that of AlgW. Disruption of mucD gene leads to a mucoid phenotype signifying a negative regulatory role. It is thought that MucD is involved in the degradation of misfolded proteins that would otherwise activate AlgW or MucP (Wood and Ohman, 2006; 2009; Qiu et al., 2007; Damron and Yu, 2011). Although alginate production is the most apparent phenotype controlled by AlgU, it does not act exclusively on the alginate operon and has been shown to be involved in the transcriptional activation of genes with diverse functions, including genes involved in biosynthesis of other exopolysaccharides (Firoved et al., 2002; Firoved and Deretic, 2003; Ghafoor et al., 2011).