Assessing in situ rates of anaerobic hydrocarbon bioremediation.
Bottom Line: Identifying metabolites associated with anaerobic hydrocarbon biodegradation is a reliable way to garner evidence for the intrinsic bioremediation of problem contaminants.The formation of deuterated fumarate addition and downstream metabolites was quantified and found to be somewhat variable among wells in each aquifer, but generally within an order of magnitude.It seems clear that highly reduced conditions are not detrimental to the intrinsic bioremediation of fuel-contaminated aquifers.
Affiliation: Department of Botany and Microbiology and Institute for Energy and Environment, University of Oklahoma, Norman, OK 73019, USA.
Show MeSH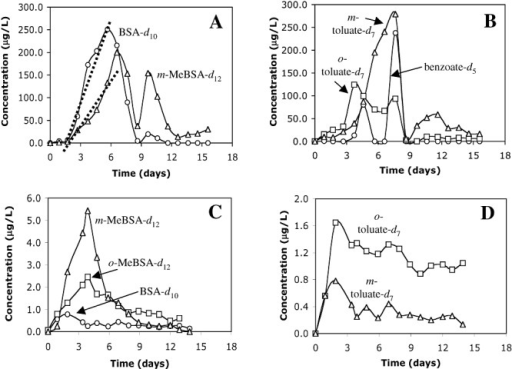 © Copyright Policy
getmorefigures.php?uid=PMC3815842&req=5
Mentions: Push–pull tests to assess the anaerobic biotransformation rates of toluene‐d8, ethylbenzene‐d10, o‐xylene‐d10, m‐xylene‐d10, 1, 2, 4‐TMB‐d12 and 1, 3, 5‐TMB‐d12 were conducted at seven locations within the contaminant plume at the Ft. Lupton site (numbered Tests 1–7). In four of these tests, the bromide tracer concentrations fell below detection within 3 days of the injection phase. As bromide serves to indicate the residence time of the injectate in the well and is used to account for dilution effects of all measured analytes, its detection is necessary in order to calculate in situ rates of hydrocarbon transformation. Bromide concentrations were measurable in the remaining tests (Tests 2, 5 and 7), so metabolite formation rate data could be obtained (Table 1). Deuterated fumarate addition intermediates and expected downstream metabolites (Fig. 1, Table 1) were detected for all of the injected hydrocarbons, except for those from 1, 2, 4‐TMB‐d12, by comparison of liquid chromatography‐tandem mass spectrometry (LC‐MS‐MS) profiles of the pulled water samples with the biologically generated standards from the laboratory incubations (described above; spectral characteristics for LC‐MS‐MS analysis are shown in Table S1). Such detection provided strong evidence for their anaerobic biodegradation under prevailing conditions. Figure 4 shows representative extraction‐phase breakthrough curves for the deuterated BSA (A) as well as for deuterated downstream metabolites (B) that were transiently formed during one test at the Ft. Lupton site (Test 5). The formation rates for each metabolite (Table 1) were determined based on the concentrations measured at initial time points (as shown in Fig. 4A). At the Ft. Lupton site, the rates of formation of the deuterated fumarate addition products and deuterated downstream metabolites were quite consistent, ranging from 3 to 50 µg l−1 day−1 and 8 to 39 µg l−1 day−1 respectively (Table 1). Notable exceptions to these ranges were observed in Test 2, where the rate of formation of o‐toluate‐d7 was near 160 µg l−1 day−1 and in Test 5, where ethylBSA‐d10 formed at 366 µg l−1 day−1 (Table 1). The metabolites ethylBSA‐d10 and o‐methylBSA‐d10 were poorly resolved using the LC‐MS‐MS method, so this inordinately high rate of metabolite formation may reflect a portion of the combined concentrations of both compounds. The fumarate addition metabolite of 1, 3, 5‐TMB‐d12, 3, 5‐dimethylBSA‐d12, was also detected in some Test 2 samples by LC‐MS‐MS at concentrations reaching 65 µg l−1, but was not measurable at enough time points to obtain accurate rate information. For the same reason, the rate of formation of the downstream metabolite 3, 5‐dimethylbenzoic acid‐d9, although clearly detected by GC‐MS (Fig. 3D), could not be determined.