Assessing in situ rates of anaerobic hydrocarbon bioremediation.
Bottom Line: Identifying metabolites associated with anaerobic hydrocarbon biodegradation is a reliable way to garner evidence for the intrinsic bioremediation of problem contaminants.The formation of deuterated fumarate addition and downstream metabolites was quantified and found to be somewhat variable among wells in each aquifer, but generally within an order of magnitude.It seems clear that highly reduced conditions are not detrimental to the intrinsic bioremediation of fuel-contaminated aquifers.
Affiliation: Department of Botany and Microbiology and Institute for Energy and Environment, University of Oklahoma, Norman, OK 73019, USA.
Show MeSH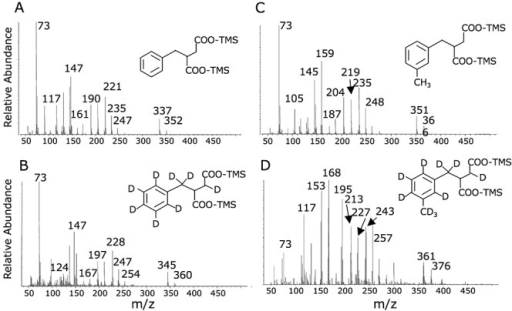 © Copyright Policy
getmorefigures.php?uid=PMC3815842&req=5
Mentions: Sediments from the gas condensate‐contaminated Ft. Lupton site were incubated with a suite of deuterated hydrocarbons under sulfate‐reducing conditions in the laboratory in order to determine whether deuterated fumarate addition metabolites would form (Fig. 1). Our goal was to biologically generate deuterated hydrocarbon metabolites that could serve as authentic standards for analytical comparisons with deuterated metabolites formed in field push–pull tests. We found that anaerobic microorganisms from the Ft. Lupton site could biodegrade the fully deuterated surrogates of toluene, o‐xylene, m‐xylene, 1, 2, 4‐trimethylbenzene (1, 2, 4‐TMB), 1, 3, 5‐trimethylbenzene (1, 3, 5‐TMB) and methylcyclohexane under sulfate‐reducing conditions in laboratory incubations (data not shown). Evidence for biodegradation included concomitant parent substrate loss and sulfate consumption in stoichiometrically expected amounts, confirming previous observations (Elshahed et al., 2001). In the same incubations, we identified several deuterated metabolites indicative of the anaerobic biotransformation of the deuterated parent hydrocarbons (Fig. 1) using gas chromatography‐mass spectrometry (GC‐MS). We detected the formation of benzylsuccinate (BSA)‐d8 from toluene‐d8 and m‐methylBSA‐d10 from m‐xylene‐d10 based on comparisons with the GC‐MS characteristics of unlabelled authentic standards wherein the mass ion and other fragment ions were shifted up by 8 or 10 mass units respectively (Fig. 2A–D). Benzoate‐d5 (from toluene‐d8) and m‐toluate‐d7 (from m‐xylene‐d10) were also detected (not shown). In the 1, 3, 5‐TMB‐d12‐amended incubations, we identified the predicted fumarate addition metabolite 3, 5‐dimethylBSA‐d12 as well as the downstream metabolite 3, 5‐dimethylbenzoate‐d9 (Fig. 1D) by GC‐MS. The MS profiles of unlabelled synthesized 3, 5‐dimethylBSA and culture‐generated 3, 5‐dimethylBSA‐d12 are compared in Fig. 3A and B, showing a shift upwards of 12 units in the resulting mass fragment ion for the d12‐labelled metabolite. Figure 3C further shows the MS of the downstream metabolite 3, 5‐dimethylbenzoate‐d9 detected in the 1, 3, 5‐TMB‐d12‐degrading enrichment. From o‐xylene‐d10‐ and 1, 2, 4‐TMB‐d12‐amended incubations, we could only detect the corresponding deuterated methyl‐ and dimethylbenzoates respectively (not shown). In the methylcyclohexane‐d14‐amended incubations, the corresponding deuterated fumarate addition metabolite was tentatively identified (Fig. S1) by comparison with the mass spectral features of deuterated hexyl‐ and octylsuccinic acid (Gieg and Suflita, 2002). These culture‐generated compounds were used as authentic standards to compare with deuterated metabolites formed during the field push–pull tests. Surprisingly, ethylbenzene‐d10 was not metabolized in the laboratory incubations, although we previously observed its biodegradation and conversion to the corresponding fumarate addition product using inoculum from the same aquifer (Gieg et al., 1999; Elshahed et al., 2001).