Atrazine biodegradation in the lab and in the field: enzymatic activities and gene regulation.
Bottom Line: Expression of atzA, atzB ad atzC, involved in the conversion of atrazine in cyanuric acid, is constitutive.Regulation of atzDEF involves a complex interplay between the global regulatory elements of general nitrogen control and the pathway-specific LysR-type regulator AtzR.The knowledge about regulatory mechanisms may allow the design of rational bioremediation strategies such as biostimulation using carbon sources or the use of mutant strains impaired in the assimilation of nitrogen sources for bioaugmentation.
Affiliation: Centro Andaluz de Biología del Desarrollo, Universidad Pablo de Olavide-CSIC, and Departamento de Biología Molecular e Ingeniería Bioquímica, Universidad Pablo de Olavide, Spain. fgovrom@upo.es
Show MeSH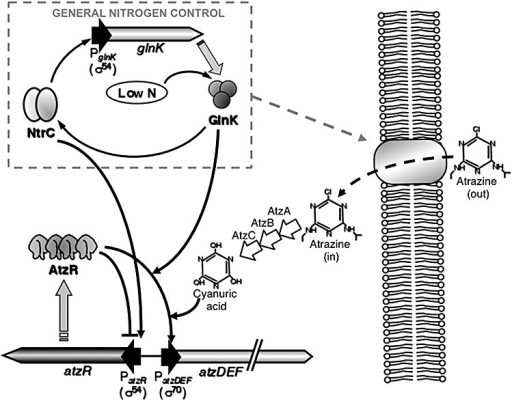 © Copyright Policy
getmorefigures.php?uid=PMC3815838&req=5
Mentions: Consistent with its early assembly and evolution, the atzDEF operon displays a complex and sophisticated regulation that integrates a specific response to the substrate of the pathway with a general response to the physiological status of the cell (Fig. 2). Expression of atzDEF is positively regulated in response to nitrogen limitation and cyanuric acid (García‐González et al., 2005). Transcription from the atzDEF promoter is strictly dependent on the product of the divergently transcribed gene, atzR (García‐González et al., 2005). AtzR is a LysR‐type transcriptional regulator (LTTR) and, as most members of this family of proteins, simultaneously activates the expression of the catabolic genes and represses its own synthesis by binding to a single site with conserved structure located at the divergent promoter region (Schell, 1993; Porrúa et al., 2007). Interestingly, AtzR can activate atzDEF expression in response to either nitrogen limitation or cyanuric acid, but also in response to both signals concurrently in a synergistic manner, which is an unusual feature for this type of regulators. Similarly to other LTTRs (Wang and Winans, 1995; Van Keulen et al., 2003), the interaction of AtzR with its effector molecule, cyanuric acid, triggers the repositioning of AtzR at its binding site to achieve a conformation of the AtzR–DNA complexes that is competent for activation (Porrúa et al., 2007). The nitrogen status modulates the activity of AtzR by two different mechanisms. First, transcription of atzR is a target for nitrogen regulation. In this case, the global regulator NtrC is responsible for activation of PatzR in response to nitrogen limitation (García‐González et al., 2005). NtrC is an archetypical activator of σ54‐RNA polymerase (Reitzer et al., 1989; Su et al., 1990; Rippe et al., 1997), and atzR is expressed from a σ54‐dependent promoter, but unlike typical NtrC‐regulated promoters, transcription activation does not require specific DNA binding by NtrC (Porrúa et al., 2007; O. Porrúa, unpubl. results). Second, the ability of AtzR to activate the PatzDEF promoter is promoted in nitrogen‐limiting conditions. Recent studies suggest that the signal transduction protein GlnK is the element that completes the regulatory circuit and communicates the nitrogen limitation signal to AtzR via protein–protein interaction (V. García‐González, PhD thesis). Expression of GlnK is also subjected to positive control by NtrC in enterobacteria (Zimmer et al., 2000) and in Pseudomonas putida KT2440 (Hervás et al., 2008). Since atzDEF is transcribed from a σ70‐dependent promoter (García‐González et al., 2005), this circuit allows the general nitrogen control system to simultaneously regulate the expression of both the σ54‐dependent PatzR and the σ70‐dependent PatzDEF.