Atrazine biodegradation in the lab and in the field: enzymatic activities and gene regulation.
Bottom Line: Expression of atzA, atzB ad atzC, involved in the conversion of atrazine in cyanuric acid, is constitutive.Regulation of atzDEF involves a complex interplay between the global regulatory elements of general nitrogen control and the pathway-specific LysR-type regulator AtzR.The knowledge about regulatory mechanisms may allow the design of rational bioremediation strategies such as biostimulation using carbon sources or the use of mutant strains impaired in the assimilation of nitrogen sources for bioaugmentation.
Affiliation: Centro Andaluz de Biología del Desarrollo, Universidad Pablo de Olavide-CSIC, and Departamento de Biología Molecular e Ingeniería Bioquímica, Universidad Pablo de Olavide, Spain. fgovrom@upo.es
Show MeSH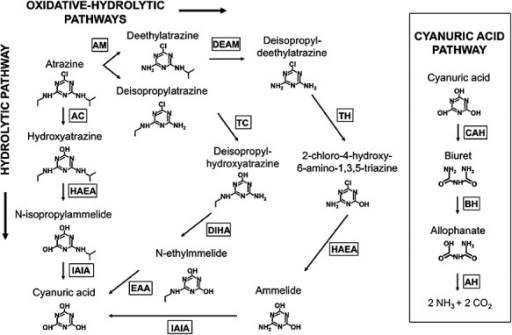 © Copyright Policy
getmorefigures.php?uid=PMC3815838&req=5
Mentions: Atrazine mineralization is achieved in two stages. Initially, the chlorine and N‐alkyl side‐chains are removed to yield cyanuric acid (2,4,6‐trihydroxy‐1,3,5‐triazine). The enzymes involved in this stage often have broad substrate specificity and may perform a variety of reactions on different substrates (Shapir et al., 2007). The s‐triazine ring is then cleaved and subsequently converted to ammonium and carbon dioxide by a set of enzymes that have a much narrower substrate range. Based on the enzymatic activities compiled at the University of Minnesotta Biocatalysis and Biodegradation Database (http://umbbd.msi.umn.edu/) (Ellis et al., 2006), conversion of atrazine to cyanuric acid can be achieved via three distinct pathways, one of which is purely hydrolytic, while the other two are mixed oxidative‐hydrolytic (Fig. 1). The hydrolytic pathway has been extensively characterized in Pseudomonas sp. ADP, and consists of three enzymatic steps catalysed by the gene products of atzA, atzB and atzC (Martinez et al., 2001). AtzA is responsible for dechlorination of atrazine (de Souza et al., 1996), and AtzB and AtzC catalyse the elimination of N‐alkyl substituents from the s‐triazine ring to yield cyanuric acid (Boundy‐Mills et al., 1997; Sadowsky et al., 1998). The atzA, atzB and atzC genes have been shown to be widespread and plasmid‐borne in multiple atrazine‐degrading isolates from all continents (de Souza et al., 1998a,b; Topp et al., 2000a; Rousseaux et al., 2001). In a few Gram‐positive strains, trzN substitutes for atzA. TrzN is a broad substrate range hydrolase that performs dechlorination of atrazine and can remove multiple functional groups from a wide variety of s‐triazines (Topp et al., 2000b; Shapir et al., 2005a). Oxidative‐hydrolytic pathways involve the initial oxidative N‐dealkylation of atrazine to deisopropylatrazine or deethylatrazine. The products of the above reactions may be dealkylated again to deisopropyldeethylatrazine, or may be subjected to hydrolytic dechlorination, deamination and/or dealkylation to yield cyanuric acid. Enzymes catalysing the oxidative reactions include Rhodococcus sp. N186/21 cytochrome P450 (Nagy et al., 1995) and AtrA from Rhodococcus sp. TE1 (Shao et al., 1995). The enzyme TriA displays a 98% identity with AtzA, but is active in deamination of atrazine derivatives rather than dehalogenation (Seffernick et al., 2001). On the contrary, TrzA from Rhodococcus corallinus NRRLB‐15444R and the broad‐specificity hydrolase AtzB catalyse the dechlorination of dealkylated atrazine (Cook et al., 1984; Mulbry, 1994; Seffernick et al., 2002). Although a number of bacteria harbouring the complete set of genes encoding for the hydrolytic pathway have been identified, no single organism studied to date accomplishes all the enzymatic reactions required for atrazine conversion to cyanuric acid via an oxidative‐hydrolytic pathway. Degradation may nevertheless be achieved by a consortium of organisms harbouring the appropriate combination of enzymes, as shown for deisopropylatrazine with a mixed culture of R. corallinus NRRLB‐15444R and Pseudomonas huttiensis NRRLB‐12228 (Cook et al., 1984).