Impacts of Shewanella oneidensis c-type cytochromes on aerobic and anaerobic respiration.
Bottom Line: To investigate the involvement of c-type cytochrome proteins in aerobic and anaerobic respiration of Shewanella oneidensis Mr -1, 36 in-frame deletion mutants, among possible 41 predicted, c-type cytochrome genes were obtained.The potential involvement of each individual c-type cytochrome in the reduction of a variety of EAs was assessed individually as well as in competition experiments.In addition, these studies also suggested that an uncharacterized c-type cytochrome (SO4047) may be important to both aerobiosis and anaerobiosis.
Affiliation: College of Life Sciences and Institute of Microbiology, Zhejiang University, Hangzhou, Zhejiang, 310058, China. haichung@zju.edu.cn
Show MeSH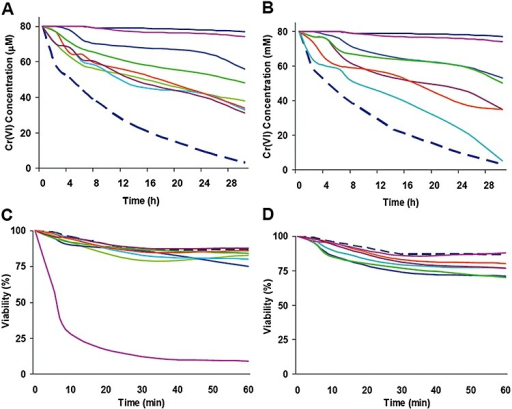 © Copyright Policy
getmorefigures.php?uid=PMC3815811&req=5
Mentions: Mn(IV), Fe (III) and Cr (VI) reduction. After more than a decade of intensive study on reduction of Fe(III) and Mn(IV) in S. oneidensis, a number of proteins important for this process have been identified and characterized. Among them, CymA(SO4591), MtrA(SO1777), MtrC(SO1778), OmcA(SO1779), MtrF(SO1780) and MtrD(SO1782) are c‐type cytochromes. Recently, the ability of all obtained S. oneidensis c‐type cytochrome mutants to reduce Fe(III) and Mn(IV) has been assessed (Bretschger et al., 2007). While the stress responses to toxic heavy metals such as chromium, strontium and vanadium have been investigated (Brown et al., 2006; Chourey et al., 2006), the role of c‐type cytochromes in reduction of this type of metals remains undefined. In this study, we first examined the ability of each mutation strain to reduce chromate in 24 h. As shown in Fig. 2, 13 mutants exhibited Cr(VI) reduction capacities significantly lower than the parental strain, including ΔmtrA(SO1777), ΔmtrC(SO1778), ΔomcA(SO1779), ΔmtrF(SO1780), ΔmtrD(SO1782), ΔcctA(SO2727), ΔcymA(SO4591), ΔpetC(SO0610), ΔccoP(SO2361), ΔccoO(SO2363), Δso0970, Δso4047 and Δso4360. Consistent with previous reports, the mutants (ΔmtrA, ΔmtrC, ΔomcA, ΔmtrF, ΔmtrD, ΔcctA and ΔcymA) devoid of one of the well‐defined metal reducing proteins and ΔpetC were defective in Cr(VI) reduction. The result revealed that five other cytochromes were important for the process. To validate the above observation, we quantitatively tested Cr(VI) reduction of these 13 mutants in a time‐course manner. Responses of these strains to Cr(VI) were not uniform (Fig. 3A and B). Two strains, ΔpetC and ΔcymA, lost their ability to reduce Cr(VI) almost completely. While some strains, such as ΔmtrC, ΔmtrD, ΔccoP, ΔccoO and ΔcctA, displayed a slow start and less than 50% of reduction in the period of 30 h, most of the mutants responded to the Cr(VI) quickly and then continued reduction at a relatively stable rate. This observation implicates that these c‐type cytochromes may be involved in Cr(VI) reduction/response through different mechanisms.