Food reinforcement, dietary disinhibition and weight gain in nonobese adults.
Bottom Line: This study examined whether the relative reinforcing value of food versus sedentary activities, as measured on a progressive ratio schedule, predicts 12-month weight gain in a sample of 115 nonobese (BMI < 30) adults.In a hierarchical regression controlling for baseline age and weight, dietary hunger, income, sex, and minority status, food reinforcement and predicted weight gain (P = 0.01) significantly increased the variance from 6.3% to 11.7% (P = 0.01).These results suggest that food reinforcement is a significant contributor to weight change over time, and food reinforcement may have the biggest effect on those who are most responsive to food cues.
Affiliation: Department of Pediatrics, University at Buffalo School of Medicine and Biomedical Sciences, Buffalo, New York, USA.
Show MeSH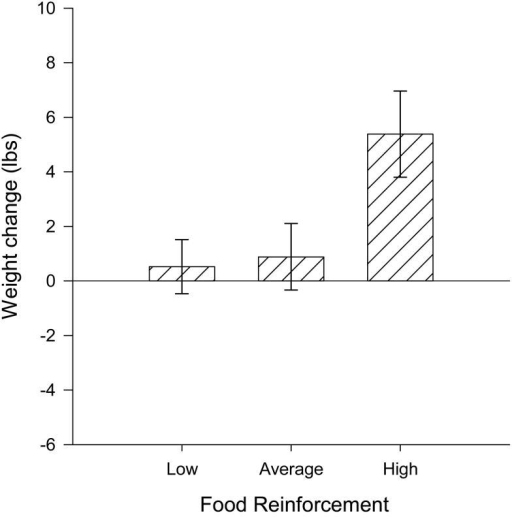 © Copyright Policy
License
getmorefigures.php?uid=PMC3815500&req=5
Mentions: Both BMI and weight change showed similar results for the hierarchical regression analysis. Only weight change will be presented for simplicity. The first step in the model, included baseline age, weight, dietary hunger, sex, minority status and income and accounted for 6.33 percent of the variance in weight gain, with none of the variables being independent predictors of weight gain. Adding RRVFOOD was significantly associated with weight change (Beta = 5.79, p = 0.01) and increased the variance accounted for from 6.33 percent to 11.70 percent (FINC(1,108) = 6.59, p = 0.01) (see Table 2). As shown in Figure 1, a high RRVFOOD of greater than 0.75 was associated with a weight gain of 5.38 ± 1.50 lbs. (n = 25), while the average RRVFOOD group and low RRVFOOD group gain approximately 0.88 ± 1.15 lbs. (n = 42) and 0.53 ± 1.08 lbs (n = 48), respectively. Tests of the moderators of food reinforcement on weight gain showed that the addition of dietary disinhibition did not significantly increase the variance in the model (R2 = 11.99%, FINC(1,107) = 0.38, p = 0.54). The interaction between disinhibition and food reinforcement, however, significantly increased the variance to 16.69 percent (FINC(1,106) = 6.14, p = 0.01) and significantly predicted weight change (Beta = 1.78, p = 0.02). Significant interactions were examined using hypothesis testing examining a tertiary split of food reinforcement (<0.33, low; ≥0.33, <0.75, average; ≥0.75, high) and a median split of dietary disinhibition (<5, ≥5). Hypothesis testing examining each food reinforcement group showed that there were significant differences in weight change for individuals with high disinhibition across low and high food reinforcement (F(1, 109) = 13.82, p < 0.01), but not for individuals with low disinhibition (F(1, 109) = 0.001, p = 0.97) (Figure 2). Within the high disinhibition group, individuals with low food reinforcement lost 1.91 ± 1.64 lbs, while those with high food reinforcement was associated with a gain of 7.39 ± 1.89 lbs. Low disinhibition individuals did not show a differential effect of food reinforcement, with both low and high food reinforcement gaining approximately 2.27 ± 1.38 lbs and 2.36 ± 2.32 lbs respectively. Dietary restraint did not moderate the effect of food reinforcement on body weight gain.