Laccase-catalysed polymeric dye synthesis from plant-derived phenols for potential application in hair dyeing: Enzymatic colourations driven by homo- or hetero-polymer synthesis.
Bottom Line: We finally used selected materials to dye grey hair.Each material coloured hair appropriately and the dyeing showed excellent resistance to conventional shampooing.Our study indicates that laccase-catalysed polymerization of natural phenols is applicable to the development of new cosmetic pigments.
Affiliation: School of Environmental Science and Engineering, Pohang University of Science and Technology (POSTECH), Pohang 790-784, Korea.
Show MeSH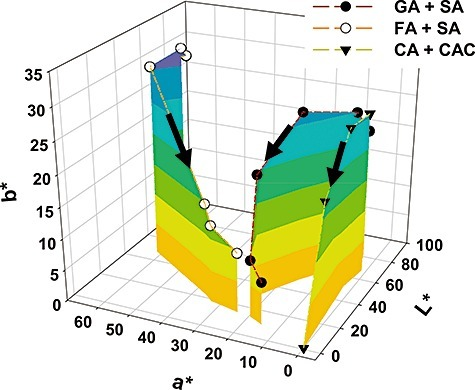 © Copyright Policy
getmorefigures.php?uid=PMC3815374&req=5
Mentions: From the colour library we made in this study, three reactions containing gallic acid and syringic acid, catechin and catechol, and ferulic acid and syringic acid, which gave rise to brown, black and red in colour, respectively, were selected for further characterization because such colours are of commercial interest for dyeing of grey hair (Figs 1 and 4). Unlike conventional dye compounds such as azo and sulfur dyes (Towns, 1999; Fu and Wang, 2008), polymeric dye colours change with monomer polymerization extent which, in turn, depends on polymerization time. Generation of desired colours within a few hours is critical for commercial application of in situ reactions to grey hair dyeing (Lang and Cotteret, 2007). Therefore, colour changes of the selected reactions were measured over time (Fig. 3). In general, the coordinate values (L*, a*, b*) of all three reactions approached the (0, 0, 0) coordinate value with increasing incubation time, indicating that initial chromatic factors causing development of bright red and yellow polymers were attenuated and, at the same time, activities of achromatic factors dimming colours were enhanced. Interestingly, a combination of catechin and catechol achieved the (0, 0, 0) coordinate value within 12 h, thus achieving a complete black colour. Dyeing of grey hair blackish, for cosmetic purposes, has become increasingly popular in many countries due to the similarity of the colour with that of natural human hair. The most widely used dye precursor affording a dark black colour is p‐phenylenediamine, but this is both allergenic and carcinogenic (Marcoux et al., 2002; Chen et al., 2006; Huang et al., 2007). The catechin/catechol mixture could be especially useful as an alternative to p‐phenylenediamine for hair blackening, as both materials are natural polyphenols. Brown and red colourations were also attained by polymerization of gallic acid with syringic acid and ferulic acid with syringic acid respectively (Fig. 4).