Hydrophobic substances induce water stress in microbial cells.
Bottom Line: Such chemically diverse compounds may have distinct toxic activities for cellular systems; they may also share a common mechanism of stress induction mediated by their hydrophobicity.We hypothesized that the stressful effects of, and cellular adaptations to, hydrophobic stressors operate at the level of water : macromolecule interactions.Here, we present evidence that: (i) hydrocarbons reduce structural interactions within and between cellular macromolecules, (ii) organic compatible solutes - metabolites that protect against osmotic and chaotrope-induced stresses - ameliorate this effect, (iii) toxic hydrophobic substances induce a potent form of water stress in macromolecular and cellular systems, and (iv) the stress mechanism of, and cellular responses to, hydrophobic substances are remarkably similar to those associated with chaotrope-induced water stress.
Affiliation: Department of Biological Sciences, University of Essex, Colchester CO4 3SQ, UK.
Show MeSH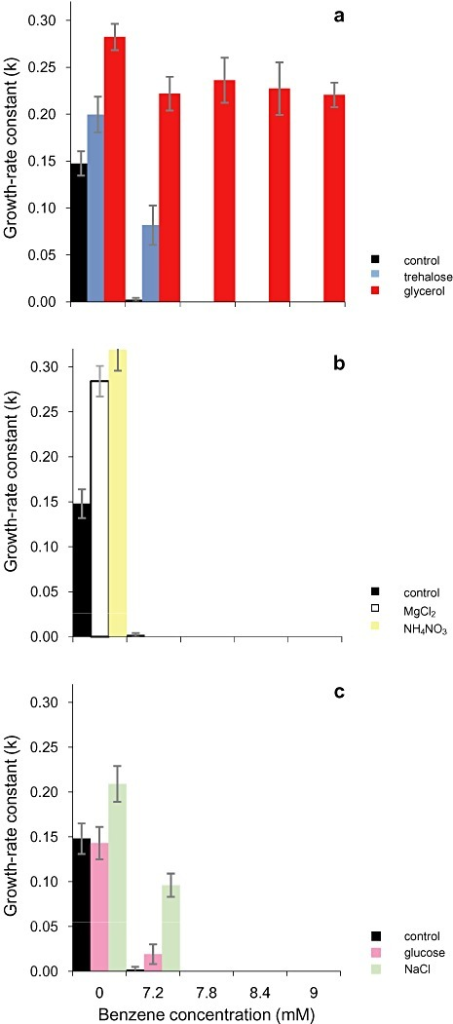 © Copyright Policy
getmorefigures.php?uid=PMC3815343&req=5
Mentions: Microbial cells synthesize and accumulate low‐molecular‐weight hydrophilic compounds such as glycerol, mannitol, proline, betaine and trehalose that can protect their macromolecular apparatus under stressful conditions such as low water activity or extremes of temperature (see Brown, 1990). Compatible solutes such as glycerol and trehalose may sometimes be implicated in turgor control but frequently act as protectants of macromolecular structures independently of osmotic processes (see Brown, 1990); indeed microbial cells may even release compatible solutes into the extracellular mileu in order to protect both sides of the plasma membrane (see Eleutherio et al., 1993; Albertyn et al., 1994; Kets et al., 1996a). To test whether such compounds can reduce the inhibitory effects of hydrophobic substances in vivo we obtained exponential‐phase P. putida cells with high intracellular concentrations of glycerol or trehalose [up to 714 and 870 µg (1010 cells)−1 respectively] by culturing on a range of media (see Table 1); these concentrations were consistent with those reported previously, see Brown, 1990; Manzanera and colleagues, 2004. These cells were used to inoculate media containing benzene (up to 9 mM), a model hydrophobic stressor that is environmentally ubiquitous, industrially relevant, and can be metabolized to induce carcinogenic activity in mammals. Control (low‐compatible solute) cells – see Table 1– were virtually unable to grow under benzene stress (at or above a benzene concentration of 7.2 mM; Fig. 3A–C). In contrast, the cells containing high intracellular concentrations of glycerol retained a high growth‐rate (k ≥ 0.22) regardless of benzene concentration, and there was no apparent inhibition of cellular function even at 9 mM benzene (Fig. 3A). High‐trehalose cells were also more benzene‐tolerant than control cells, but were unable to grow at ≥ 7.8 mM benzene (Fig. 3A). The potent protective effect of glycerol did not correlate with the water activity or chaotropicity of the medium used to produce these cells because those obtained from cultures grown at low water activities (in media supplemented with MgCl2, glucose or NaCl) or those from chaotropic media (which had been supplemented with MgCl2 or NH4NO3) that contained only trace amounts of glycerol did not show benzene tolerance comparable to those from glycerol‐supplemented media (see Table 1; Fig. 3B and C). These data eliminate factors such as modified membrane composition as the determinants of stress tolerance (see also Hallsworth and Magan, 1995; Hallsworth et al., 2003b). This result is consistent with the results of parallel studies for the chaotropic stressor ethanol (Hallsworth et al., 2003b); furthermore the protective effect of glycerol was maintained throughout the period of growth‐rate assessment (i.e. through approximately nine cell divisions; data not shown). Cells were provided with a balanced C : N ratio in the medium (approximately 8:1 that is required for structural growth; Roels, 1983) so given that stressed cells expend energy to retain their compatible solutes (see Brown, 1990), the intracellular glycerol concentration of benzene‐stressed cells would have become diluted by a factor of nine. Previous studies of intracellular compatible solutes in fungal cells showed a powerful protective effect against ethanol in cells harvested from glycerol‐supplemented media as well as those obtained from KCl‐supplemented media even when the intracellular polyol content of the latter was 10 or 20 times lower than the former (Hallsworth et al., 2003b). Whereas glycerol, at high concentrations (≥ 4 M), can act as a powerful chaotrope (see Williams and Hallsworth, 2009; Chin et al., 2010) this compound is not chaotropic at lower concentrations and is well known for its protective properties (see Brown, 1990). We speculated that some compatible solutes may enable cellular function under benzene stress by reversing the disordering activities of this hydrocarbon (see Fig. 4). In order to test whether retention of metabolic activity in the presence of hydrophobic hydrocarbons was determined at the macromolecule structure–function level, we carried out activity assays for enzymes inhibited by benzene and hexane, using the hexokinase enzyme system. For comparison, we assayed β‐galactosidase that was inhibited by the hydrophilic chaotropes ethanol and MgCl2. In each case, enzyme assays (controls) were carried out at concentrations of stressors that inhibited catalytic activity between 60% and 90% relative to the optimum. Further assays were carried out over a range of concentrations of trehalose, mannitol, glycerol, betaine or proline, all of which occur naturally as protectants in cells of P. putida (Kets et al., 1996b), to see whether optimum enzyme activity could be restored.