Hydrophobic substances induce water stress in microbial cells.
Bottom Line: Such chemically diverse compounds may have distinct toxic activities for cellular systems; they may also share a common mechanism of stress induction mediated by their hydrophobicity.We hypothesized that the stressful effects of, and cellular adaptations to, hydrophobic stressors operate at the level of water : macromolecule interactions.Here, we present evidence that: (i) hydrocarbons reduce structural interactions within and between cellular macromolecules, (ii) organic compatible solutes - metabolites that protect against osmotic and chaotrope-induced stresses - ameliorate this effect, (iii) toxic hydrophobic substances induce a potent form of water stress in macromolecular and cellular systems, and (iv) the stress mechanism of, and cellular responses to, hydrophobic substances are remarkably similar to those associated with chaotrope-induced water stress.
Affiliation: Department of Biological Sciences, University of Essex, Colchester CO4 3SQ, UK.
Show MeSH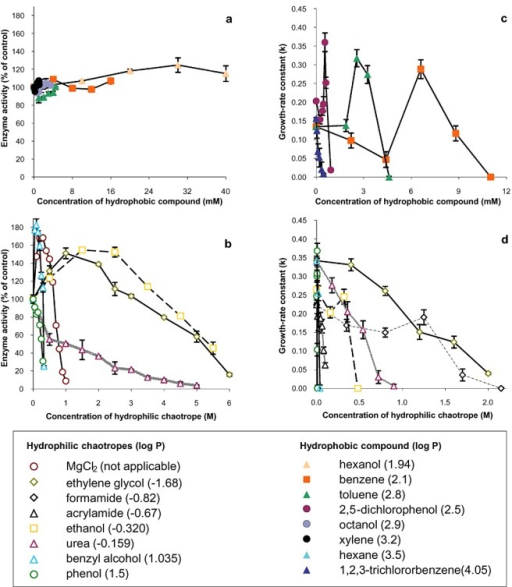 © Copyright Policy
getmorefigures.php?uid=PMC3815343&req=5
Mentions: In order to test this hypothesis we plotted the concentration of hydrophilic chaotropes and hydrophobic substances that inhibited the growth rate of P. putida by 50% relative to the control (no stressor present) versus stressor log P, to determine whether the qualitative distinction between the behaviour of hydrophilic versus hydrophobic stressors observed in Fig. 1A correlated with differences in growth‐rate inhibition (Fig. 1B). Surprisingly, there was a proportionality between inhibition of cell function and hydrophobicity, for stressors with a log P < 2 (see Fig. 1B), a result consistent with a study of Acinetobacter calcoaceticus stressed by chemically diverse aliphatic alcohols, including ethanol, butanol, octanol and decanol (Kabelitz et al., 2003). In contrast, the log P values of hydrophobic compounds did not correlate strongly with P. putida growth‐rate inhibition (see grey shaded region), and a low concentration (low‐mM range) terminated growth of bacterial cells (Fig. 1B). One difference between the agar (Fig. 1A) and bacterial assay systems (Fig. 1B; Kabelitz et al., 2003) is that agar is homogeneous and hydrophilic, so macromolecular interactions are primarily hydrophilic in nature, whereas cellular systems are heterogeneous with hydrophilic and hydrophobic domains, so undergo both hydrophilic and hydrophobic interactions. In order to shed light on the differences in the results of Fig. 1A and B, we investigated the inhibitory activities of hydrocarbons on two well‐characterized, multi‐subunit enzyme systems, β‐galactosidase and hexokinase. In both systems, the hydrophobic effect is required to stabilize the secondary, tertiary and/or quaternary structure, but the hydrophobic effect is apparently more important for the structural stability, and therefore catalytic activity, of hexokinase. Hydrophobic substances with log P values > 1.95 exerted negligible inhibition of β‐galactosidase activity (Fig. 2A), which is consistent with their low solubility and inability to disorder hydrophilic macromolecule systems (Fig. 1A). In contrast the relatively hydrophilic, chaotropic, substances inhibited β‐galactosidase activity by 70–95% and the magnitude of this inhibition was proportional to their chaotropicity (Figs 1A and 2B). This implies that they did so via their disordering effect on the structure of β‐galactosidase, a result that is consistent with data obtained using other enzyme systems (Hallsworth et al., 2007). In order to shed light on the mechanism by which hydrophobic compounds inhibit cell function (Fig. 1B), we quantified the activity of the hexokinase‐based enzyme system in the presence of benzene, toluene, octanol, xylene and hexane (Fig. S1). These substances reduced hexokinase activity by up to 80%, which is consistent with their inhibitory effect on the cell (see Fig. 1B). In other words, these hydrocarbons inhibit the functionality of cellular systems via their interaction with hydrophobic domains.