Characterization of the RND family of multidrug efflux pumps: in silico to in vivo confirmation of four functionally distinct subgroups.
Bottom Line: We validated in silico data regarding efflux pumps in groups 1 and 3 using 9 different mutants.Four mutants belonging to group 2 were found to be more sensitive than the wild-type to oxidative stress-inducing agents such as bipyridyl and methyl viologen.The two remaining mutants belonging to group 4 were found to be more sensitive than the parental to tetracycline and one of them was particularly sensitive to rubidium and chromate.
Affiliation: Consejo Superior de Investigaciones Científicas, Department of Environmental Protection, E-18008 Granada, Spain.
Show MeSH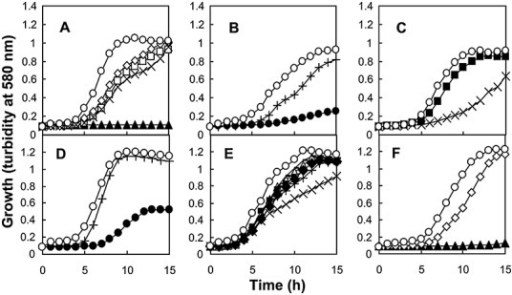 © Copyright Policy
getmorefigures.php?uid=PMC3815342&req=5
Mentions: Using the RND family profile that we constructed, we screened the genome of P. putida KT2440 (Nelson et al., 2002) and identified 14 RND efflux pumps corresponding to genes PP0043, PP0906, PP1385, PP1517, PP2065, PP2410, PP2818, PP3302, PP3426, PP3456, PP3583, PP3584, PP5173 and PP5387 (Table S5). Three of these efflux pumps were grouped as being potentially involved in metal extrusion in group 3 (PP0043, PP2410 and PP5387); four of these efflux pumps were placed within group 1 (PP1385, PP3456, PP2818 and PP3426), while another four pumps fell within group 2 (PP2065, PP0906, PP3584, PP3583). The three remaining pumps were clustered within group 4 (PP1517, PP5173, PP3302) (see Fig. S3). Mutants for two of the pumps in group 1 [TtgABC (Siezen and Wilson, 2008) and MexEF/OprN (Roca et al., 2008)] have been isolated before and partially characterized. As such, it is known that the TtgABC pump (PP1384‐PP1386) is an antibiotic extrusion pump, and that it is able to extrude ampicillin, chloramphenicol, tetracycline and flavonoids (Duque et al., 2001; Terán et al., 2003; Roca et al., 2008). The MexEF/OprN (PP3425‐PP3427) has been shown to be involved in formaldehyde detoxification and in phenylalanine homeostasis (Roca et al., 2008; Herrera et al., 2010). No information was available for the pumps annotated as potential 'Metal Resistance pumps,' nor was information available for the other pumps. In order to characterize the function of these putative efflux pumps, we used a number of mini‐Tn5, including mutants for four pumps within group 2 (PP2065, PP0906, PP3583 and PP3584), two mutants in pumps within group 3 (PP0043 and PP5387) and two pumps within group 4 (PP1517 and PP5173). This set of mutants was subjected to a systematic phenotype screen that allowed us to test for growth under 190 different conditions (see Experimental procedures). The platform allows for growth under different carbon, nitrogen, sulfur and phosphate sources to be tested, as well as growth in the presence of 47 different stressors. The results showed that none of the mutants exhibited significant differences with respect to growth under different carbon, nitrogen, sulfur or phosphate sources, as expected. However, significant differences in growth curves were observed for some of the mutants when compared with the parental strain in the presence of certain stressors (Fig. 3). The mutants were found to exhibit two different growth patterns. One of these growth patterns corresponded to a deep inhibition of growth so that turbidity of the cultures did not increase with time. This indicated to us that the knocked‐out efflux pump was an essential element for tolerance to the stressor. This is clearly exemplified in Fig. 3A, which shows that novobiocin strongly inhibits growth of the ttgB mutant. The second observed growth pattern was different in that growth was not fully inhibited, but rather that it was significantly decreased. This indicated to us that more than one efflux pump was required in order to extrude the chemical. Table 1 summarizes the results organized according to placement of the pumps within the four groups identified by the RND profile. As expected efflux pumps in group 1 were found to be involved in the extrusion of antibiotics. TtgB was the most critical efflux pump for antibiotic resistance as its deficiency led to growth inhibition in the presence of tetracycline, novobiocin, gentamicin, ampicillin, chloramphenicol, cefotaxime, erythromicin and the detergent deoxycholate. These results raise the profile of the TtgB efflux pump, which has previously only been shown to be able to extrude EtBr, ampicillin, chloramphenicol and a number of flavonoids. We also found that MexEF/OprN plays a role in extrusion of tetracycline and chloramphenicol, as shown by delayed growth of the corresponding mutant in the presence of these compounds (Fig. 3F). Since deficiency in TtgABC fully prevents growth (Fig. 3F), we propose that the MexEF OprN efflux pump is of less relevance to the removal of these antibiotics. In group 3 the tested mutants were found to exhibit inhibited growth in the presence of certain metals. As such, mutants deficient in PP0043 showed increased sensitivity to Cd2+ and Zn2+ (see Fig. 3D), while the mutant deficient in PP5387 was more sensitive to Cd2+, Ni2+ and chromate (Table 1). These results show that metal efflux pumps within P. putida KT2440 have overlapping specificity regarding removal of Cd2+, but that they also show specificity regarding other metals, such as Ni2+ and Zn2+ (Table 1 and Fig. 3D). The presence of multiple efflux pumps with similar specificity is advantageous to cells in that, although some redundancy exists, they are provided with a wider total spread of chemicals that can be extruded.