Genomics of dairy fermentations.
Affiliation: Kluyver Centre for Genomics of Industrial Fermentation, TI Food and Nutrition, Wageningen, The Netherlands. r.siezen@cmbi.ru.nl
Microbes are used in the process of making industrial and artisanal fermented dairy products, such as cheese, yogurt, sour cream and fermented milks (Fig.  1)... The most recent additions are Lactobacillus helveticus DPC4571, a starter/adjunct culture with traits that are extremely desirable in Swiss cheese production, which include autolysis, reduced bitterness and enhanced flavour development, and also the industrially important plasmid pLP712 of L. lactis, encoding lactose catabolism and proteolytic enzymes... Propionibacterium freudenreichii ssp. shermanii CIP 103027 is a member of the dairy propionibacteria, commonly isolated from cheese and other dairy products, and is important for the development of flavour and the characteristic holes formed by CO2 in Emmental (Swiss‐type) cheese... Multiple strains have now been sequenced of L. lactis, S. thermophilus, Lb. delbrueckii, Lb. helveticus and Lb. casei (Table 1), providing deeper insight into their genomic diversity... A pangenome sequencing analysis of 11 strains of S. thermophilus has identified 65 kb DNA in regions > 1.5 kb not previously found in the three sequenced genomes... An excellent, albeit older, example is the prediction that L. casei, a non‐starter LAB that increases in later stages of cheese ripening, has the potential to use citrate as an alternative energy source when lactose has been depleted... A putative complete citric acid cycle (TCA) was reconstructed from the genome sequence, and experimentally shown to be active under simulated cheese ripening conditions, converting citrate mostly to acetic acid instead of lactic acid, yielding 2 ATP per molecule of citric acid... The potential to form flavours from amino acids was compared in all sequenced LAB by searching their genomes for enzymes involved in proteolysis and amino acid conversions... Focusing on enzymes involved in metabolism of the sulfur‐containing amino acids methionine and cysteine, which are known precursors of many dairy flavours, the largest set of enzymes was found in typical dairy LAB such as L. lactis, S. thermophilus and Lb. casei... This makes the isolation of bacterial RNA, proteins or metabolites extremely difficult... In a recent study, the transcriptome profile of L. helveticus CNRZ32 grown in milk was compared with growth in a defined medium... Current developments in the dairy environment include transcriptome and proteome studies on mixed cultures of S. thermophilus and L. bulgaricus in milk... This bacterial consortium represents a typical yoghurt culture, and the results reveal new insights into interactions between the two bacteria (Fig.  3)... The acquisition of new genes via horizontal gene transfer has been proposed for several dairy specific LAB, and includes transfer between S. thermophilus, L. lactis and Lb. bulgaricus... Recently, a genomic island of 100 kb, with deviant GC content and flanked by IS elements, was found in the genome of L. helveticus DCP4571, and included fatty acid and amino acid metabolism genes.
Show MeSH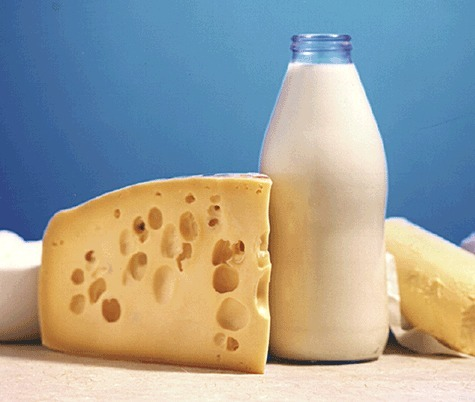 © Copyright Policy
getmorefigures.php?uid=PMC3815285&req=5
Mentions: Microbes are used in the process of making industrial and artisanal fermented dairy products, such as cheese, yogurt, sour cream and fermented milks (Fig. 1). These microbes are predominately lactic acid bacteria (LAB), such as lactococci, lactobacilli and streptococci. For quality and consistency, industrial production requires the use of starter cultures, which are very carefully created, cultivated and maintained (Fig. 2). What happens in the fermentation process? Milk sugars (mainly lactose) are fermented with the major final product being lactic acid. Lactic acid not only inhibits the out‐growth of other organisms but also lowers the pH of the food product. Taste and texture, the feeling of food in your mouth, is also important. Lactic acid bacteria make the specific end‐products that impart flavour and modify the texture of the final product. Cheese production makes use of predominantly Lactococcus lactis. It is the major component of cheese starter cultures and, as the worldwide cheese market is huge, it is one of the most important microbes for the food industry. Several of the important functions for fermentation are encoded on conjugative plasmids in these bacteria, among them lactose metabolism and the breakdown of milk proteins during cheese production (Siezen et al., 2005; Shearman et al., 2008). The lactobacilli are also important players in dairy fermentations with Lactobacillus bulgaricus mainly used in yoghurt manufacture, together with Streptococcus thermophilus. This use of microbial consortia adds yet another degree of complexity to an already complex production process.