Butyrate production in phylogenetically diverse Firmicutes isolated from the chicken caecum.
Bottom Line: They did not represent a coherent phylogenetic group, but were allied to four different lineages in the Firmicutes phylum.However, another CoA-transferase gene more similar to propionate CoA-transferase was detected in the majority of the clostridial cluster XVI isolates.The present study indicates that butyrate producers related to cluster XVI may play a more important role in the chicken gut than in the human gut.
Affiliation: Department of Pathology, Bacteriology and Avian Diseases, Research Group Veterinary Public Health and Zoonoses, Faculty of Veterinary Medicine, Ghent University, Salisburylaan 133, Merelbeke, Belgium. venessa.eeckhaut@UGent.be
Show MeSH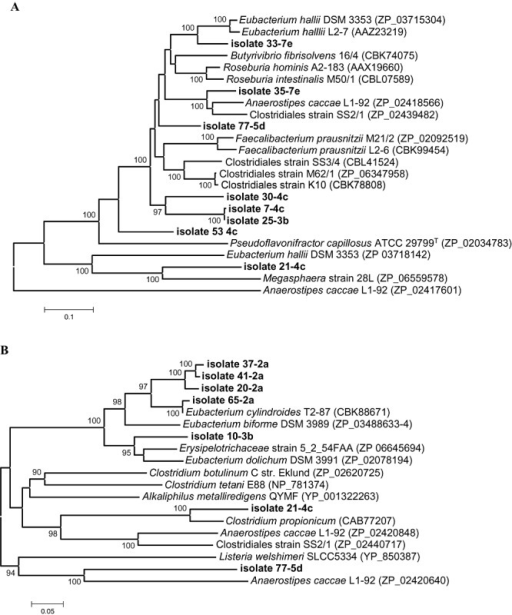 © Copyright Policy
getmorefigures.php?uid=PMC3815262&req=5
Mentions: Butyryl‐CoA : acetate CoA‐transferase gene amplicons of the expected size (about 582 bp) using primer pair CoATDF1 and CoATDR2 were found in clostridial cluster IV, XIVa and XIVb strains 53‐4c, 30‐4c, 7‐4c, 25‐3b, 35‐7e, 33‐7e, 77‐5d and 21‐4c. In these isolates (Fig. 1, striped arrows), except for 21‐4c and 53‐4c (Fig. 1, black arrows), an amplicon (about 530 bp) was also obtained using the BCoATscrF and BCoATscrR primers. Cluster IV strain 24‐4c, nor any of the cluster XVI isolates yielded a PCR product with the two primer pairs targeting the butyryl‐CoA : acetate CoA‐transferase gene. All the isolated cluster XVI strains, except 60‐7e, but also isolate 77‐5d and 21‐4c from cluster XIVa and XIVb (Fig. 1, grey arrows), showed an amplicon of the expected size (about 702 bp) after PCR using degenerate primers designed against propionate CoA‐transferases (PCT primers, Table S1). All CoA‐transferase gene amplicons were sequenced and deduced amino acid sequences subjected to database searches using the blastp algorithm. Two phylogenetic trees were constructed based on the gene sequences related to butyryl‐CoA : acetate CoA‐transferase (Fig. 2A) and propionate CoA‐transferases (Fig. 2B). For most strains, the phylogeny of the CoA‐transferase gene sequences agreed well with the 16S rRNA gene‐based phylogeny (strains 33‐7e, 35‐7e, 77‐5d, 30‐4c, 7‐4c, 25‐3b, Fig. 2A, and isolates 37‐2a, 41‐2a, 20‐2a, 65‐2a, 10‐3b, Fig. 2B). However, the CoA‐transferase gene and 16S rRNA gene‐based phylogenies of strains 53‐4c and 21‐4c were discordant, two strains (77‐5d and 21‐4c) carried more than one CoA‐transferase gene and neither a CoA‐transferase gene nor the butyrate kinase operon could be amplified in strains 24‐4c and 60‐7e. Inspection of draft genome sequences from human isolates belonging to cluster XVI revealed that the CoA transferase gene (Fig. 2B) was located directly downstream of the other butyrate pathway genes (Fig. 3), indicating that it may be linked to butyrate metabolism in these bacteria.