Genomics of biological wastewater treatment.
Affiliation: Kluyver Centre for Genomics of Industrial Fermentation, TI Food and Nutrition, 6700AN Wageningen, the Netherlands. r.siezen@cmbi.ru.nl
Biological wastewater treatment plants (WWTPs) employing sludge represent one of the most widely used biotechnological processes, with more than 120 billion litres treated daily in the USA alone (Fig.  1)... In addition, metagenome sequences have provided a first insight into metabolic requirements of specific microbes, allowing further optimization of enrichment conditions. 16S rRNA sequences from metagenome libraries have been used to identify new bacterial divisions and species and to visualize them using molecular techniques such as FISH... Starting from a metagenomic analysis of sludge microbes from such a digester, ) succeeded in reconstructing the complete genome of a WWE1 bacterium, represented by only 2% of the fosmid library reads, using a novel sequencing and assembly strategy specifically designed during this project... The reconstruction started with seed sequences (fully sequenced fosmids on which WWE1 16S rRNA sequences were found), to which > 99% identical fosmid paired‐end sequences from the metagenome library were added in an iterative fashion (Fig.  3)... This is the first time that such an iterative procedure had been used, and the first time ever a 'complete' genome from a previously unknown, uncultured and subdominant bacterium was reconstructed out of such a complex environment... Metaproteomics studies of sludge microbes from a similar EBPR reactor in the UK confirmed the activities of these EBPR processes, but also highlighted the importance of fatty acid cycling, denitrification and the glyoxylate bypass in EBPR... Many proteins were identified with the help of the template composite A.  phosphatis genome, but numerous protein variants were also found, which presumably came from related species and strains, highlighting the likely importance of genetic variation for overall community homeostasis... Metagenome sequencing was used to decipher the 4.2 Mb genome of the uncultured anammox bacterium Kuenenia stuttgartiensis; this bacterium dominated the complex community in a laboratory bioreactor 1 year after inoculation with wastewater sludge... A few genome sequences of some culturable members are available now (Table 1)... The ammonia‐oxidizing Nitrosomonas eutropha was found to have many genes for heavy metal and drug resistance, which could explain its presence in a polluted environment such as a WWTP... An environmental metagenomics approach was used to sequence, identify and assemble a 137 kb genome fragment of 'Candidatus Nitrospira defluvii', which had been enriched from activated sludge from a domestic WWTP... This contig, harbouring a 16S rRNA gene of N.  defluvii, was surprisingly found to encode a chlorite dismutase, which converts chlorite (ClO2) to chloride (Cl) and O2... Survival of this species in a nitrifying WWTP may depend on this somewhat unique activity, as (per)chlorate‐containing fertilizers, disinfectants and bleaching agents are all discharged into the environment... Furthermore, hypochlorite (ClO) is often added to activated sludge to reduce the outgrowth of filamentous bacteria.
Show MeSH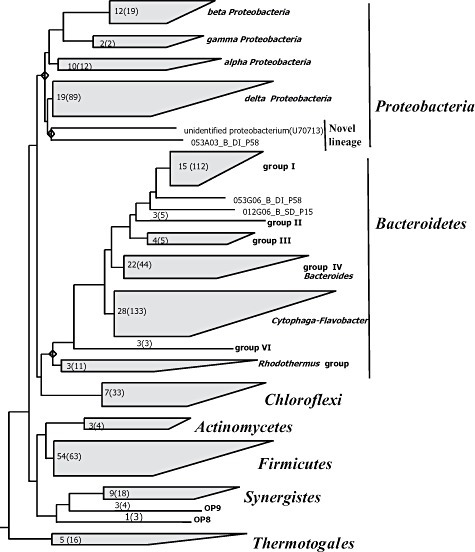 © Copyright Policy
getmorefigures.php?uid=PMC3815239&req=5
Mentions: Cleaning up wastewater from domestic sewage and industrial processes is essential for safeguarding public health and the environment (for an overview of wastewater treatment processes see http://en.wikipedia.org/wiki/Sewage_treatment). Biological wastewater treatment plants (WWTPs) employing sludge represent one of the most widely used biotechnological processes, with more than 120 billion litres treated daily in the USA alone (Fig. 1). Removal of organic carbon and other nutrients, mainly nitrogen (N) and phosphorus (P), by sludge microbes is essential in order to avoid eutrophication and deterioration of recipient surface waters (Seviour et al., 2003). The complexity of wastewater microbial communities, based on the analysis of 16S rRNA sequences, is known to be enormous (Chouari et al., 2005a,b) (Fig. 2). As we have very limited knowledge of composition, dynamics and stability of microbial communities, several processes in wastewater treatment are generally regarded as being a 'black box'. Their improvement is often based on a trial‐and‐error approach, which leads to inconsistent results and unexpected behaviours (Daims et al., 2006a). In recent years, with the development of several new high‐throughput sequencing platforms (Hall, 2007; Marsh, 2007), metagenome sequencing strategies (Schloss and Handelsman, 2005; Tringe and Rubin, 2005; Schmeisser et al., 2007) and bioinformatics toolboxes (Chen and Pachter, 2005; Tringe et al., 2005; Foerstner et al., 2006; Raes et al., 2007), the genome analysis of complex communities has become much more accessible, albeit by no means easier. Here we give a brief update of the current status of (meta)genome sequencing and mining of wastewater‐related microorganisms and communities.