Minimally invasive treatment of peristomal metastases from gastric cancer at an ileostomy site by electrochemotherapy.
Bottom Line: Post ECT course was uneventful and the patient was discharged on the same day.After one week, tumor nodules were flattened and partial tumor regression was appreciable at one-month follow-up.This report suggests the feasibility of ECT as a minimally invasive approach for peristomal tumors.
Affiliation: Sarcoma and Melanoma Unit, Veneto Institute of Oncology (IOV-IRCCS), Padova, Italy.
ABSTRACT
---
Background: Peristomal metastases are rare, but potentially associated with relevant morbidity. Surgical resection, followed by stoma relocation, represent the gold standard in most patients. We describe electrochemotherapy (ECT), a minimally invasive method for locally-enhancing drug delivery by means of electric pulses, as an alternative approach.
Patient and methods: A 49-year-old man with advanced gastric cancer developed skin metastases around an ileostomy site. The ulcerated and oozing tumor growth impaired patient's quality of life due to continuous trouble in fitting the ostomy appliance, its poor adherence and consequent stools spillage. ECT consisted of a 20-minute course under mild general sedation. A bleomycin bolus of 15 000 IU/m(2) was followed by the percutaneous application of multiple, 1.5 ms -long electric pulses by means of a needle electrode.
Results: Post ECT course was uneventful and the patient was discharged on the same day. After one week, tumor nodules were flattened and partial tumor regression was appreciable at one-month follow-up. More importantly, peristomal skin conditions significantly improved, thus allowing for an effective application of the ostomy appliance during the following moths, until patient's death.
Conclusions: This report suggests the feasibility of ECT as a minimally invasive approach for peristomal tumors. In selected cases, ECT, by achieving a rapid tumor control, may ensure effective ostomy management and preserve patients' quality of life.
No MeSH data available.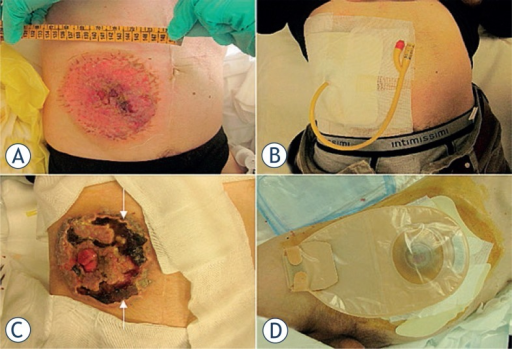 © Copyright Policy - open-access
License 1 - License 2


getmorefigures.php?uid=PMC3814282&req=5

Mentions: A 49-year-old man with peritoneal carcinomatosis from GC, who previously required the construction of an end-ileostomy due to bowel obstruction, presented with multiple peristomal metastases that were confluent in a 10 × 10 cm area on the abdominal wall (Figure 2). In 2008 the patient was diagnosed with stage IV GC with peritoneal dissemination. He received 3 cycles of epirubicin, oxaliplatin and 5-fluorouracil, before undergoing total gastrectomy, D2 lymphadenectomy, distal pancreatectomy and splenectomy. Histopathological examination was T4aN3aM1, signet ring cells, HER2 negative, gastric adenocarcinoma. Additional 5 cycles of adjuvant chemotherapy were administered after surgical treatment. In April 2010, chemotherapy with epirubicin, oxaliplatin and 5-fluorouracil was started and then shifted to docetaxel, cisplatin plus 5-fluorouracil. In September 2011, an ileostomy was created in the lower right abdominal quadrant in order to palliate the progressively worsening symptoms of bowel obstruction. Third line monochemotherapy with irinotecan was ongoing at the time of our first evaluation, on October 2011. Given patient's low performance status according to the Eastern Cooperative Oncology Group scale, peritonectomy associated with intraperitoneal chemotherapy was deemed contraindicated. On the other hand, peristomal tumor growth was highly symptomatic, since cutaneous metastases caused a continuous burning sensation that was exacerbated by the contact with liquid and slightly caustic stools at the ileostomy site. Moreover, tumor nodules were oozing and partially bleeding and the abundant exudate engendered continuous troubles in ileostomy management, due to difficult application of the pouching bag. At physical examination, ileostomy outer mucosa appeared macroscopically normal (Figure 2B). Mild stricture was present, but repetitive manual expansions maintained its patency and digital exploration was negative for tumor infiltration. ECT was offered with a palliative intent to improve disease-related complaints and everyday ileostomy management. The patient signed an informed consent. ECT procedure lasted 20 min and was performed under mild general sedation (Figure 3A). Tumor site was rinsed and prepared with sterile drapes; a silicon tube was placed into the ileostomy in order to drain stools and keep the operative field clean. (Figure 3B) Chemotherapy consisted of an intravenous bolus of BLM (15 000 IU/m2). After 8 minutes, necessary for drug biodistribution in accordance with the European Standard Operating Procedures on Electrochemotherapy (ESOPE) 15, electric pulses were delivered by percutaneously inserting a 2-cm long needle electrode into skin nodules (Figure 3C). The electrode is composed of seven metal needles arranged in an hexagonal fashion (Figure 1) and is maneuvered by means of an handle connected to an electric pulse generator (CliniporatorTM, Igea, Modena, Italy) (Figure 3A). Complete tumor coverage was achieved by means of multiple electrode placements delivering a 1.5 ms -long electric pulse. At the end of the procedure, local toxicity consisted of slight skin marks at the site of electrode insertion (Figure 3D). There was no sign of bleeding, rather the thicker portion of the tumor turned to a bluish coloration due to local vasoconstriction (Figure 3D). After treatment, electroporated skin was carefully cleaned and covered with a healing powder (Figure 4A). Moreover, a custom-sized hydrocolloid dressing (DuoDERM®, ConvaTech, Inc.) was applied over the ECT field (Figure 4B) and the space between ileostomy and peristomal skin was sealed by means of a stoma paste (Stomahesive® Paste, ConvaTech, Inc.) in order to prevent stools leakage over inflamed tissues (Figure 3C). Additionally, a silicon catheter was placed into the stoma in order to drain stools directly into the ostomy bag (Figure 4 C,D). The postoperative course was uneventful and the patient was discharged on the same day with the prescription for a course of metronidazole plus ciprofloxacin prophylactic therapy. After one week, tumor nodules were significantly flattened (Figure 5A). Skin care consisted of hydrocolloid dressing application combined with stools deviation by means of a silicon tube (Figure 5B). After three weeks, physical examination showed a normal appearing stoma with adjacent mild erythema and partially necrotic skin from the 12-o'clock to the 7-o'clock position (Figure 5C). Tumor nodules were partially regressed and electroporated skin was healing and dry, thus allowing for easy application and effective sealing of the ostomy flange and pouching bag (Figure 5D). The ileostomy function remained normal throughout this period and no sign of infection was present. In January 2011, one moth after treatment, the patient returned to the outpatient clinic for a minor surgical debridement, during which the necrotic crusts were removed, leaving an underlying intact tissue that was suitable for the application of the ostomy flange. The ileostomy maintained its patency and, importantly, the adherence of the stoma appliance was preserved during the following four months, until patient's death.