Gas Sensors Based on Conducting Polymers
ABSTRACT
---
The gas sensors fabricated by using conducting polymers such as polyaniline (PAni), polypyrrole (PPy) and poly (3,4-ethylenedioxythiophene) (PEDOT) as the active layers have been reviewed. This review discusses the sensing mechanism and configurations of the sensors. The factors that affect the performances of the gas sensors are also addressed. The disadvantages of the sensors and a brief prospect in this research field are discussed at the end of the review.
No MeSH data available.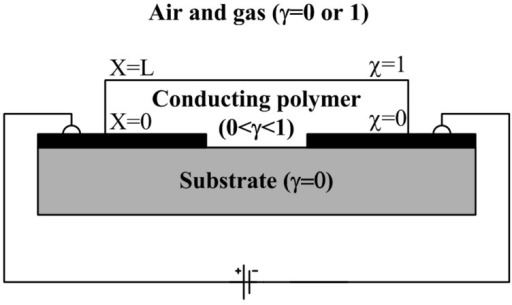 © Copyright Policy
getmorefigures.php?uid=PMC3756721&req=5
Mentions: Absorbing of the analyte molecules on the surface of sensing film is widely used in gas sensing. In fact, absorption is the first step in all the sensing techniques, especially in same quartz crystal microbalance sensors. The absorption of organic gases on conducting polymers has been experimentally studied. Bartlett's group presented a basic model for polymer gas sensors which consists of a thin uniform polymer film lying on the top of a pair of coplanar electrodes supported by an insulating substrate [81]. They assumed that the absorption process is described by the Langmuir adsorption isotherm, that is:(1)A+〈site〉⇔kbkf〈A〉where kf and kb are the forward and backward reaction rate, respectively, A is the analyte. Based on the device illustrated in Figure 1, a modified diffusion equation in dimensionless form can be established to describe the adsorption process:(2)∂2γ∂χ2−∂γ∂τ=ηλ∂θ∂τwhere χ is the dimensionless distance parameter (x/L), ris the dimensionless time parameter (Dt/L2), γ the normalized gas concentration (a/a∞) and a∞ is the external gas concentration. γ and η are dimensionless parameters given by KN and Ka∞, respectively, and thus depend upon material properties such as the equilibrium constant K (kf/kb) and the density of sites N. On the other hand, the gas also obeys a sorption kinetics equation:(3)η∂θ∂τ=κλγ(1−θ)−κθwhere κ is a dimensionless parameter that equals the ratio of forward reaction-rate to diffusion-rate, kfNL2/D. Equa. 2 and 3 may now be solved with suitable boundary conditions to obtain the adsorption and desorption concentration γ(χ, τ), and site occupancy θ(χ, τ) profiles. However, these two nonlinear partial differential equations have not been analytically solved exactly. The authors got approximate analytical solutions in six limiting cases [82, 83], which are pure diffusion (λ< 1, η < 1, κ > η), slow diffusion (λ < 1, η < 1, κ > 1), unsaturated (linear) reaction kinetics (λ< 1, η < 1, κ < η), saturated reaction kinetics (η < 1, κ < η, λ > 1), saturated (nonlinear) reaction kinetics (κ > 1, κ > η, λ > 1, λ2> η) and mix diffusion reaction process (κ > 1, 1 < λ2 < η, η > 1). Considering the electrode width d and the gap width w, conducting response can be obtained numerically by some complicated operation.