Influence of Thickness on Ethanol Sensing Characteristics of Doctor-bladed Thick Film from Flame-made ZnO Nanoparticles
ABSTRACT
---
ZnO nanoparticles were produced by flame spray pyrolysis (FSP) using zinc naphthenate as a precursor dissolved in toluene/acetonitrile (80/20 vol%). The particle properties were analyzed by XRD, BET, and HR-TEM. The sensing films were produced by mixing the particles into an organic paste composed of terpineol and ethyl cellulose as a vehicle binder and were fabricated by doctor-blade technique with various thicknesses (5, 10, 15 μm). The morphology of the sensing films was analyzed by SEM and EDS analyses. The gas sensing characteristics to ethanol (25-250 ppm) were evaluated as a function of film thickness at 400°C in dry air. The relationship between thickness and ethanol sensing characteristics of ZnO thick film on Al2O3 substrate interdigitated with Au electrodes were investigated. The effects of film thickness, as well as the cracking phenomenon, though, many cracks were observed for thicker sensing films. Crack widths increased with increasing film thickness. The film thickness, cracking and ethanol concentration have significant effect on the sensing characteristics. The sensing characteristics with various thicknesses were compared, showing the tendency of the sensitivity to ethanol decreased with increasing film thickness and response time. The relationship between gas sensing properties and film thickness was discussed on the basis of diffusively and reactivity of the gases inside the oxide films. The thinnest sensing film (5 μm) showed the highest sensitivity and the fastest response time (within seconds).
No MeSH data available.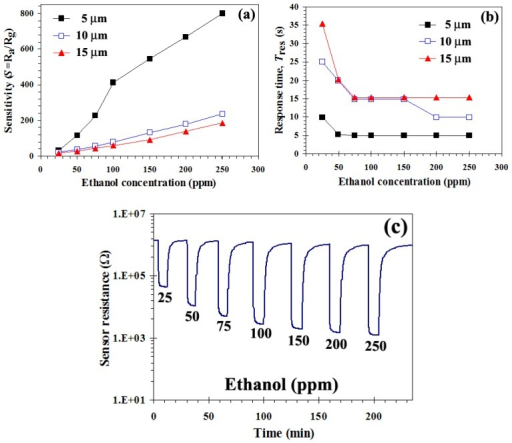 © Copyright Policy
getmorefigures.php?uid=PMC3756700&req=5
Mentions: Fig. 7 (a) and (b) shows the sensitivity (S) and response time (Tres) versus the ethanol concentration ranging from 25-250 ppm plot for the sensors S1 (filled triangles), S2 (open rectangles), and S3 (filled triangles) with various film thicknesses during forward cycle towards reducing gas ethanol at sensing operating temperature of 400°C. The sensitivities of all sensors were found to increase rather linearly with increasing ethanol concentrations. As the film thickness increases from 5 to 15 μm, it can be clearly seen that at the thinnest sensing film (S1) can improve the sensor behaviors in terms of sensitivity and response times, which evidently shown better than S2, and S3. Better response should be expected for larger concentration of reducing gas adsorbed, because the reaction between the adsorbed reducing gas and oxygen species becomes more favorable. The sensor S1 has the best sensitivity (to 250 ppm, S=801). Further increase of the film thicknesses deteriorates the sensitivity (Fig. 7 (a)) and response time (Fig. 7 (b)). The sensor S1 showing the fastest response to ethanol vapor, whereas a thicker sensing films affected to the response of the sensors were slightly sluggish. For sensor S1, the response time, Tres, was within a few seconds and rather constantly responded with increasing ethanol concentration (in the order of 5 s). The response time: Tres was 10 and 5 s at 25 and 250 ppm, respectively. The trend of Trec was so long within minutes. Comparing with the same material references which reported by Liu et al. [3], these sensors produced from flame-made ZnO nanoparticles have higher sensitivity and shorter response times than those made from ZnO single crystal flakes with different sizes and morphology of particles (to 300 ppm, S=14.3, Tres=62 s). Also Zhu et al. [11] reported that ZnO nanorods and needle-shaped had a sensor response to 100 ppm of ethanol at 420°C of 12. For the comparison with doping material, Zhu et al. [10] reported that the highest sensing behaviors to ethanol was at 370°C of pure ZnO (to 100 ppm, S=15) and ZnO incorporated with 10 wt%TiO2 (to 100 ppm, S=50, and to 200 ppm, S= 80) sensor. It can be clearly seen that high purity of flame made ZnO nanoparticles show very high sensitivity and also fast response time at the highest ethanol concentration.