New Cytotoxic and Antibacterial Compounds Isolated from the Sea Hare, Aplysia kurodai
ABSTRACT
---
The extract of the sea hare, Aplysia kurodai, showed cytotoxicity against HeLa cells and antibacterial activity against Staphylococcus aureus. Bioassay-guided purification afforded four active compounds, which were identified to be laurinterol, laurinterol acetate, debromolaurinterol, and debromolaurinterol acetate by spectroscopic analysis. Although the acetates were derived from laurinterol and debromolaurinterol before, this is the first isolation of the acetates from natural sources.
No MeSH data available.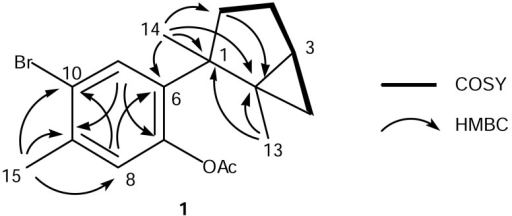 © Copyright Policy - open-access
getmorefigures.php?uid=PMC3756325&req=5
Mentions: The EIMS of 1 showed 1:1 doublet ion peaks at m/z 336 and 338 [M]+, indicating the presence of a bromine atom in the molecule, and a molecular formula of C17H21O2Br was established by HREIMS and 13C NMR data. The IR spectrum of 1 showed absorption at 1762 and 1600 cm−1, which indicated the presence of a conjugated ester group and an aromatic ring. The 1H NMR spectrum of 1 (Table 1) revealed two characteristic high-field signals assignable to a trisubstituted cyclopropane ring at δ 0.50 (t, J = 4.6 Hz) and 0.55 (dd, J = 4.6, 8.8 Hz), two singlet aromatic signals at δ 6.88 (s) and 7.82 (s), four singlet methyls at δ 1.30 (3H, s), 1.34 (3H, s), 2.30 (3H, s), and 2.39 (3H, s). The analysis of COSY and HMBC spectra of 1 suggested the presence of a dimethylbicyclo[3.1.0]hexane group and a 1,2,4,5-tetrasubstituted aromatic ring (Fig. 1). The HMBC cross-peak, δH 1.34 (H3-14)/δC 139.7 (C-6), showed the connection between C-1 of the bicyclohexane ring and C-6 of the aromatic ring. The HMBC cross-peak, δH 2.39 (H3-15)/δC 136.1 (C-9), revealed the methyl signal was attached to a carbon at C-9, which was supported by the NOE correlation between H3-15 and H-8 (δ 6.88, s). The magnitude of carbon chemical shifts of δ 148.3 (C-7) and 121.2 (C-10) indicated that an acetate and a bromine group were substituted at C-7 and C-10, resepectively. These data suggested that 1 was an acetate of laurinterol (2) [13, 14]. The acetylation of 2 afforded its monoacetate, of which the 1H NMR spectrum showed the appearance of an additional acetate signal at δ 2.30 (3H, s) instead of the disappearence of a hydroxy signal at δ 5.39 (s, 7-OH) in 2. The spectral data of the monoacetate were all identical with those of 1 including the specific rotation, which implied that 1 was laurinterol acetate.