Sterol Ring System Oxidation Pattern in Marine Sponges
ABSTRACT
---
The marine sponges (Porifera) are a unique group of sedentary organisms from which several novel natural products are reported, many of which have useful biological activities. In producing unusual sterols, they occupy a preeminent position among the various groups of organisms. The polar sterols of sponges reported as at the end of the year 2002 number about 250; their ring structure changing a hundred times. The oxidation pattern in the sterol ring system, from the point of view of biogenesis seems to be mainly of four types. Each sponge species is able to produce sterols fitting into one of the four main biogenetic pathways viz., (i) 3β-hydroxy-Δ5-sterol pathway, (ii) 3β-hydroxy-Δ7-sterol pathway, (iii) 3β-hydroxy-Δ5,7-sterol pathway, and (iv) 3α-hydroxy sterol pathway.
No MeSH data available.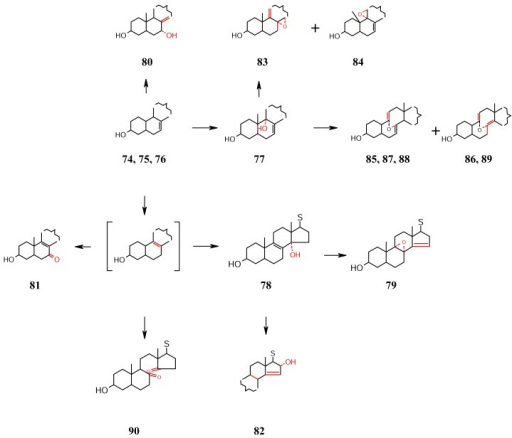 © Copyright Policy - open-access
getmorefigures.php?uid=PMC3756323&req=5
Mentions: Although polyhydroxy sterols have been found in various groups of marine organisms e.g., algae, porifera, coelenterata, bryozoa, molluska, echinodermata, arthropoda, tunicata and chordata, a preeminent position is occupied by porifera, i.e., sponges. A full review of the marine polyhydroxy steroids was published in 1993 [3]. The reviews that appeared since [4,5] discuss briefly on sponge sterols. The present review's purpose is besides giving the account as of date, to describe for the first time the biogenetic relationships that possibly exist in the sterol nuclear structure. This aspect may have a bearing on sponge classification, and the geographic occurrence of the organism, and be of great utility in chemotaxonomic studies. For brevity, the structures of sterols are presented as part structures, focusing on the oxidation pattern occurring in the sterol ABCD ring system (alone). A single sterol nucleus, as shown in various schemes (Schemes 3–14) may stand for a number of individual steroids with structural changes occurring in the side chain that are, however, not shown.