Effects of Polybrominated Diphenol Ethers from a Marine Sponge Phyllospongia dendyi on IL-8 Production in a PMA-stimulated Promyelocytic Leukemia Cell Line
ABSTRACT
---
The effects of five polybrominated diphenol ethers from a Marine Sponge, Phyllospongia dendyi, on the relative plating efficiencies in V79 cells and the cell proliferation and IL-8 production in PMA-stimulated HL-60 cells were examined. Three compounds, possessing two phenol units, were reported to inhibit the assembly of microtubule proteins and showed the inhibition of colony formation of V79 cells and increase in IL-8 production. Interestingly, a monomethoxy compound exhibited the stronger activity than the three active compounds in both bioassays. This compound did not inhibit the assembly of microtubule proteins. A dimethoxy compound was not active in either bioassays. In these experimental conditions, the biological activities were not high, but in future, these compounds will be expected to be made stronger by structural modifications.
No MeSH data available.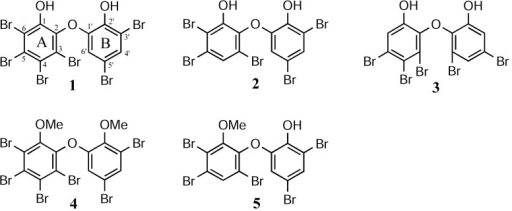 © Copyright Policy - open-access
getmorefigures.php?uid=PMC3756320&req=5
Mentions: 2-(3′,5′-Dibromo-2′-hydroxyphenoxy)-3,4,5,6-tetrabromophenol (1) [15,16], 2-(3′,5′-dibromo-2′-hydroxyphenoxy)-3,5,6-tribromophenol (2) [15,16], 2-(4′,6′-dibromo-2′-hydroxyphenoxy)-3,4,5-tribromophenol (3) [16], 2-(3′,5′-dibromo-2′-methoxyphenoxy)-3,4,5,6-tetrabromoanisole (4) [15] and 4,6-dibromo-2-(3′,4′,6′-tri-bromo-2′-meyhoxyphenoxy)phenol (5) [16] (Figure 1) were prepared as described previously [3]. The structures of five compounds are shown in Figure 1. Dimethylsulfoxide (DMSO) was purchased from Pierce Chemical Co. (Rockfield, IL) and fetal bovine serum (FBS) was obtained from GIBCO after checking the lot. All other reagents and chemicals used were of the highest grade available commercially.