Spotted fever group rickettsiae in questing ticks, central Spain.
The number of spotted fever group (SFG) rickettsiae that cause diseases in humans is rapidly increasing ; infections have been described in ticks and humans in Spain... However, in Castilla-La Mancha, central Spain, where recreational parks and hunting estates are abundant and humans may be exposed to infected ticks, information on such infections is not available... Therefore, it is worthwhile to characterize Rickettsia spp. found in this area for epidemiologic studies and proper diagnosis of possible rickettsial diseases... Genes targeted by PCR included fragments of adenosine triphosphate synthase α subunit (atpA), heat-shock protein 70 (dnaK), outer membrane protein A (ompA), outer membrane protein B (ompB), citrate synthase (gltA), 16S rRNA, recA, and initiator protein of DNA replication (dnaA)... To characterize Rickettsia spp., we compared nucleotide sequence identity to reference strains and carried out multilocus analysis using ompA-ompB sequences and in silico PstI and RsaI restriction analysis of ompA sequences... Ticks were first screened by 16S rRNA PCR, and positive samples were analyzed for all targeted genes... The results showed that 27 (18.2%) of the 148 ticks analyzed were positive for Rickettsia spp... Multilocus sequence analysis of ompA-ompB sequences (Figure, panel B) and in silico PstI and RsaI restriction analysis of ompA sequences also confirmed the identity of the Rickettsia spp. identified in this study... As previously shown, multilocus analysis with ompA-ompB sequences was highly informative about the phylogenetic relationship between Rickettsia spp. (Figure, panel B), with similar results for maximum likelihood, maximum parsimony, and neighbor-joining methods (data not shown)... Furthermore, the results suggested the tick vectors for these Rickettsia spp. in the study area (Figure, panel B) match those reported or suspected previously for these Rickettsia spp., but for the first time, R. sibirica subsp. mongolitimonae was identified in Hyalomma and Rhipicephalus spp. ticks in Spain... These tick species are frequently found in the same area feeding on Eurasian wild boar (Sus scrofa) and red deer (Cervus elaphus), which may act as hosts for these pathogens... To test this hypothesis, we determined the seroprevalence for SFG rickettsiae in these host species in Castilla-La Mancha... In conclusion, these results demonstrate that SFG rickettsiae with public health relevance are found in ticks in central Spain as in other regions in Spain... In central Spain, the widespread distribution of tick vectors and possible wildlife hosts, the presence of persons in tick-infested recreational and hunting areas, and the transstadial and transovarial transmission of the pathogen in ticks may favor transmission to humans.
Show MeSH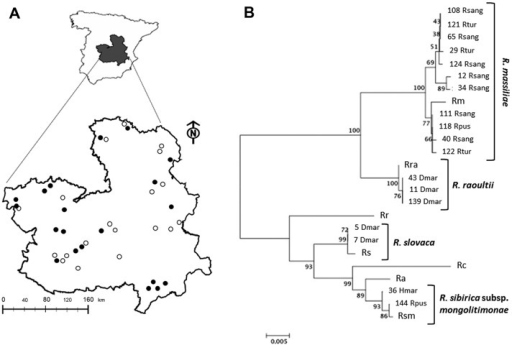 © Copyright Policy
getmorefigures.php?uid=PMC3713984&req=5
Mentions: In this study, we obtained 148 questing adult ticks, representing the most abundant species in the area: 12 Dermacentor marginatus, 26 Rhipicephalusbursa, 41 Rh. sanguineus, 15 Rh. turanicus, 8 Rh. pusillus, 2 Haemaphysalis punctata, 11 Hyalomma lusitanicum, and 33 Hyalomma marginatum (5). The ticks were collected from the vegetation at natural sites surveyed in Castilla-La Mancha by blanket dragging with a cotton flannelette during fall 2009 and spring–summer 2010 (Figure, panel A) and classified (5).