Novel bat-borne hantavirus, Vietnam.
: Compelling evidence of genetically distinct hantaviruses (family Bunyaviridae) in multiple species of shrews and moles (order Soricomorpha, families Soricidae and Talpidae) across 4 continents suggests that soricomorphs, rather than rodents (order Rodentia, families Muridae and Cricetidae), might be the primordial hosts... Total RNA was extracted from 51 lung tissues, collected in RNAlater Stabilization Reagent (QIAGEN, Valencia, CA, USA), from insectivorous bats, representing 7 genera and 12 species, captured in Mongolia and Vietnam. cDNA was then prepared by using PrimeScript II 1st strand cDNA Synthesis Kit (Takara Bio, Otsu, Shiga, Japan) for reverse transcription PCR (RT-PCR), and using oligonucleotide primers previously designed for amplification of soricid- and talpid-borne hantaviruses... XSV sequences were identical in lung, liver, kidney, and spleen; and the highest number of virus copies (7.6 × 10) was in lung tissue, determined by real-time RT-PCR... No additional hantavirus-infected Pomona roundleaf bats were found by RT-PCR that used XSV-specific primers... Bats of the genus Hipposideros, family Hipposideridae, are among the most speciose insectivorous bats; ≈70 species are distributed across Africa, Europe, Asia, and Australia... Pomona roundleaf bats are frequently found in or near limestone or sandstone caves... Their colony sizes vary from few to many hundreds of individuals... The vast geographic distribution of the Pomona roundleaf bat throughout Vietnam and in Bangladesh, Cambodia, China, India, Laos, Malaysia, Myanmar, Nepal, and Thailand, provides opportunities to ascertain the genetic diversity and phylogeography of XSV and XSV-related hantaviruses... In this regard, although hantavirus RNA was not detected in archival tissues from bats of ≈20 genera, including several other Hipposideros species, many more genetically divergent hantavirus species are probably harbored by insectivorous bats... Not all orphan viruses warrant intensive study at the time of their discovery... However, insights into the ecology and transmission dynamics of newfound bat-borne hantaviruses might prepare us to more rapidly diagnose future outbreaks caused by emerging hantaviruses.
Show MeSH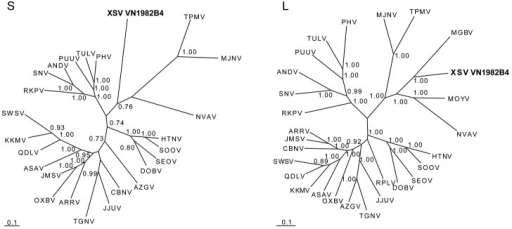 © Copyright Policy
getmorefigures.php?uid=PMC3713973&req=5
Mentions: Phylogenetic analyses was performed with maximum-likelihood and Bayesian methods, and we used the GTR+I+Γ model of evolution, as selected by the hierarchical likelihood-ratio test in MrModeltest version 2.3 and jModelTest version 0.1 (10), partitioned by codon position. Results indicated 4 distinct phylogroups, with XSV sharing a common ancestry with MGBV (Figure). Similar topologies, supported by high bootstrap (>70%) and posterior node (>0.70) probabilities, were consistently derived when various algorithms and different taxa and combinations of taxa were used. Moreover, as we reported previously, the incongruence between some hantaviruses and their reservoir hosts might be indicative of host-switching events (5–7).