Assessment of Unmanned Aerial Vehicles Imagery for Quantitative Monitoring of Wheat Crop in Small Plots
ABSTRACT
---
This paper outlines how light Unmanned Aerial Vehicles (UAV) can be used in remote sensing for precision farming. It focuses on the combination of simple digital photographic cameras with spectral filters, designed to provide multispectral images in the visible and near-infrared domains. In 2005, these instruments were fitted to powered glider and parachute, and flown at six dates staggered over the crop season. We monitored ten varieties of wheat, grown in trial micro-plots in the South-West of France. For each date, we acquired multiple views in four spectral bands corresponding to blue, green, red, and near-infrared. We then performed accurate corrections of image vignetting, geometric distortions, and radiometric bidirectional effects. Afterwards, we derived for each experimental micro-plot several vegetation indexes relevant for vegetation analyses. Finally, we sought relationships between these indexes and field-measured biophysical parameters, both generic and date-specific. Therefore, we established a robust and stable generic relationship between, in one hand, leaf area index and NDVI and, in the other hand, nitrogen uptake and GNDVI. Due to a high amount of noise in the data, it was not possible to obtain a more accurate model for each date independently. A validation protocol showed that we could expect a precision level of 15% in the biophysical parameters estimation while using these relationships.
No MeSH data available.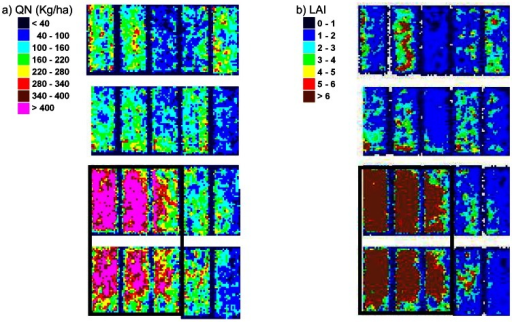 © Copyright Policy
License
getmorefigures.php?uid=PMC3675559&req=5
Mentions: Such maps can help analyzing the different wheat varieties response to the same environment, under different fertilizing conditions. It can also provide information about the soil resources prior to the crop, especially at early stages of wheat growth. For instance, on the 14th of April, a square patch of very high values appears on the bottom left-hand side corner (plot number from left to right and bottom-up: 0101, 0102, 0103, 0201, 0202, and 0203) of both LAI and QN maps (Figure 13, Figure 14, and Figure 15). This is not an artefact due to the image pre-processing, as it is explained by field factors: this part of the trial was inadvertently placed on an area that was managed as bare soil for over a year ending in October 2003. Therefore, it had a much higher level of soil nitrogen availability. This is also in good agreement with the plant sampling data in the fields (Table 7). This heterogeneity vanished as the growing season moved on and with subsequent fertilizer applications, as the surrounding area corresponded to the non-limited treatment for nitrogen.