Point-of-care coagulation management in intensive care medicine.
Standard laboratory tests of blood coagulation yield only partial diagnostic information, and important coagulation defects, e.g., reduced clot stability, platelet dysfunction, or hyperfibrinolysis, remain undetected... Coagulopathy in critically ill patients is typically a multifactorial problem involving: • disturbances in physiological basic conditions for hemostasis (pH, concentration of ionized calcium, temperature and hematocrit) • disturbances of primary hemostasis, e.g., preexisting or perioperatively acquired disturbances of platelet count and function, due to sepsis, disseminated intravascular coagulation (DIC), heparin-induced thrombocytopenia, massive blood loss, or drug-induced thrombocytopenia; • abnormalities of blood plasma, e.g., preoperative anticoagulation medication as well as isolated or global clotting-factor deficits (impaired synthesis, massive loss, or increased turnover); • complex coagulopathies, e.g., DIC or hyperfibrinolysis (Figure 1) In patients with extracorporeal life support (ventricular-assist devices, extracorporeal membrane oxygenation ), the risk of coagulopathy is further increased by: • therapeutic anticoagulation with the use of heparin to limit clotting; • dilution, activation and consumption of both coagulation factors and platelets... In contrast to standard laboratory tests, POC techniques, including whole blood platelet function tests (impedance or turbidimetric aggregometry) and viscoelastic tests (thromboelastometry/-graphy), reflect in detail the hemostatic status of the critically ill patient... The majority reported a potential decrease in transfusion requirements following POC diagnostics... In two studies, the authors exclusively focused on coagulopathic patients, in whom POC techniques resulted in significantly reduced postoperative blood loss and beneficial effects in terms of clinically relevant endpoints... Notably, these hemostatic tests should be performed repeatedly during mechanical circulatory support therapy since thrombin generation, clot firmness and platelet response may change significantly over time with marked inter- and intra-individual variability... In patients with liver transplantation, significant blood loss has been found to be an independent risk factor for postoperative morbidity... In a prospective randomized study, Wang et al. recently randomized 28 patients undergoing orthotopic liver transplantation either to standard laboratory measures of blood coagulation or thromboelastography analysis... POC-guided transfusion was associated with decreased transfusion of frozen plasma (12.8 ± 7 vs.21.5 ± 1 2.7 units), but did not affect 3-year survival... Taken together, it appears that POC-guided coagulation therapy indeed lowers the rate of transfusion of allogeneic blood products overall (mainly by lowering FFP and platelet transfusion rates), but simultaneously increases the use of clotting-factor concentrates (mainly fibrinogen and prothrombin complex concentrates)... However, several conditions, such as plasma pH ≥ 7.2, fibrinogen concentration > 150 mg/dl, platelet count > 50,000/μl, hematocrit ≥ 25%, ionized calcium concentration > 1 mmol/l and body temperature > 36 °C, should be met before factor VIIa is administered... Moreover, as highlighted in a recent systematic review, the effectiveness of recombinant factor VIIa in reducing the transfusion rate of allogeneic blood products or perioperative blood loss remains controversial... In this respect, POC techniques should be an integral part of a patient blood management program ; beyond this, POC analysis may also enable diagnosis of sepsis-induced hemostatic alterations, and may even have the potential to predict mortality in septic patients... Finally, prospective studies are urgently needed to analyze whether hemostatic therapy based on POC testing can provide significant benefits with respect to clinical outcomes for our critical care patients.
Show MeSH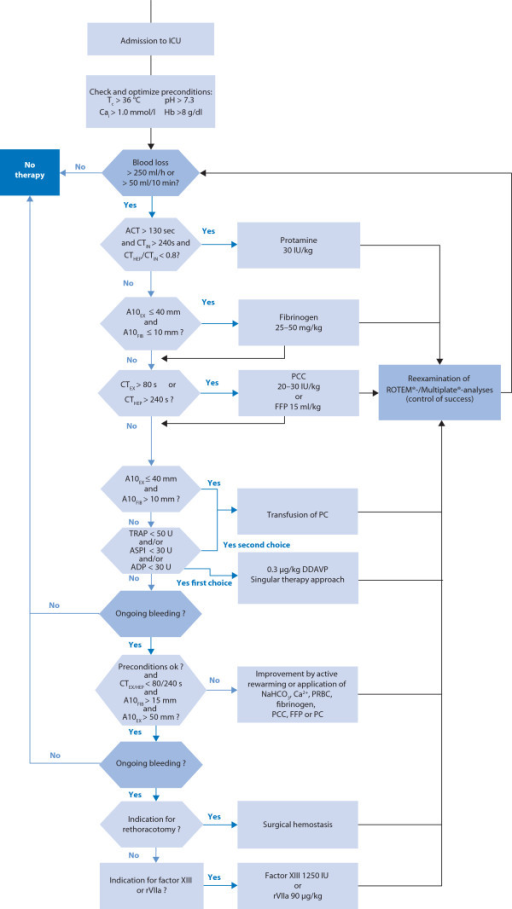 © Copyright Policy
getmorefigures.php?uid=PMC3672634&req=5
Mentions: Coagulation management in intensive care medicine should be based on a hemotherapy algorithm that includes POC techniques, and that is implemented as institutional standard care (Figure 3). Hemotherapy should involve an assessment of the patient's individual bleeding risk, evaluation and correction of basic physiological conditions required for hemostasis, and repeated evaluation and correction of thrombin and clot formation. If indicated, replacing deficient coagulation factors and improving the hemostatic potential of the primary hemostasis are consecutive steps in therapy escalation. Final options are off label use of factor XIII and recombinant factor VIIa.