Assessment of volume responsiveness during mechanical ventilation: recent advances.
Predicting which patients with acute circulatory failure will respond to fluid by a significant increase in cardiac output is a daily challenge, in particular in the setting of the intensive care unit (ICU)... In patients receiving mechanical ventilation, the arterial pulse pressure variation (PPV) has been used for many years... The first application of this 'dynamic' concept consisted of quantifying the variations in stroke volume induced by positive-pressure ventilation... As a result of heart-lung interactions, each mechanical insufflation decreases venous return and, if the right ventricle is preload-dependent, reduces the right ventricular (RV) outflow... Increase in RV afterload induced by increased lung volume contributes to this reduction in RV outflow... In turn, this results in a decrease in left ventricular (LV) preload, which occurs after a delay of a few cardiac cycles, required for the blood to transit through the lungs... Noticeably, all patients of the latter study were arrhythmic or had mild spontaneous breathing activity... These initial results were recently confirmed... Second, the PLR test cannot be used in instances in which mobilizing the patient is not possible or allowed, e. g., in the operating room or in the case of head injury... If the decision is taken to infuse fluid in case of preload reserve, the ensuing question is whether the fluid actually exerts its expected beneficial effects... Consequently, the changes in pulse pressure induced by volume expansion detected a positive response to fluid (i. e., an increase in cardiac output ≥ 15%) with a specificity of 85% but with a sensitivity of only 65%; in other words, 22% of cases were false negatives, meaning that in these patients, fluid administration significantly increased cardiac output whereas the arterial pulse pressure did not change to a large extent... Pierrakos et al. confirmed these results in 51 septic shock patients, in whom there was no significant correlation between fluid-induced changes in arterial pulse pressure and fluid-induced changes in cardiac output... These results are explained by the fact that arterial pulse pressure is physiologically related to stroke volume but also inversely correlated with arterial compliance, which may differ among patients and may change over time in the same patient.
Show MeSH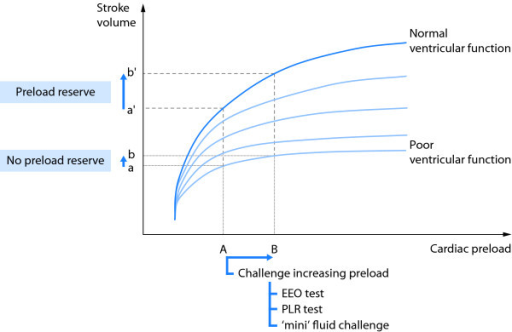 © Copyright Policy
getmorefigures.php?uid=PMC3672529&req=5
Mentions: Volume expansion is the first-line treatment in the majority of cases of acute circulatory failure. Fluid is administered with the expectation that it will increase cardiac preload and cardiac output to a significant extent. Nevertheless, this can occur only if cardiac output is dependent upon cardiac preload, i. e., if both ventricles operate on the ascending limb of the cardiac function curve [1] (Figure 1). If this is not the case, volume expansion may only exert adverse effects without having any hemodynamic benefit. An important point is that excessive fluid administration has been demonstrated to increase mortality during septic shock [2,3] and to prolong mechanical ventilation during acute respiratory distress syndrome (ARDS) [4]. In the same context, the amount of extravascular lung water (EVLW), i. e., the volume of lung edema, has been demonstrated to be related to mortality in critically ill patients [5] and, more recently, to be an independent prognostic factor during ARDS [6]. Thus, fluid responsiveness should be detected before deciding to administer volume expansion, especially in patients in whom fluid overload should be particularly avoided, i. e., patients with septic shock and/or ARDS.