Renal oxygenation in clinical acute kidney injury.
An increase in renal O2Ex means that renal DO2 has decreased in relation to renal VO2, i. e., renal oxygenation is impaired, and vice versa... Prasad et al. demonstrated in conscious volunteers that 20 mg of furosemide increased medullary oxygenation, using the blood oxygen level-dependent magnetic resonance imaging technique (BOLD MRI)... In contrast, acetazolamide, which inhibits tubular reabsorption of the proximal tubules in the cortex and which does not affect medullary PO2 in experimental studies, did not affect medullary oxygenation... Furosemide increased fractional excretion of sodium (excreted sodium/filtered sodium) from 2% to 25% and caused a 10-fold increase in urine flow because of a 28% decrease in tubular sodium reabsorption... These changes were in turn associated with a 23% decrease in renal VO2... Thus, furosemide decreased renal O2Ex and improved renal oxygenation as renal blood flow was not significantly affected by the diuretic... Redfors et al. recently studied the effects of low-dose (2-4 μg/kg/min) dopamine on renal blood flow, GFR, tubular sodium reabsorption, renal VO2 and the renal oxygen demand/supply relationship in post-cardiac surgery patients... Postoperative AKI in this group of patients is considered a consequence of impaired renal DO2, in turn caused by intra-operative hypotension and hemodilution-induced anemia, as well as perioperative low cardiac output... In spite of a normalization of cardiac index (CI) with inotropic treatment with or without intra-aortic balloon pump (IABP), renal oxygenation was severely impaired in patients with early AKI, as demonstrated by a 70% relative increase in renal O2Ex, compared to uncomplicated post-cardiac surgery patients with normal renal function This was, in turn, caused by a pronounced renal vasoconstriction and a 40% lower renal blood flow, in combination with a renal VO2 that was not significantly different from the control group, despite the 60% decrease in GFR and renal tubular sodium reabsorption (Table 3)... Figure 4 shows the close correlation between GFR and renal VO2 in patients with early AKI after cardiac surgery versus those undergoing uncomplicated surgery with no renal impairment... At a target MAP of 75 mm Hg, renal DO2 (13%), GFR (27%) and urine flow were higher and renal O2Ex was lower (7.4%) compared with a target MAP of 60 mm Hg... However, the renal variables did not differ when compared at target MAPs of 75 and 90 mm Hg (Figure 8)... ANP is ideally suited for treatment of ischemic AKI, as it preferentially dilates the preglomerular resistance vessels; this will increase GFR but also renal blood flow, meeting the increased oxygen demand of the medulla by an increase in renal DO2... Mannitol increases renal blood flow and GFR in clinical ischemic AKI most likely by endothelial and epithelial de-swelling effects.
Show MeSH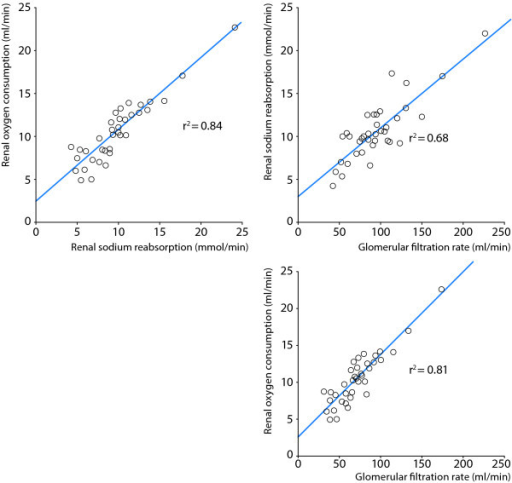 © Copyright Policy
getmorefigures.php?uid=PMC3672481&req=5
Mentions: It is well known from experimental studies that tubular sodium reabsorption is the major determinant of renal VO2 [3] and that under normal physiological conditions, approximately 80% is used to drive active tubular transport of particularly sodium, but also glucose, amino acids and other solutes. Tubular transport processes are highly load-dependent and it has been shown in experimental studies [4] and in patients [2,5-7] that there is a close linear correlation between glomerular filtration rate (GFR), renal sodium reabsorption and renal VO2 (Figure 1). The filtered load of sodium is, thus, an important determinant of renal VO2 and maneuvers that decrease GFR and the tubular sodium load act to decrease tubular sodium reabsorption and renal VO2, and vice versa [8]. It has been shown that renal O2Ex remains stable over a wide range of renal blood flows, which means that changes in renal DO2, caused by changes in renal blood flow, are directly offset by changes in renal VO2 [9], i. e., renal VO2 is flow-dependent. Thus, unlike other organs where increases in blood flow will improve oxygenation, increased renal blood flow augments GFR and the filtered load of sodium, which will increase renal VO2. Due to this flow-dependency of renal VO2, renal oxygenation will remain constant, as long as renal blood flow and GFR change in parallel.