Strongyloides stercoralis: a plea for action.
Affiliation: Centre for Tropical Diseases, Sacro Cuore-Don Calabria Hospital, Negrar, Verona, Italy. zeno.bisoffi@sacrocuore.it
If we take hookworm as a comparison, as they have the same route of infection as S. stercoralis, we observe that surveys using (for S. stercoralis) Baermann and/or coproculture report a ratio of S. stercoralis to hookworm of 1/4 to 1/1 or more, –... In a recent study comparing the Kato-Katz method and the spontaneous sedimentation in tube technique (SSTT) for the diagnosis of intestinal parasites in the Amazonian basin of Peru, the researchers found the same prevalence with both techniques for hookworm (14%) as well as for Ascaris lumbricoides and Trichuris trichiura (both 5%), while for S. stercoralis the prevalence was 0% with Kato-Katz, versus 16% with the alternative method, and 22% if agar plate culture was added... Better tools are needed for a more correct estimation of S. stercoralis prevalence, using at least one of the best available diagnostic methods in stools such as Baermann or Koga agar plate culture, and adding when possible an accurate serologic test... Furthermore, the burden of mortality and morbidity associated with this parasite is poorly defined... A further concern is that, while the prevalence of the other soil-transmitted helminths (STH) is declining, mass treatment campaigns are unlikely to impact on S. stercoralis, except in countries where ivermectin, the drug of choice for strongyloidiasis, has been introduced for control/elimination of onchocerciasis and lymphatic filariasis, ... Therapy remains an area of partial uncertainty, too, as the optimal dosage schedule of ivermectin has yet to be defined, ... Solely reducing the worm burden, which may be an acceptable goal for other helminths, is not enough in this case, as this worm is capable of replicating itself in the host due to its peculiar autoinfection cycle... A recent study in Zanzibar showed a dramatic impact on STH prevalence following mass treatment with ivermectin plus albendazole for control of lymphatic filariasis; moreover, a tremendous reduction was observed in the incidence of scabies, too, which is known to respond well to ivermectin... We know that this parasite kills; we know that the infection can last lifelong in the absence of effective treatment; we know that the prevalence is probably much higher than previously estimated; we know that current regimens for mass treatment of STH are not adequate unless they include ivermectin; we know that the latter is the drug of choice for strongyloidiasis; and we have substantial experience in the large-scale use of this drug... Despite many remaining grey areas, the existing evidence calls for the following urgent, essential steps to be taken: Prevalence studies of STH should also target S. stercoralis using adequate diagnostic tools, and include comparative studies in areas where ivermectin has long been used for onchocerciasis and lymphatic filariasis control/elimination... A forum of experts should establish prevalence thresholds with the currently available diagnostic tools in order to define S. stercoralis as a public health problem, and propose control strategies including mass treatment regimens... Adequate screening and treatment strategies should be the rule for patients at risk of immunosuppression, both in low-middle and high income countries... More sensitive tests for parasitological cure are required... We know enough to call for action now.
Show MeSH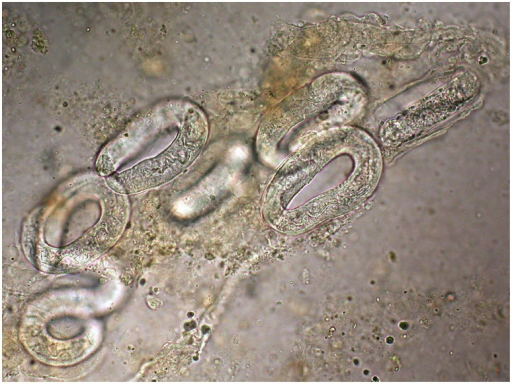 © Copyright Policy
getmorefigures.php?uid=PMC3649953&req=5
Mentions: We now know that disseminated strongyloidiasis (Figure 1) is a life-threatening condition for immunosuppressed patients, with death often occurring in a few days. In patients with hematologic malignancies (especially lymphoma), medically induced immune suppression (e.g., transplant recipients), or under corticosteroids (sometimes even for the symptoms caused by an unrecognized infection with S. stercoralis), the autoinfection cycle of this parasite becomes overwhelming, with larvae invading virtually all organs and tissues [19]. Nevertheless, the magnitude of this risk is unclear. How many chronically infected people receiving steroids, or exposed for any reason to one of the other well-known risk factors for severe disease, are likely to develop dissemination? Most cases have been reported in western countries or in other affluent countries where the prevalence of the infection is low and about half the cases are seen in migrants [20]. Even there, severe cases often remain undiagnosed, as the clinical presentation is variable and nonspecific. In most of African, Asian, and Latin American countries, reports of severe and fatal strongyloidiasis are lacking or exceedingly rare, meaning that most cases must be missed. Moreover, in some of them HTLV-1 infection, one of the recognized risk factors for disseminated disease, is relatively common [21]. Furthermore, in countries in economic transition, given the increase in chronic medical conditions and malignancies, as well as in the availability of potentially dangerous treatments, the number of immunosuppressed patients exposed to the risk of severe or fatal complications of an unrecognized, chronic S. stercoralis infection is likely to grow at a fast rate. More generally, the impact of this parasite on the total morbidity and mortality in the low-middle income countries is poorly known. In a recent study in Côte d'Ivoire comparing self-reported morbidity of S. stercoralis versus hookworm, a trend toward worse health conditions, particularly in those infected with S. stercoralis, was observed. Moreover, the perceived health impact of strongyloidiasis was greater than that of hookworm, mainly concerning abdominal and respiratory symptoms and skin problems [14].