The isolation and characterization of renal cancer initiating cells from human Wilms' tumour xenografts unveils new therapeutic targets.
Bottom Line: The existence of cancer initiating cells/cancer stem cells (CIC/CSC) in paediatric solid tumours is currently unclear.WT CSCs, which can be further enriched by aldehyde dehydrogenase activity, overexpressed renal stemness and genes linked to poor patient prognosis, showed preferential protein expression of phosphorylated PKB/Akt and strong reduction of the miR-200 family.The existence of CIC/CSCs in WT provides new therapeutic targets.
Affiliation: Pediatric Stem Cell Research Institute, Edmond and LiliSafra Children's Hospital, Sheba Medical Center, Ramat-Gan, Israel.
Show MeSH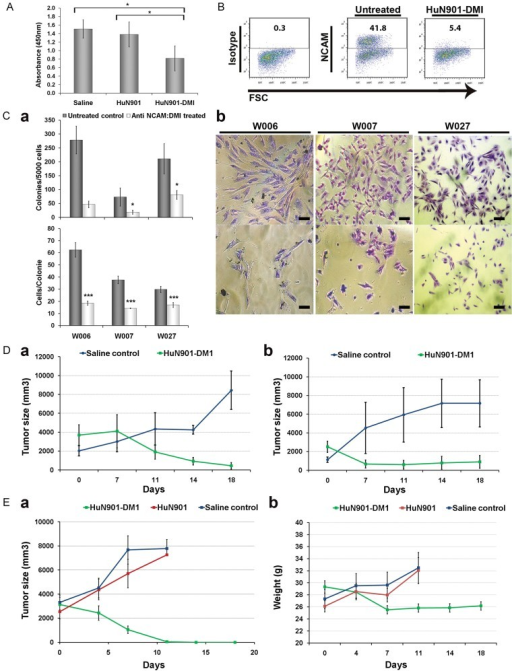 © Copyright Policy - open-access
License
getmorefigures.php?uid=PMC3569651&req=5
Mentions: Based on our observation that the NCAM+ cell fraction was enriched for WT-initiating activity and contained WT Xn CICs, as well as on the fact that chemotherapy might not efficiently target the WT CIC population, (Campbell et al, 2004; Pode-Shakked et al, 2009), we performed proof-of-principle experiments to evaluate the therapeutic effects of lorvotuzumab-mertansine, an anti-NCAM antibody-cytotoxic drug conjugate currently in clinical development (Jensen & Berthold, 2007; Ricart, 2011). First, we determined the in vitro IC50 for this compound on WT Xn (W011) populations in which approximately 80% of cells express NCAM. As an antigen-negative control, we used the DLD cell line, which does not express NCAM (Supporting Information Fig S7). All consequent in vitro assays were performed using fourfold the IC50 to ensured eradication of all NCAM+ cells in the culture. WT cell death was significantly higher following application of lorvotuzumab-mertansine in comparison to treatment with the unconjugated antibody (HuN901) or with saline only (Fig 5A). To examine whether lorvotuzumab-mertansine targeted preferentially NCAM-expressing cells within the W011 Xn cell populations, we compared NCAM expression in untreated and treated W011 cell populations by FACS analysis. These experiments were conducted using the allophycocyanin (APC)-labeled anti-NCAM (anti-CD56) antibody MEM188 that binds to an epitope that is not blocked by HuN901 antibody binding. We observed a dramatic reduction in NCAM expression after treatment of W011 cells with lorvotuzumab-mertansine from 42 to 5% (Fig 5B). In accordance, there was a significant reduction in colony forming capacity of the WT cell cultures following treatment (Fig 5Ca) and fewer cells per colony (Fig 5Ca lower panel and 5Cb). These results suggested that lorvotuzumab-mertansine specifically targets the NCAM+ WT cell fraction. We next examined the anti-tumour activity of lorvotuzumab-mertansine on WT subcutaneous xenograft models in NOD/SCID mice. We utilized four xenograft sources established in 60 mice, three of which (W011 Xn, W013 Xn and W014 Xn) with high NCAM expression levels (HNWT), with an average of 90, 72 and 84% positive cells, respectively, and one (W016 Xn) with a relatively low NCAM expression level (LNWT) with an average of 50% NCAM-positive cells. For the initial experiments mice bearing tumours of each tumour type were divided into three treatment groups: (1) high doses of lorvotuzumab-mertansine (360 µg DM1/kg or 18 mg conjugate/kg); (2) low doses of lorvotuzumab-mertansine (180 µg DM1/kg or 9 mg conjugate/kg); (3) saline control. All groups were treated intravenously once a week for three consecutive weeks and monitored for tumour growth once-twice a week. Preliminary results determined the optimal dose (360 µg DM1/kg or 18 mg conjugate/kg), which was used in all subsequent larger scale experiments. To determine the effect of lorvotuzumab-mertansine on both HNWT and LNWT, mice were randomized into saline treated and lorvotuzumab-mertansine treated groups (Fig 5D). In the control mice (n = 9) injected with saline, both HNWT and LNWT tumours grew in an exponential pattern. A complete to nearly complete regression of tumours was observed in mice bearing HNWT (n = 10) after 3 weeks of lorvotuzumab-mertansine injections (Fig 5Da). In treated mice bearing LNWT (n = 4), we detected an initial significant reduction of tumour size (>50%) followed by a plateau, possibly due to residual NCAM− cells that remained post treatment but lacked WT-initiating activity and hence failed to resume tumour growth (Fig 5Db). We next randomized mice bearing palpable tumours into three treatment groups: (1) lorvotuzumab-mertansine (360 µg DM1/kg; n = 15); (2) unconjugated antibody (HuN901-13.3 µg/kg; n = 12); (3) saline as a control (n = 11). Tumour treated with lorvotuzumab-mertansine were completely eradicated following 3 weeks of treatment while tumours treated with HuN901 or saline showed rapid tumour growth (Fig 5Ea). Comparison of mice weights revealed that while weight increased dramatically in both saline and unconjugated Ab treatment groups as a result of rapid tumour growth, immunoconjugate treated mice underwent weight loss during the first 2 weeks following total eradication of the tumours. However, in the 3rd week weights stabilized, indicating the lack of toxic effects caused by the treatment (Fig 5Eb). Intriguingly, of all mice treated with lorvotuzumab-mertansine two tumours relapsed after response. FACS analysis of NCAM and ALDH1 levels in these tumours revealed the presence of a NCAM+ALDH1+ cell population, possibly explaining their re-appearance (Supporting Information Fig S8). Treatment of these relapsed tumours with lorvotuzumab-mertansine at the initial dose (360 µg DM1/kg or 18 mg conjugate/kg) resulted in their complete eradication.