The isolation and characterization of renal cancer initiating cells from human Wilms' tumour xenografts unveils new therapeutic targets.
Bottom Line: The existence of cancer initiating cells/cancer stem cells (CIC/CSC) in paediatric solid tumours is currently unclear.WT CSCs, which can be further enriched by aldehyde dehydrogenase activity, overexpressed renal stemness and genes linked to poor patient prognosis, showed preferential protein expression of phosphorylated PKB/Akt and strong reduction of the miR-200 family.The existence of CIC/CSCs in WT provides new therapeutic targets.
Affiliation: Pediatric Stem Cell Research Institute, Edmond and LiliSafra Children's Hospital, Sheba Medical Center, Ramat-Gan, Israel.
Show MeSH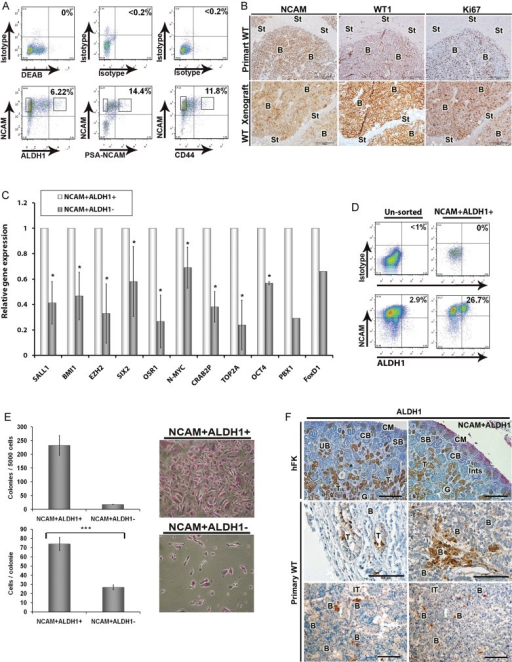 © Copyright Policy - open-access
License
getmorefigures.php?uid=PMC3569651&req=5
Mentions: Since the NCAM+ population is expanded in p-WT Xn, we sought to determine an additional marker to improve the definition of CICs within the NCAM+ population. We therefore analysed the expression of additional surface molecules in p-WT Xn cells by FACS. This survey revealed that PSA-NCAM (PSA), the embryonic form of NCAM (10%; Roth et al, 1988a, b) as well as CD44 (10–20%) and aldehyde dehydrogenase (ALDH1) activity (4–10%), that have recently emerged as markers for CIC/CSC in several malignancies (Al-Hajj et al, 2003; Ginestier et al, 2007) were solely contained within the NCAM+ cell population (Fig 3A and Supporting Information Fig S4). We therefore initially isolated NCAM+PSA-NCAM+ or NCAM+CD44+ cell fractions from p-WT Xn by sorting and analysed their tumour initiating capabilities in mice as well as additional stemness characteristics. We found that these cell fractions did not enrich for WT-initiating activity/CSCs within the NCAM+ WT cells (Table 3 and Supporting Information Fig S4). We next sorted p-WT Xn according to NCAM expression and ALDH1 activity to generate NCAM+ALDH1+versus NCAM+ALDH1− cell fractions. In contrast to PSA-NCAM or CD44, NCAM+ALDH1+ cells reduced the number of p-WT Xn cells required to initiate tumours in mice to as few as 200, while NCAM+ALDH1− cells lacked this ability, (Table 3). Histology and immunohistochemistry revealed that these tumours recapitulated the tri-phasic WT phenotype and demonstrated widespread expression of the cell proliferation marker Ki-67 (Fig 3B). qRT-PCR of NCAM+ALDH1+ cells demonstrated, in addition to their highly enriched WT-initiating activity, significant elevation of early renal progenitor transcripts, stemness factors and WT poor prognostic factors compared to NCAM+ALDH1− cells (Fig 3C), indicating that this smaller cell fraction might be responsible for the expression profile observed in the wider NCAM+ cell population confounded by other cell phenotypes (NCAM+ALDH1−). We also observed NCAM+ALDH1+ cells to overexpress PBX1, a renal stromal lineage marker (Schnabel et al, 2003). FACS analysis of tumours that were immediately initiated by NCAM+ALDH1+ cells revealed approximately 20% of ALDH1+ cells (higher percentage than unsorted p-WT Xn cells which contained 4–10% ALDH+ cells) and a large fraction of ALDH1− cells supporting the differentiation capacity of injected ALDH1+ cells. (Fig 3D and Supporting Information Fig S5C). Colony forming assays showed significantly higher number of clones and larger colonies in NCAM+ALDH1+ compared to NCAM+ALDH1− cells in accordance with the CSC phenotype (Fig 3E). In addition, xenograft tumours initiated from NCAM+ALDH1+ cells were further sorted into NCAM+ALDH1+ and NCAM+ALDH1− WT cells and injected to secondary recipients (s.c. in NOD-SCID or NOG mice), in serial dilutions. Consequently, only the NCAM+ALDH1+ were capable of tumour initiation suggestive of their in vivo self-renewal capacity (Table 4). Having elucidated that ALDH1 pinpoints a smaller cell population within the NCAM+ fraction capable of initiating and propagating WT, we immunostained human foetal kidneys and primary WT for NCAM1 and ALDH1 to determine possible lineage relationships. In the human foetal kidney, NCAM1, as previously reported, was found to predominantly localized to the capping mesenchyme of the nephrogenic zone (Roth et al, 1988a, b). In contrast, ALDH1 localizes to mature tubules and is absent from the nephrogenic zone in the human foetal kidney (Fig 3F upper panel), while in WT it shares localization in both distinct cells of blastema as well as differentiated tubular elements (Fig 3F, lower panels). Thus, while NCAM is likely to serve as the onco-developmental marker of WT CIC, ALDH1 may be most relevant to the CIC phenotype (Armstrong et al, 2004; Chen et al, 2009; Ginestier et al, 2007; Ma et al, 2008; Metsuyanim et al, 2009; Roth et al, 1988a, b) with no specific connection to nephrogenesis.