The isolation and characterization of renal cancer initiating cells from human Wilms' tumour xenografts unveils new therapeutic targets.
Bottom Line: The existence of cancer initiating cells/cancer stem cells (CIC/CSC) in paediatric solid tumours is currently unclear.WT CSCs, which can be further enriched by aldehyde dehydrogenase activity, overexpressed renal stemness and genes linked to poor patient prognosis, showed preferential protein expression of phosphorylated PKB/Akt and strong reduction of the miR-200 family.The existence of CIC/CSCs in WT provides new therapeutic targets.
Affiliation: Pediatric Stem Cell Research Institute, Edmond and LiliSafra Children's Hospital, Sheba Medical Center, Ramat-Gan, Israel.
Show MeSH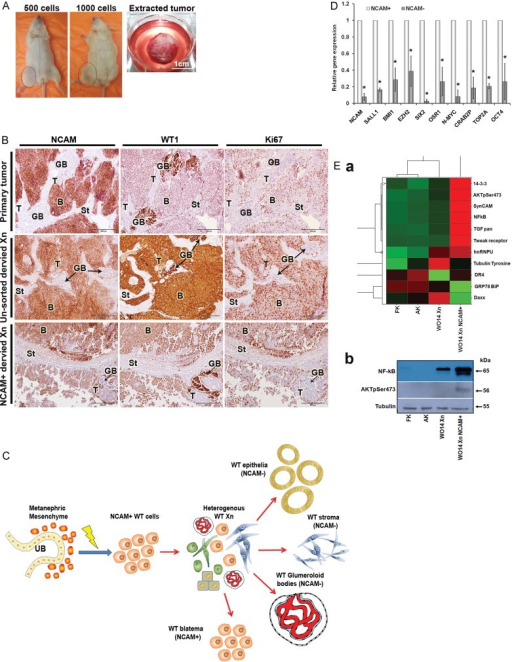 © Copyright Policy - open-access
License
getmorefigures.php?uid=PMC3569651&req=5
Mentions: Human CICs can be functionally identified by immunosorting according to surface markers followed by transplantation in mice in limiting dilutions (Al-Hajj et al, 2003; Clarke et al, 2006; Lapidot et al, 1994; Pode-Shakked et al, 2009). Taking into account our previous findings (Pode-Shakked et al, 2009) and the results described above, we reasoned that NCAM+ cells may play a role in WT Xn initiation and propagation. We therefore sorted p-WT Xn cells into NCAM-positive and NCAM-negative cell populations (Fig S3B). We then injected serial dilutions of pure cell fractions into the right (NCAM+) and left (NCAM−) flanks of NOD/SCID mice. Strikingly, only the NCAM+ fraction was able to form tumours in NOD/SCID mice (Fig 2A). Moreover, as few as 500 NCAM+ cells were sufficient to initiate tumours, in comparison with >104 unsorted p-WT Xn cells required for Xn initiation (Table 3). The tumours generated from NCAM+ cells could be further propagated upon serial transplantation in NOD/SCID mice (currently generation 5), while histology and immunostaining of these tumours disclosed a blastema compartment that expressed NCAM, but also NCAM− differentiated epithelial-like structures and glumeruloid bodies, recapitulating the histology of both the parental WT and the p-WT Xn from which they were derived (Fig 2B). Thus, the NCAM+ cell fraction is enriched for WT-initiating activity and also contains CSC properties of differentiation and self-renewal (Clarke et al, 2006; Reya et al, 2001). Characterization of this fraction by qRT-PCR showed significant elevation of early renal progenitor transcripts (SIX2, OSR1, SALL1), stemness factors (BMI1, EZH2, OCT4) and WT poor prognostic factors (TOP2A, N-MYC, CRAB2P) compared to NCAM− cells (Fig 2D). Furthermore, the enriched WT-initiating activity of NCAM+ cells might be related to specific biological pathways. We therefore performed a panorama antibody array (725 validated antibodies that detect proteins associated with a variety of key cell signaling and gene regulation pathways) on extracts of p-WT Xns early after initiation by sorted NCAM+ cells, un-sorted p-WT Xn and normal kidneys (Supporting Information Table S4). We considered differentially expressed proteins only when at least a fivefold change appeared among samples. For most proteins, there was little difference in expression; nevertheless, we detected a small subset of proteins preferentially activated in NCAM+ derived tumours and confirmed by Western blot (Fig 2E). Strikingly, in addition to the up-regulation of NF-κB, among other signaling molecules, we specifically detected up-regulation of Ser473-phosphorylated Akt (AKTpSer473), which suggests AKT signaling might contribute to the function of CICs in WT Xn. (More information on the unique properties of NCAM+ cells is presented in Supporting Information Movies S1, S2, Table S4 and Fig S3C).