Cardiomyocyte proliferation and progenitor cell recruitment underlie therapeutic regeneration after myocardial infarction in the adult mouse heart.
Bottom Line: After MI, new cardiomyocytes arise from both progenitors as well as pre-existing cardiomyocytes.Transplantation of CDCs upregulates host cardiomyocyte cycling and recruitment of endogenous progenitors, while boosting heart function and increasing viable myocardium.The observed phenomena cannot be explained by cardiomyocyte polyploidization, bi/multinucleation, cell fusion or DNA repair.
Affiliation: Cedars-Sinai Heart Institute, Los Angeles, CA, USA.
Show MeSH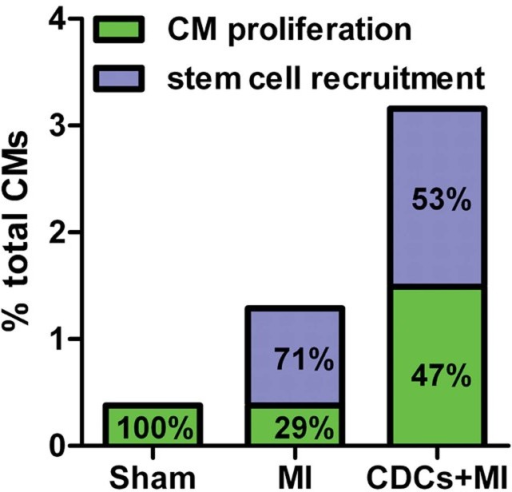 © Copyright Policy - open-access
License
getmorefigures.php?uid=PMC3569637&req=5
Mentions: We have attempted to determine the absolute rates and relative contributions of cardiomyocyte proliferation and cardiomyogenic differentiation of endogenous stem cells to myocyte replenishment in the normal, infarcted and cell-treated adult mammalian heart (Fig 11). Three aspects of our findings are notable. First, we demonstrate that myocyte replenishment occurs almost exclusively through proliferation of small mononucleated adult cardiomyocytes in the normal adult mouse heart, without any measurable contributions by endogenous progenitors [in agreement with some previous reports (Hsieh et al, 2007), but not others (Hosoda et al, 2009)]. We estimate an annual endogenous cardiomyocyte turnover of 1.3% (if we consider all cases of binucleation and polyploidization as instances where cell cycle is activated abortively) to 4% (if we consider all measured DNA synthesis as formation of new myocytes). The reported basal rate is comparable with that of some previous studies in mice (Soonpaa & Field, 1997) and humans (Bergmann et al, 2009), but contrasts starkly with other studies reporting either zero (Walsh et al, 2010) or very high rates of cardiomyogenesis (Kajstura et al, 2010) in the adult mammalian heart. The small but measurable level of resident cardiomyocyte cycling helps to rationalize the inability of the mammalian heart to undergo robust spontaneous regeneration, while raising hope that the endogenous regenerative potential could be amplified by therapeutic interventions. Second, we show that, after MI, cardiomyocyte cycling increases in the infarct border zone [confirming previous reports in mice (Hesse et al, 2012) and in humans (Beltrami et al, 2001)], but now differentiation of recruited stem cells becomes the dominant mechanism of cardiomyocyte replacement (in agreement with Hsieh et al, 2007 and Loffredo et al, 2011). Third, the most striking and surprising finding is the ability of cell therapy with CDCs, indirectly, to boost both cardiomyocyte proliferation as well as myocyte replenishment by recruited endogenous stem cells (Fig 11). This finding is in agreement with two recently published studies: one showing that cell therapy can indirectly increase the contribution of host progenitors to the myocyte pool (Loffredo et al, 2011) and another showing that therapeutic exploitation of the combination of enhanced stem cell recruitment and cardiomyocyte cell cycle induction results in increased myocardial renewal after MI (Zaruba et al, 2012). Two other studies have used the same fate mapping model to investigate postnatal cardiomyogenesis (Hsieh et al, 2007; Loffredo et al, 2011); however, they were designed primarily to detect contributions by endogenous progenitors to the myocyte pool, not proliferation of resident myocytes. In agreement with the previous studies, we find that endogenous progenitors do not replenish myocytes in the normal heart, but contribute to new myocyte formation post-MI (Hsieh et al, 2007), and this phenomenon can be amplified by cell therapy (Loffredo et al, 2011). The present work extends the previous studies by reporting that fate-mapped pre-existing resident cardiomyocytes contribute to new myocyte formation in the normal heart. We also demonstrate a substantial contribution of myocyte proliferation to the generation of new myocytes post-MI, a process that can be amplified after cell therapy with CDCs. The different results regarding the extent of resident cardiomyocyte proliferation in the normal, infarcted and cell-treated heart between our study and previous ones (Hsieh et al, 2007; Loffredo et al, 2011) can likely be attributed to: (a) the use of conventional histology in those studies to identify BrdU+ resident cardiomyocytes, a method that has been shown to be problematic for identification of cardiomyocyte nuclei (Ang et al, 2010); (b) the relatively short period of BrdU pulsing (1 week) in those studies, which decreases the likelihood of detecting rare events (like incorporation of BrdU into cardiomyocytes). Ultimately, newer techniques (Steinhauser et al, 2012) may provide additional insight into the relative contributions of the various cardiomyocyte replenishment mechanisms.