The neural basis of nonvisual object recognition memory in the rat.
Bottom Line: The hippocampal findings prompted Experiment 2.Across two replications, no evidence was found that hippocampal lesions impair nonvisual object recognition.These findings reveal a network of linked c-fos activations that share superficial features with those associated with visual recognition but differ in the fine details; for example, in the locus of the perirhinal cortex activation.
Affiliation: School of Psychology, Cardiff University, Cardiff, Wales, UK.
Show MeSH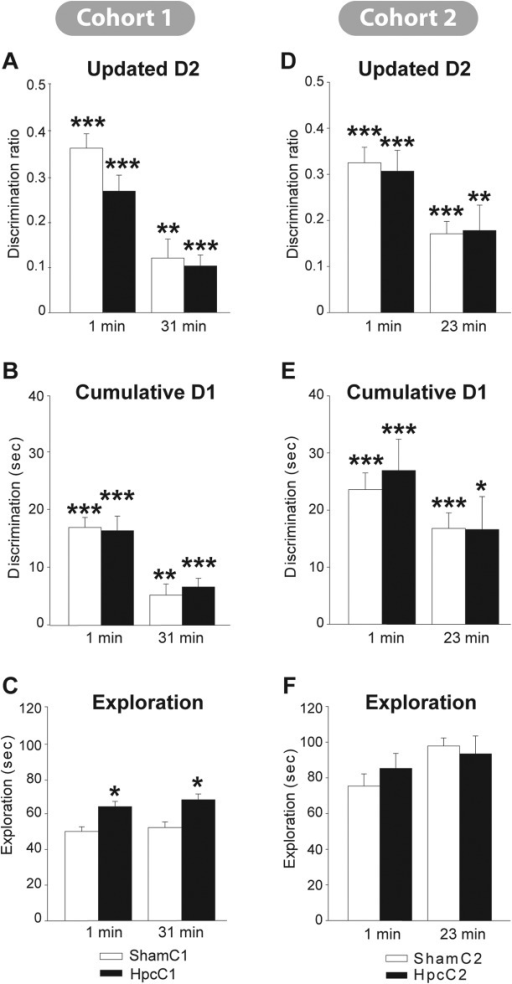 © Copyright Policy - open-access
getmorefigures.php?uid=PMC3569044&req=5
Mentions: Cohort 1: The recognition scores of the two surgical groups were first compared using the "updated" D2 score across the 10 trials of Phase 1 (1 min retention) and the 10 trials of Phase 2 (31 min retention delay). A mixed Anova showed that performance declined between the 1 min and 31 min delay conditions, F(1, 37) = 56.8, p < .001 (see Figure 6), but that the scores of the HpcC1 and ShamC1 groups did not differ, F < 1, and there was no interaction between group and delay condition, F(1, 37) = 2.05, p = .16. One-sample t tests (one-tailed) confirmed that both groups performed above chance in both test phases. For the one minute condition all Group D1 and D2 scores were above chance, all p < .001. For the delay condition the scores were lower but still above chance, D2, ShamC1 p = .005, HpcC1 p < .001; D1, ShamC1 p = .008, HpcC1 p < .001. Comparisons based on the "cumulative" D1 scores (see Figure 6) again found no evidence of an effect of surgical group, F < 1, a very clear effect of retention delay, F(1, 37) = 38.4, p < .001, but no interaction with delay, F < 1. The final analyses concerned the total object exploration times for Phases 1 and 2 (see Figure 6). While these exploration times did not differ across the two Phases, F(1, 37) = 1.17, p = .29, the HpcC1 rats showed higher overall levels of object exploration, F(1, 37) = 21.4, p < .001. There was no interaction between test phase and surgical group, F < 1.