The creation of such courses is challenging due to the students' different backgrounds and also because systems biology has roots in an unusually wide variety of parent disciplines, which no student can fully master... We believe that this default solution is not always optimal and that it is much more important instead to instill in students a 'feel' for biological systems and for models that can be used to explore them. 'Instilling a feel' may not sound scientifically rigorous, but the ability to gauge the complexity of a system, without executing a formal analysis, is arguably more beneficial to next-generation molecular biologists than mastery of selected techniques of systems analysis... Because CF is strongly affected by random events like infections, we introduced concepts of stochasticity, progressively weaned the students off PLAS, and offered Matlab instruction on a need-to-know basis, for instance, with pre-formulated code for parameter estimation... For the remaining third of the semester, the students were charged with developing either extensions of the original model or new models of particular aspects of CF... According to all metrics, the students were overwhelmingly positive about the course, except that they had missed a textbook as resource; in the future, we will use... Moreover, the experimentalists were eager to have students from the class work with them... With respect to instilling a 'feel for systems and models,' nothing is special about CF, and future courses will focus on other diseases or fundamental processes in biology... The syllabus for the completed course and further details can be found in Supplementary information... The Supplements contain a file that can be copied into the software PLAS and used to explore the system described in the text... Second, it contains a few selected modeling results... Finally, this section contains the syllabus of the course that is described in the text, and which we taught in the Fall of 2011.
Show MeSH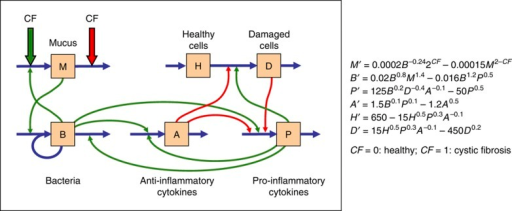 © Copyright Policy - open-access
License
getmorefigures.php?uid=PMC3472690&req=5
Mentions: We started with a general introduction, followed by a class on CF, taught by an expert biologist. Directly afterwards, we introduced a simple dynamic model of CF (Figure 1), without offering details on ordinary differential equations (ODEs), except for their functionality. We suggested using the freeware PLAS ( http://enzymology.fc.ul.pt/software/plas), which permits ODE simulations and analyses with minimal overhead. The students learned immediately that the prepared model, like all initial models of complex systems, was greatly abstracted and simplified, that it captured some aspects of CF but was certain to fail in others, and that modeling is an iterative process that starts simple and becomes more realistic over time. Importantly, the students experienced, from the first week on, and through targeted, open-ended homework assignments, how to implement changes in the model, such as killing bacteria or treating patients with anti-inflammatory cytokines. After setting the stage, we taught classes on model diagnostics, features of ODE models, parameter estimation, and other aspects of dynamical systems. All topics were reinforced with homework assignments, which were formulated within the context of CF wherever feasible. We also discussed literature studies on CF and taught strategies for reviewing experimental and modeling articles. Throughout the semester, the students presented their findings to the class.