The changing privacy landscape in the era of big data.
For example, we recently demonstrated that it is possible to use non-DNA-based information such as RNA abundance measurements to infer a DNA-based barcode that is sufficiently specific to resolve an individual's identity in a collection of hundreds of millions of individual genotypic profiles obtained in a completely different context... Genomic information has been the main focus of past debates on the protection of privacy and is subject to more legal regulations than other forms of high-dimensional molecular data such as RNA levels... For example, public databases make genome-scale RNA abundance profiles available to anyone with an internet connection... DNA barcodes could in principle be generated from these public data sets, screened against DNA databases kept by government agencies to identify DNA samples associated with, say, an unsolved crime or a terrorist training camp... It is even not outside the realm of possibilities that just as we derived a genotypic barcode from RNA, so we may be able to derive a barcode from facial parameters by matching facial heritable information—cranial and facial morphological features, morphological features of your ears, skin pigmentation, eye color, iris structure, hair type, hair color—to genomes... Direct to consumer genomics companies such as 23andMe may perhaps have a valuable educational role in this context, by enabling anyone to interact with and explore directly their own genomic data, their ancestry, and how others may use their data in the future (from diagnosis to advertising)... More and more patients want to share their data with others, to further enable the scientific community to solve problems relating to their condition without being unnecessarily hampered by restrictive rules that prevent, in the name of privacy, a patient from benefiting more directly from data they contribute... As big data on individuals becomes more openly accessible, legislative bodies must also be appropriately educated on the consequences of this evolution and expected to enact laws that protect individuals from discrimination based upon their personal information... In the United States, the Genetic Information Nondiscrimination Act and Americans with Disabilities Act provide for many such protections, but as patients become more empowered to share their data to achieve greater medical benefit from it, and as we move to more seamlessly map between DNA and more easily acquired high-dimensional phenotypic data to predict with greater ease a greater diversity of human behaviors and disease risks, laws must also evolve to ensure that the rights of patients are protected... The shift to a more open personal data environment and a greater participation of informed patients will thus need to be accompanied by stricter and broader anti-discrimination regulations... I believe that enforcing such laws will be the condition for our societies to respect individual rights while benefiting from the tremendous potential of big data more openly shared in the life sciences and medicine.
Show MeSH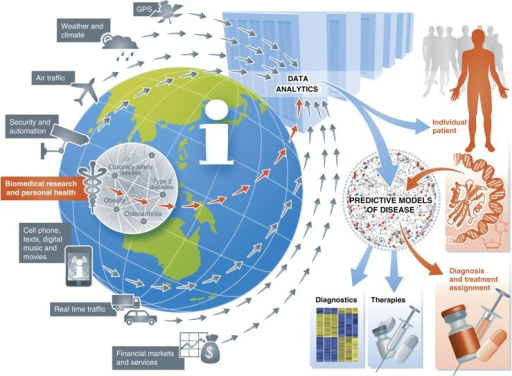 © Copyright Policy - open-access
License
getmorefigures.php?uid=PMC3472686&req=5
Mentions: Thirty years ago, it was relatively easy to protect one's privacy and remain anonymous. Few computerized systems existed to store our personal information, the internet was so primitive that most were not even aware it existed, and only a few thousand individuals were privileged enough to own a handheld cellular phone. Fast forward to our current day and life—everything has changed. Rapid electronic transactions among individuals and between individuals and entire communities occur on an unprecedented scale, our life stream is continuously digitized and archived—GPS positioning information, cell phone calls, text messages, credit card purchases, e-mails, online social network chatter and even our electronic medical records (Figure 1). In fact, today the marketing department of your neighborhood Target can know before you that your own daughter is pregnant, given changes in purchase patterns (Duhigg, 2012). Long gone are the days of anonymity and privacy.