Proteomic analysis of α4β1 integrin adhesion complexes reveals α-subunit-dependent protein recruitment.
Bottom Line: Here, we report the isolation of ligand-induced adhesion complexes associated with wild-type α4β1 integrin, an activated α4β1 variant in the absence of the α cytoplasmic domain (X4C0), and a chimeric α4β1 variant with α5 leg and cytoplasmic domains (α4Pα5L), and the cataloguing of their proteomes by MS.Furthermore, we demonstrate colocalization of MYO18A with active integrin in migrating cells.These datasets provide a resource for future studies of integrin receptor-specific signaling events.
Affiliation: Wellcome Trust Centre for Cell-Matrix Research, Faculty of Life Sciences, University of Manchester, Manchester, UK.
Show MeSH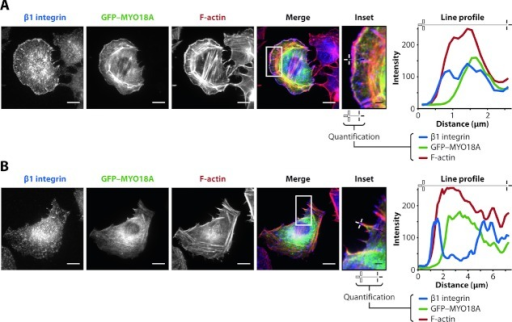 © Copyright Policy - open-access
License
getmorefigures.php?uid=PMC3472074&req=5
Mentions: To demonstrate the relevance of the data to adhesion biology, and as proof-of-principle that the datasets provide a resource that can be mined to guide future investigations, we validated the subcellular localization of a novel adhesion complex component identified in this study. We noted above that actomyosin components were enriched using K562-X4C0 cells (Fig. 1H). Several myosin chains were enriched using K562-X4C0 cells (Supporting Information Fig. S5), but none were identified in the interaction network analysis, possibly due to uncharacterized protein–protein interactions that are not present in the interactome. MYO18A (also known as myosin XVIIIA, MysPDZ, SPR210, or MAJN), which has not been previously reported in adhesion complexes, was only enriched using K562-X4C0 cells. To investigate the association of MYO18A in the context of active integrin, which the X4C0 molecule mimics, we transfected green fluorescent protein (GFP)–MYO18A (gift from K. Sutoh, University of Tokyo, Tokyo, Japan) into B16-F10 mouse melanoma cells, which express α4β1 integrin and are an established model for cancer metastasis, a process in which active integrin plays a role. An unconventional myosin, MYO18A has a PDZ scaffold module and an ATP-insensitive actin-binding site [29]. B16-F10 cells spread on VCAM-1 formed actin stress fibers and, as expected, we observed colocalization of MYO18A with F-actin by immunofluorescence (Fig. 3) [29, 30]. Interestingly, using an activation-specific anti-integrin monoclonal antibody, we observed colocalization of MYO18A and F-actin with active β1 integrin at membrane ruffles, which are characteristic features of many migrating cells (Fig. 3A). At putative retraction fibers at the cell trailing edge, MYO18A colocalized with F-actin that was extending to an integrin plaque, but MYO18A staining did not overlap with that of active β1 integrin, suggesting a distinct but connected localization along these cytoskeletal structures (Fig. 3B). MYO18A has been shown to localize to membrane ruffles in epidermoid carcinoma cells, where it binds to p21-activated kinase (PAK)-2 through the PAK-interacting exchange factor-G-protein-coupled receptor kinase-interactor-1 complex to regulate membrane ruffle formation, adhesion complex turnover, actin cytoskeleton reorganization, and cell migration [31]. Furthermore, a recent study in B cells identified MYO18A as a binding partner for ezrin [32]. As for MYO18A, ezrin (EZR) was specifically enriched using K562-X4C0 cells in this study (Fig. 2). The role of ezrin in linking the plasma membrane to the actin cytoskeleton raises the intriguing possibility that ezrin may connect MYO18A to sites of integrin adhesion. Thus, MYO18A may play an important role in mediating cell migration through association with integrin heterodimer-specific adhesion complexes. Understanding the exact contribution of these molecules to cell adhesion processes requires further investigation.