Plasmodium subtilisin-like protease 1 (SUB1): insights into the active-site structure, specificity and function of a pan-malaria drug target.
Bottom Line: Our results reveal a number of unusual features of the SUB1 substrate binding cleft, including a requirement to interact with both prime and non-prime side residues of the substrate recognition motif.Cleavage of conserved parasite substrates is mediated by SUB1 in all parasite species examined, and the importance of this is supported by evidence for species-specific co-evolution of protease and substrates.Two peptidyl alpha-ketoamides based on an authentic PfSUB1 substrate inhibit all SUB1 orthologues examined, with inhibitory potency enhanced by the presence of a carboxyl moiety designed to introduce prime side interactions with the protease.
Affiliation: Division of Parasitology, MRC National Institute for Medical Research (NIMR), Mill Hill, London NW7 1AA, UK.
Show MeSH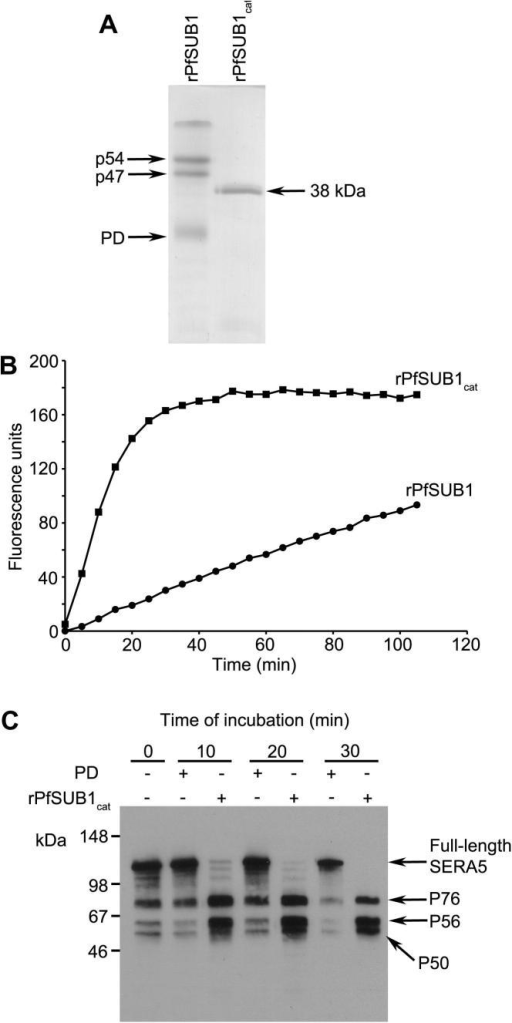 © Copyright Policy
License
getmorefigures.php?uid=PMC3378952&req=5
Mentions: PfSUB1 is synthesised as a ∼82 kDa precursor zymogen which undergoes maturation in two sequential processing steps, both involving truncation from the N-terminus of the protein. In the first step, autocatalytic cleavage occurs at an internal 213LVSAD ↓ NIDIS222 motif to produce a p54 species plus the PD, which remains in a tight complex with p54 and is a potent inhibitor of the cognate enzyme, as is common for subtilases (Sajid et al., 2000; Withers-Martinez et al., 2002). In the second processing step, further cleavage takes place at Asp249 to produce the p47 form, which accumulates in exonemes in the parasite. Both processing steps are recapitulated upon expression of rPfSUB1 in insect cells, but because the second step only takes place to a limited degree, the protein is secreted in the form of a heterogeneous mixture of the three products (Withers-Martinez et al., 2002). Both internal processing sites lie some distance N-terminal to the start of the PfSUB1 catalytic domain as defined by homology with bacterial subfamily S8A subtilisins, and therefore both p54 and p47 possess long N-terminal extensions of unknown function, as well as an unusual 26-residue C-terminal extension (Withers-Martinez et al., 2002). Previous attempts to obtain enzymatically active rPfSUB1 by expression of the predicted catalytic domain alone have proved unsuccessful, as expected (not shown) since the great majority of subtilisin-like enzymes absolutely require the PD for correct folding of the catalytic domain (Shinde and Thomas, 2011). We reasoned that, given the structural similarity of the PfSUB1 catalytic domain to the bacterial subfamily S8A subtilisins, it might be possible to use limited proteolytic digestion to convert insect cell-derived p54/p47 to a 'core' globular species comprising only the catalytic domain. This would provide a means to assess whether the catalytic domain of PfSUB1 possesses all of the structural determinants necessary for activity and substrate specificity. Purified rPfSUB1 was subjected to limited proteolytic digestion with trypsin, pancreatic elastase (data not shown) or chymotrypsin, then re-purified. As shown in Fig. 1A, chymotrypsin treatment efficiently and reproducibly converted the rPfSUB1 to a soluble, homogeneous ∼38 kDa product (named rPfSUB1cat), with a concomitant decrease in levels of the associated inhibitory PD (which was largely degraded by the treatment). Consistent with this, rPfSUB1cat exhibited substantially increased proteolytic activity (Fig. 1B) whilst retaining its substrate specificity, as shown by examination of cleavage of both fluorogenic peptide substrates and unlabelled peptides (not shown), plus parasite-derived SERA5, an authentic protein substrate (Fig. 1C). N-terminal sequencing of rPfSUB1cat gave homogeneous signals corresponding to the sequence Ser-Arg-Pro-Gly-Lys in the first five cycles of Edman degradation, unambiguously assigning its N-terminus as Ser328 (Supplementary Fig. S1). Electrospray mass spectrometric analysis of rPfSUB1cat in the absence or presence of 100 mM DTT produced signals at m/z 38,328.3 and 38,333.5, respectively. This corresponds closely to PfSUB1 sequence extending from Ser328 to Tyr671 (calculated m/z 38,328.2 if six of the seven Cys residues are engaged in disulphide bonds, or m/z 38,334.2 in fully reduced form). This sequence is only slightly longer than that encompassed by our original homology model based on bacterial subtilisin catalytic domains (Phe339-Asn662; Supplementary Fig. S1) (Withers-Martinez et al., 2002). These results strongly suggest that all the structural features responsible for PfSUB1 activity and substrate specificity reside within the core catalytic domain of the protein.