DNA methylation profiling reveals a predominant immune component in breast cancers.
Bottom Line: Understanding this diversity is essential to improving diagnosis and optimizing treatment.By means of DNA methylation profiling of 248 breast tissues, we have highlighted the existence of previously unrecognized breast cancer groups that go beyond the currently known 'expression subtypes'.Further, we highlighted a set of immune genes having high prognostic value in specific tumour categories.
Affiliation: Laboratory of Cancer Epigenetics, Faculty of Medicine, Université Libre de Bruxelles, Brussels, Belgium.
Show MeSH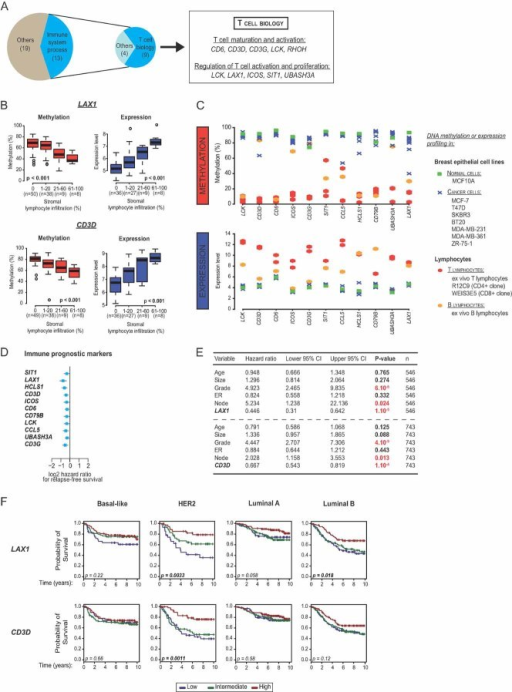 © Copyright Policy
getmorefigures.php?uid=PMC3377115&req=5
Mentions: We then sought to assess the clinical relevance of the above-mentioned epigenetic changes in breast carcinogenesis. To this end, we performed an univariate survival analysis of all 6,309 CpGs identified in this study (i.e. as being differentially methylated between normal breast samples and tumours). As suspected, our main set appeared too small to allow interpretable results (Table SXXIII of Supporting Information). We therefore turned to the more abundant gene expression data publicly available and selected only untreated patients in order to evaluate the true prognostic value of biomarkers (between 730 and 952 samples, depending on the gene considered; Table SXXIV of Supporting Information). We selected 55 genes (see Supplemental Materials and Methods Section of Supporting Information) showing a strong anti-correlation between their methylation and expression status, and subjected them to a univariate Cox regression analysis. Strikingly, no less than 32 of these genes (58%) emerged as significant prognostic markers (Table SXXV of Supporting Information). Furthermore, 13 of the 32 genes are involved in immunity and 9, particularly, in T lymphocyte biology (CD3D, CD3G, CD6, LCK, LAX1, SIT1, RHOH, UBASH3A and ICOS; Fig 6A). To our knowledge several of them, like for example LAX1, SIT1, or UBASH3A, have never been highlighted before as survival markers in breast cancer. Consistently with the data presented in Fig 5D–F, low methylation of the above genes correlated with high lymphocyte infiltration (except for RHOH and BST2, so these were not subsequently considered; Fig 6B; Table SXXVI of Supporting Information). When looking at the expression levels of these genes, the opposite was found, that is, high gene expression correlated with high lymphocyte infiltration (Fig 6B; Table SXXVII of Supporting Information). This anti-correlation between the methylation and expression status of the immune genes was also found in breast epithelial cell lines as well as in ex vivo lymphocytes and T lymphoid cell lines, as determined by DNA methylation and gene expression profiling (Fig 6C). This is in keeping with the strong anti-correlation observed between methylation and expression status of these genes in the whole tumour samples (Table SXIX of Supporting Information). Furthermore, some of these genes (CD3D, CD3G, ICOS and UBASH3A) appeared highly methylated in ex vivo B lymphocytes and not in T lymphocytes samples (Fig 6C), again indicating that the observed lymphocyte infiltration mostly involves T lymphocytes, as suggested in Fig 6A.