DNA methylation profiling reveals a predominant immune component in breast cancers.
Bottom Line: Understanding this diversity is essential to improving diagnosis and optimizing treatment.By means of DNA methylation profiling of 248 breast tissues, we have highlighted the existence of previously unrecognized breast cancer groups that go beyond the currently known 'expression subtypes'.Further, we highlighted a set of immune genes having high prognostic value in specific tumour categories.
Affiliation: Laboratory of Cancer Epigenetics, Faculty of Medicine, Université Libre de Bruxelles, Brussels, Belgium.
Show MeSH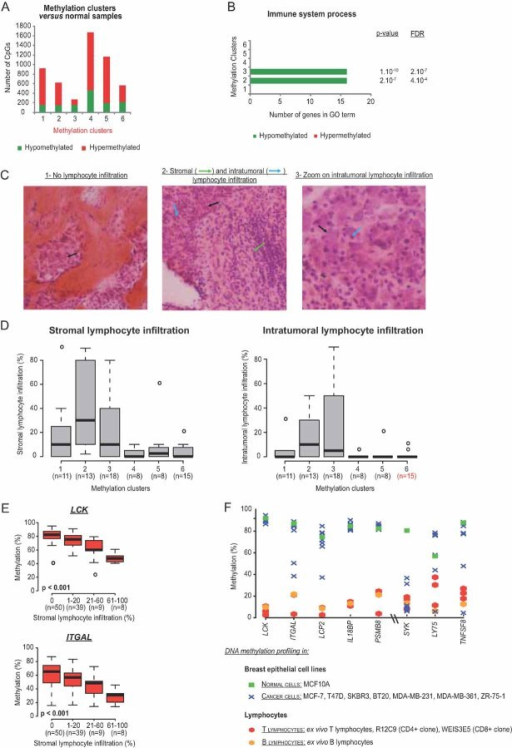 © Copyright Policy
getmorefigures.php?uid=PMC3377115&req=5
Mentions: Next, to further probe the biological significance of our six clusters, we quantified the number of differentially methylated targets (as compared to normal samples) characterizing each of the above clusters in the main set (see Supplemental Materials and Methods Section of Supporting Information). The number of targets was found to vary greatly between clusters, being lowest for cluster 3 (276 CpGs) and highest for cluster 4 (1,378 CpGs; Fig 5A; Table SXVIII of Supporting Information). We then performed a gene ontology (GO) analysis focusing on the genes in each cluster showing both differential methylation (as compared to normal samples) and a significant anti-correlation between methylation and expression (Tables SXIX, SXX and SXXI of Supporting Information). This revealed differential methylation of several genes involved in immunity, with different clusters showing distinct 'epigenetic immune profiles' (Fig 5B). In particular, tumours of clusters 2 (HER2-enriched) and 3 (basal-like-enriched) showed hypomethylation of several immune genes (Fig 5B). Because in this study we considered whole tumour tissues, our samples were constituted principally of epithelial cells, but also of cells from the surrounding stroma, including immune cells. Hence, we hypothesized that the observed hypomethylation of immune genes in clusters 2 and 3 indicated an infiltration of these tumours by immune cells, such as lymphocytes. This hypothesis proved correct. As shown in Fig 5C, we performed histological analysis, as previously described (Denkert et al, 2010), to determine stromal and intratumoural lymphocyte infiltration. Remarkably, the tumours of clusters 2 and 3 were much more infiltrated by lymphocytes than those of the other clusters (Fig 5D). Furthermore, the methylation status of most of the immune genes highlighted by the GO analysis correlated inversely with the level of lymphocyte infiltration (Fig 5E; Table SXXII of Supporting Information). In addition, DNA methylation profiling of normal and breast cancer epithelial cell lines as well as ex vivo T and B lymphocytes and lymphoid cell lines revealed that a high number of the studied immune genes were highly methylated in breast cancer and normal epithelial cell lines but barely methylated in lymphocytes (Fig 5F; Fig S13 of Supporting Information). These data strongly suggest that hypomethylation of immune genes detected in cluster-2 and -3 tumours reflects the cell-type composition of the tumour microenvironment, and in particular a lymphocyte infiltration of these tumours. A closer look at these genes revealed, in cluster 2, hypomethylation of genes involved in T cell biology, e.g. genes encoding T cell markers, like the CD6 antigen and T cell activation markers, like the LCK tyrosine kinase or the PTPN22 tyrosine phosphatase involved in T cell receptor signalling (Salmond et al, 2009; Wu et al, 2006) (Table SXXI of Supporting Information). These data might indicate that cluster-2 tumours, more readily than those of the other clusters, induce an antitumour T-cell response, with mobilization of T lymphocytes in the neoplastic environment.