Combined genomic and phenotype screening reveals secretory factor SPINK1 as an invasion and survival factor associated with patient prognosis in breast cancer.
Bottom Line: In ER- cases, the prognostic effect did not reach statistical significance.However, down-regulation of SPINK1 resulted in cell death.Intriguingly, these anti-apoptotic effects of SPINK1 were abrogated by mutations of its protease inhibition domain.
Affiliation: Cancer Biology and Pharmacology, Genome Institute of Singapore.
Show MeSH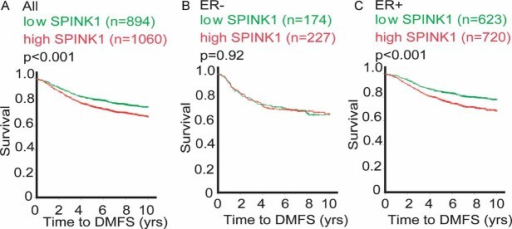 © Copyright Policy
getmorefigures.php?uid=PMC3377086&req=5
Mentions: To study the association of SPINK1 with prognosis in specific subtypes of breast cancer classified by Perou et al (Perou et al, 2000), we extended the analyses to a 'mega cohort' of 2034 publicly available breast cancer expression profiles from 14 independent cohorts (Table S2 of Supporting information; Chin & Gray, 2008; Desmedt et al, 2007; Ivshina et al, 2006; Loi et al, 2007, 2008; Miller et al, 2005; Minn et al, 2005, 2007; Pawitan et al, 2005; Schmidt et al, 2008; Wang et al, 2005; Yau et al, 2007; Zhang et al, 2009). We found that SPINK1 expression was linearly associated with poor DMFS in ER+ patients (p < 0.001), but did not significantly correlate with the survival of the ER-negative (ER−) group (Fig 2). However, stratification of ER− patients into deciles based on the intensity of SPINK1 expression showed that very high SPINK1 levels marginally displayed a minor trend towards poor prognosis in ER− patients (Fig S1 of Supporting information). This suggests that SPINK1 exerts its greatest differential impact on ER+ cancers, with only marginal effect on ER− breast cancers. Interestingly, the impact of SPINK1 on prognosis was highest in the less aggressive clinical subsets of breast cancer (ER+/LN−, Table 1), Further, we studied if SPINK1 was a predictor of outcome or distinguished any intrinsic subtypes within the ER+ tumours. We analysed SPINK1 expression–survival associations in LumA, LumB, Normal-like, HER2-enriched, No Subtype and Basal-like groups, within ER+ breast cancer only (Table 2). By Cox analysis, in the Normal-like ER+ tumours, SPINK1 expression was significantly correlated with DMFS (p = 0.02), while positive trends for association were observed in both LumA and 'No Subtype' ER+ cases (p = 0.10 and 0.13, respectively). In the LumB ER+ subgroup, the Cox p-value was 0.62 which essentially argued no survival association. Together, these observations suggest that SPINK1 along with ER status was an important predictor of outcome irrespective of further sub-classification into intrinsic subtypes. SPINK1 did not show differential expression between ER+ and ER− samples, nor was its expression biased in any intrinsic molecular subtypes of breast cancer (Fig S2 of Supporting information). This is consistent with the notion that the SPINK1 association with survival is not a function of differential expression in the different tumour subtypes.