Non-canonical functions of the tuberous sclerosis complex-Rheb signalling axis.
Bottom Line: The protein products of the tuberous sclerosis complex (TSC) genes, TSC1 and TSC2, form a complex, which inhibits the small G-protein, Ras homolog enriched in brain (Rheb).The vast majority of research regarding these proteins has focused on mammalian Target of Rapamycin (mTOR), a target of Rheb.We present evidence that such non-canonical functions of the TSC-Rheb signalling network exist, propose a standard of evidence for these non-canonical functions, and discuss their potential clinical and therapeutic implications for patients with TSC and lymphangioleiomyomatosis (LAM).
Affiliation: Division of Pulmonary and Critical Care Medicine, Brigham and Women's Hospital and Harvard Medical School, Boston, MA, USA.
Show MeSH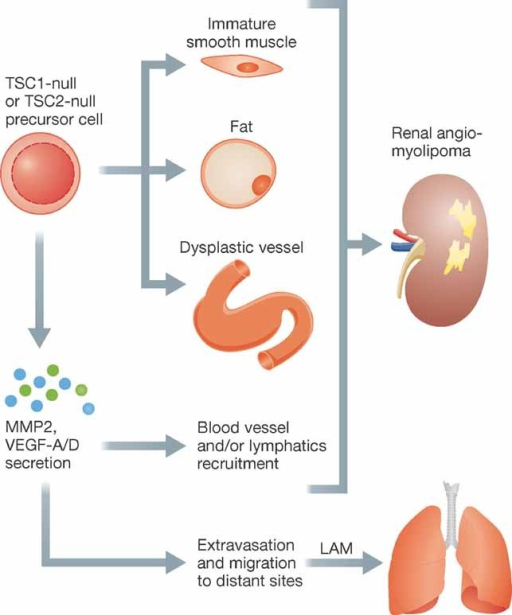 © Copyright Policy
getmorefigures.php?uid=PMC3377068&req=5
Mentions: Few, if any, human diseases rival the diversity of clinical manifestations of TSC. TSC can impact nearly every organ system in humans with potentially life-threatening consequences in the brain, heart, lung and kidney (Fig 1). In addition to the development of multiple tumours, most individuals with TSC have seizures during childhood (often with onset in infancy), and about 50% of TSC patients have cognitive defects including autism and intellectual disability. The tumours in TSC are historically classified as hamartomas. Hamartomas are benign focal malformations composed of tissue elements normally found at the site of growth, but developing in a disorganized mass. While some of the lesions in TSC seem to fit this definition, such as cerebral cortical tubers, cardiac rhabdomyomas and epithelial renal cysts, some of the other manifestations of TSC, do not seem to arise from normal tissue elements. For example, renal angiomyolipomas are composed of tri-lineage mesenchymal cells that do not have an obvious relationship to the normal cellular elements of the kidney (Fig 2), and pulmonary LAM cells express smooth muscle and neuronal markers in contrast to the lung epithelium in which they reside. Furthermore, all three lineages within angiomyolipomas arise from a common precursor cell, suggesting that tumours in TSC exhibit cell fate plasticity and, therefore, do not fit the classic definition of a hamartoma. Finally, while the vast majority of tumours in TSC are histologically benign and do not generally metastasize, there are two notable exceptions. First, the smooth muscle-like cells of pulmonary LAM, while histologically benign, are believed to metastasize to the lungs through an as-yet-unknown mechanism. Second, children and adults with TSC can develop renal cell carcinomas, malignant angiomyolipomas and mesenchymal lesions, termed PEComas (Crino et al, 2006; Folpe & Kwiatkowski, 2010; Henske, 2004; Linehan et al, 2010; Yu & Henske, 2010). While these clearly malignant lesions are rare, they underscore the diversity of clinical manifestations of TSC and further distinguish TSC from a true 'hamartomatous' disorder.