Diverging fates of cells of origin in acute and chronic leukaemia.
Bottom Line: During disease-maintenance, CML LT-HSCs persist to function as cancer stem cells (CSCs) that maintain leukaemia and require signalling by the transcription factor STAT5.In contrast, B-ALL LT-HSCs differentiate into CSCs that correspond to pro-B cells.This transition step requires a transient IL-7 signal and is lost in IL-7Rα-deficient cells.
Affiliation: Research Institute of Molecular Pathology (I.M.P.), Vienna, Austria. boris.kovacic@vetmeduni.ac.at
Show MeSH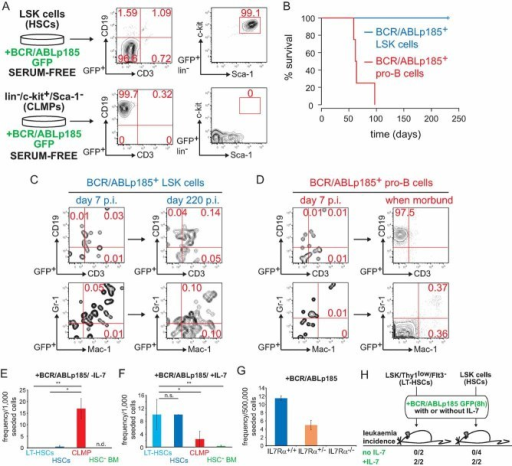 © Copyright Policy
getmorefigures.php?uid=PMC3376859&req=5
Mentions: Transduction of BCR/ABLp210 into LT-HSCs, but not in their more mature populations, induced CML in vivo (Huntly et al, 2004). However, propagation of BCR/ABLp210-transduced BM cells on IL-7-producing stromal cells selectively yields weakly tumourigenic pro-B cells (Williams et al, 2006, 2007). To investigate whether BCR/ABLp185 alone—or in combination with microenvironmental cues—accounts for the differentiation of HSCs into pro-B cells, we infected purified HSCs with BCR/ABLp185 in absence of SCF, IL-3, IL-6 and IL-7 (Fig 3A). After 28 days in vitro, the resulting cells proliferated and were composed of lin−/c-kit+/Sca-1+ cells, indicative of HSCs (Fig 3A, upper panels). However, when we analysed lin−/c-kit+/Sca-1− cells (CLMPs) infected under similar conditions, we obtained CD19+ pro-B cells after 4 weeks (Fig 3A, lower panels). This indicates that HSCs, but not CLMPs, require additional cytokine signals to induce B-ALL. We next evaluated the potential of these in vitro generated cells to form leukaemia in mice. BCR/ABLp185+ HSC-like cells failed to induce leukaemia in sub-lethally irradiated mice (Fig 3B, n = 5). Interestingly, they contributed to all haematopoietic lineages (Fig 3C). In contrast, BCR/ABLp185+ pro-B cells induced B-ALL in recipient mice (Fig 3D, n = 4). These results demonstrate that a differentiation signal is required for BCR/ABLp185-transformed HSCs to develop their tumourigenic potential. To test whether IL-7 is the cytokine required, we compared the transforming capacity of BCR/ABLp185 in LT-HSCs, HSCs, CLMPs and HSC-depleted BM cells in the presence and absence of IL-7. BCR/ABLp185 induced a transformation of CLMPs in absence of IL-7 (Fig 3E), reflecting our findings in Fig 3A. Interestingly, we obtained no colonies from LT-HSCs. To more closely mimic in vivo conditions, we next added IL-7 during BCR/ABLp185-transformation. Now, the frequency of factor-independent colonies was the highest after transformation of LT-HSCs and/or HSCs (Fig 3F), which was in line with our results obtained in vivo (Fig 1A). Importantly, these differences could not be accounted to different transduction rates in the respective target cell populations (Supporting Information Fig S3A–C). However, we found that about ∼2% of all HSCs and 4% of all CLMPs expressed IL-7Rα on their surface (Supporting Information Fig S3D and E). Thus, it is possible that CLMPs are transformable in absence of cytokines (Fig 3A and E) because they might have received IL-7-signals from the BM-niche (Kondo et al, 1997), whereas LT-HSCs might have not. To further substantiate that IL-7-signalling is essential for BCR/ABLp185-transformation, we compared the potential of wildtype, IL-7Rα+/− and IL-7Rα−/− BM cells to form factor-independent colonies. Compared to wild type cells, IL-7Rα+/− BM cells showed a reduction in their transformation ability, whereas the IL-7Rα−/− BM cells completely failed to form colonies in vitro (Fig 3G).