Tumour growth inhibition and anti-metastatic activity of a mutated furin-resistant Semaphorin 3E isoform.
Bottom Line: Uncl-Sema3E also acts independently as a potent anti-angiogenic factor.It activates a PlexinD1-mediated signalling cascade in endothelial cells that leads to the inhibition of adhesion to extracellular matrix, directional migration and cell survival.In summary, we conclude that Uncl-Sema3E is a novel inhibitor of tumour angiogenesis and growth that concomitantly hampers metastatic spreading.
Affiliation: Institute for Cancer Research and Treatment (IRCC), University of Torino Medical School, Candiolo, Italy.
Show MeSH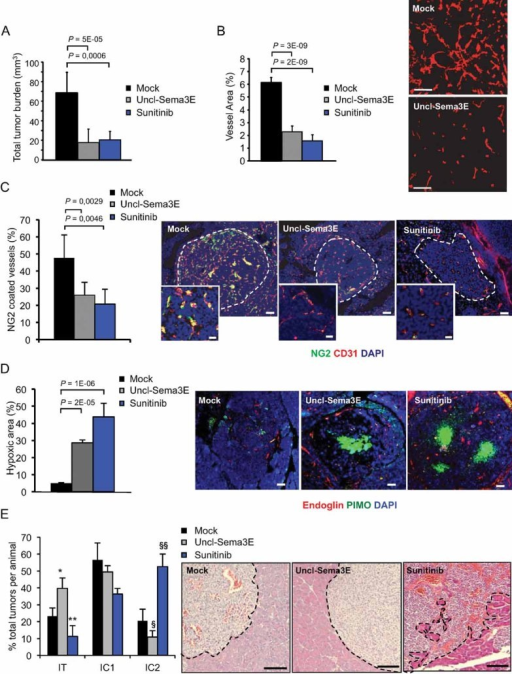 © Copyright Policy
getmorefigures.php?uid=PMC3376853&req=5
Mentions: RIP-Tag2 (RT2) transgenic mice are a very well characterized and stereotyped model of pancreatic neuroendocrine spontaneous tumorigenesis (Hanahan, 1985). These mice develop islet carcinomas in a multi-step process characterized by the temporal appearance of distinctive lesions, including hyperplasia, followed by the so-called 'angiogenic switch' in the angiogenic islets, eventually accompanied by sporadic appearance of multiple tumours (Bergers et al, 2000). We therefore subjected tumour-bearing RT2 mice to the local delivery of affinity-purified Uncl-Sema3E (see Supporting Information Fig 8) into the pancreas by means of Alzet osmotic mini-pumps, in order to assess its activity in inhibiting angiogenesis and regressing tumour burden. The treatment with Uncl-Sema3E achieved a remarkable reduction of total tumour burden (Fig 7A) as well as of the average number of tumour foci (unpublished observation) compared to control-treated mice, while tumour cell proliferation was not significantly affected (Supporting Information Fig 9A). Importantly, the tumour vessel area was dramatically reduced (Fig 7B), vessel coverage was impaired (Fig 7C and Supporting Information Fig 9B) and endothelial cell apoptosis was increased (Supporting Information Fig 9C). As expected, the strong anti-angiogenic activity mediated by Uncl-Sema3E caused diffuse tumour hypoxia (Fig 7D). This effect on the primary tumours is comparable to that reported in the literature upon administration of validated vascular endothelial growth factor (VEGF)-targeted anti-angiogenic drugs in the same model (Bergers et al, 2003; Pàez-Ribes et al, 2009) as we confirmed in a series of mice treated in parallel with the tyrosine kinase inhibitor sunitinib (Fig 7A–D). Notably, it was shown that tumour shrinkage and tissue hypoxia generated by vessel disruption can trigger 'escape' mechanisms leading to drug resistance, increased local invasion and metastatic spreading (Casanovas et al, 2005; Ebos et al, 2009; Pàez-Ribes et al, 2009). This was confirmed in our RT2 mice treated with sunitinib, as in fact primary tumours were locally more invasive; in contrast, pancreatic tumours treated with Uncl-Sema3E not only were smaller, but also displayed a partial reduction of local invasiveness compared to controls (Fig 7E). Notably, tissue immunostaining revealed that the receptor PlexinD1 is expressed in both endothelial and tumour cells (Supporting Information Fig 9D) consistent with the idea that Uncl-Sema3E could regulate both cell types. Moreover, while the incidence of tumour-invaded peri-pancreatic lymph nodes as well as the volume of lymphonodal foci was dramatically increased in sunitinib-treated mice, in the presence of Uncl-Sema3E, tumour lymphatic infiltration was not significantly different from controls (Supporting Information Fig 10A). Notably, lymph node infiltration is a common finding in RT2 tumours, while distant liver metastases are observed in only 10–20% of cases (Pàez-Ribes et al, 2009). However, the increased primary tumour invasiveness caused by sunitinib further resulted into the formation of numerous distant metastasis in the liver, consistent with previous findings (Pàez-Ribes et al, 2009); in contrast, this was not observed upon treatment with Uncl-Sema3E, which was occasionally associated with smaller and isolated liver metastasis, as seen in controls (Supporting Information Fig 10B). Altogether, these data indicate that RT2 mice treatment with Uncl-Sema3E achieved striking tumour shrinkage consequent to vessel disruption, which was not associated with increased local invasion and metastatic spreading, as observed for sunitinib and other anti-angiogenic molecules.