Dantrolene rescues arrhythmogenic RYR2 defect in a patient-specific stem cell model of catecholaminergic polymorphic ventricular tachycardia.
Bottom Line: In patient iPSC-derived cardiomyocytes, catecholaminergic stress led to elevated diastolic Ca(2+) concentrations, a reduced SR Ca(2+) content and an increased susceptibility to DADs and arrhythmia as compared to control myocytes.Dantrolene, a drug effective on malignant hyperthermia, restored normal Ca(2+) spark properties and rescued the arrhythmogenic phenotype.Our work provides a new in vitro model to study the pathogenesis of human cardiac arrhythmias and develop novel therapies for CPVT.
Affiliation: Klinikum rechts der Isar, Technische Universität München, I. Medizinische Klinik, Kardiologie, München, Germany.
Show MeSH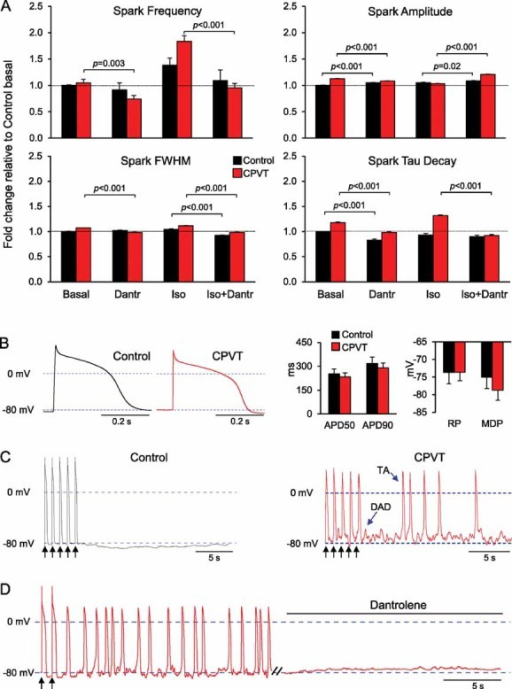 © Copyright Policy
getmorefigures.php?uid=PMC3376852&req=5
Mentions: Two mechanisms have been proposed to explain how CPVT-RYR2 mutations alter the sensitivity of the channel to luminal and/or cytosolic Ca2+ activation, leading to enhanced stress-induced diastolic Ca2+ release: (a) weakening of the interdomain interactions within the RYR2 channels, which destabilizes the closed state ('domain unzipping'; George et al, 2007; Ikemoto & Yamamoto, 2000) and (b) disruption of critical interaction between the RYR2 channels and their modulating proteins (Priori & Chen, 2011; Wehrens et al, 2003). The N-terminal and central regions, although separated by ∼2000 residues in the linear sequence, interact with each other to form a "domain switch" that stabilizes the closed state of RYR channels (Liu et al, 2010; Yamamoto et al, 2000). Disturbance of this interaction leads to a prolongation of Ca2+ sparks (Uchinoumi et al, 2010), as observed in the CPVT myocytes. Docking of the recent crystal structure of RYR1 amino-terminal residues 1–559 into 3D reconstructions from cryo-electron microscopy of RYR1 has suggested that indeed multiple domain-domain interfaces are involved in disruption of Ca2+ regulation by various disease-causing mutations in RYR1 and RYR2 (Tung et al, 2010). Similar modelling for the N-terminal region of RYR2 has revealed that the S406L mutation is indeed located at the interface between two domains (Fig S5 of Supporting information). Thus, 'domain unzipping' is likely to be the pathomechanism of this mutation. To further verify this hypothesis, we investigated whether dantrolene, which is believed to stabilize the 'domain switch' by binding to a N-terminal sequence of skeletal and cardiac RYRs (Kobayashi et al, 2005, 2009, 2010; Paul-Pletzer et al, 2002, 2005; Wang et al, 2011), could suppress the impact of the S406L mutation in CPVT-iPSC-derived myocytes. Treatment with dantrolene restored normal Ca2+ spark properties in CPVT myocytes under basal conditions and corrected S406L-RYR2 hyperactivity induced by adrenergic stimulation, with minimal effects in control cells (Fig 6A). It has been demonstrated that elevated spontaneous Ca2+ release during diastole can be arrhythmogenic by activation of the Na+/Ca2+ exchanger, which generates a transient depolarizing current leading to DADs and triggered activity (TA; Schlotthauer & Bers, 2000). Therefore, we finally examined the incidence of spontaneous DADs/TA in iPSC-derived myocytes by measuring membrane potentials in single ventricular and atrial cells following electrical stimulation (Fig 6B–D and Fig S6 of Supporting information). All investigated cells presented no spontaneous activity before pacing and we did not observe any differences in resting membrane potential nor in the duration of electrically induced action potentials between equivalent subtype of myocytes in control and CPVT groups (Fig 6B and Fig S6C of Supporting information). When stimulated at 1 Hz, 56% of the control ventricular-like myocytes (5:9 cells) and 11% of the control atrial-like cells (1:9 cells) showed no spontaneous after-potentials and maintained stable resting voltage after electric pacing ended (Fig 6C, left, and Fig S6A of Supporting information). However, we observed DADs and TA in 88 and 89% of the ventricular-like and atrial-like CPVT cells, respectively (14:16 ventricular cells, Fig 6C, right; 8:9 atrial cells, Fig S6B of Supporting information). Moreover, when compared to control cells, diseased myocytes exhibited a much higher incidence of spontaneous action potentials after termination of pacing (1.4 ± 0.3/s versus 0.5 ± 0.3/s for ventricular and 1.1 ± 0.3/s versus 0.2 ± 0.1/s for the atrial cells). Interestingly, DADs and triggered arrhythmias were completely abolished by dantrolene treatment in all investigated CPVT cells (Fig 6D and Fig S6B of Supporting information), suggesting that a defective inter-domain interaction within the RYR2 is the underlying arrhythmogenic mechanism of the S406L mutation. Moreover, the rescue of the CPVT-disease phenotype in a patient-specific iPSC-based system by dantrolene provides the first evidence that, as in the case of malignant hyperthermia, correction of defective inter-domain interaction within mutated human RYR2 may represent an effective novel causal therapy for CPVT1.