A new view to intracellular pathogens and host responses in the South of Spain.
Bottom Line: A workshop on 'The Biology of Intracellular Bacterial Pathogens' was held last October in a venue of the International University of Andalusia (UNIA) located in the World Historic Heritage town of Baeza, in the South of Spain.The workshop focused on novel aspects that imprint current research in this discipline, including the heterogeneous behaviour of the pathogen at the population level, the host determinants that modulate susceptibility to the infection, the search for new drugs to combat these particular types of infections and also cutting edge technologies based on new imaging approaches and the use of microfluidics.Discussion on these topics provided new insights into the biology of these pathogens and enriched the field with new ideas for understanding why colonization of the intracellular niche of eukaryotic cells is a preferred strategy used by important human pathogens.
Affiliation: Centro Nacional de Biotecnología (CNB-CSIC), Madrid, Spain. fgportillo@cnb.csic.es
Show MeSH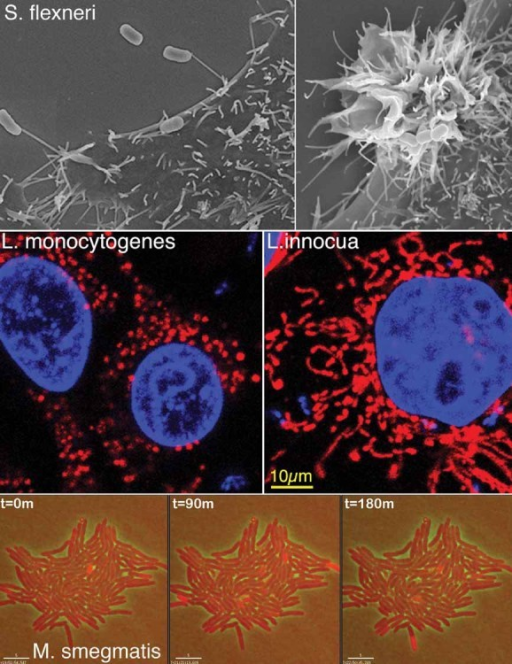 © Copyright Policy
getmorefigures.php?uid=PMC3376848&req=5
Mentions: The two first sessions of the Workshop were dedicated to discuss at the cellular level different aspects of the interaction occurring between intracellular bacteria and the host. Guy Tran Van Nhieu (CIRB, College de France, Paris) described how the human pathogen Shigella flexneri manipulates epithelial cell physiology at the site of bacterial entry. S. flexneri, which is devoid of classical adhesins or invasins at its surface, invades epithelial cells in two phases (Fig 1). The first involves 'capture' of bacteria by nanometer thin micropodial extensions (NMEs) and retraction of the NME to bring bound bacteria in contact with the cell body. The second phase corresponds to the localized membrane ruffling linked to the activity of Shigella type three effectors. Local events spatially restricted to the site of bacterial entry include InsP3 signalling, Ca2+ release from intracellular stores, and Erk1/2 activation in the infected cell, which promote 'NME retraction' and bacterial internalization. Mitochondria located at entry sites also participate in bacterial invasion. Overall, these findings highlighted how pathogens can manipulate processes in specific areas of the cell. Raphael Valdivia (Duke University, North Carolina) described elegant subversion mechanisms of cytoskeletal structures such as actin and intermediate filaments by Chlamydia. These cytoskeleton proteins accumulate around the bacterial inclusion and were proposed to act as a 'corset' preventing leakage of pathogen components in the cytosol of the infected cell. Data were also presented on the effectiveness in controlling infection of peptides that block the action of the important Chlamydia protease CPAF, which cleaves intermediate filaments maintaining vacuole integrity and protects against caspase 1-mediated cell death. A new message of this talk was the apparent 'altruistic' behaviour of reticulate bodies (RB). Some of the RBs eventually lyse and release glycogen and other cellular components to the intra-inclusion lumen to provide RBs in the process of differentiation into infectious elementary bodies (EBs) with the necessary nutrients. The type of decisions directing the fate of some RBs to produce glycogen and others to produce enzymes required to metabolize such polymers remains an interesting subject of study for future research. The talk by Craig Roy (Yale University, New Haven) focused on the elegant mechanisms used by Legionella pneumophila to regulate the activities of host GTPases involved in vesicular trafficking. The effector DrrA, for example, mediates the recruitment and activation of the host GTPase Rab1 to the vacuole containing Legionella. Activation of Rab1 on the plasma membrane-derived vacuole is sufficient to promote the tethering and fusion of vesicles derived from the endoplasmic reticulum by a process that involves non-canonical SNARE interactions. Additionally, the effectors DrrA and AnkX post-translationally modify Rab1 and a related GTPase called Rab35 through the covalent attachment of AMP or phosphocholine residues respectively. This modulates the ability of these GTPases to conduct their normal cellular functions without preventing Rab1-mediated fusion of vesicles with the Legionella-containing vacuole. Thus, precise manipulation of host GTPases by Legionella is a strategy used to convert an endocytic vacuole into a specialized compartment that supports bacterial replication. Thomas F. Meyer (Max Planck Institute for Infection Biology, Berlin) showed recent data obtained upon sRNAi-based screenings designed to unravel host functions that are targeted by a pathogen, during infection. This work has been performed with two relevant human pathogens, influenza A virus (IAV) and Chlamydia trachomatis. Meyer's group discovered that ∼300 human cellular factors could support or antagonize IAV replication. In the case of C. trachomatis, host functions related to inflammation, cytoskeletal dynamics, fatty acid/lipid metabolism, and DNA damage response, were shown to be involved in the infection. Importantly, these studies reveal that a 'host-directed therapy' may be an alternative and effective strategy to combat intracellular infections, minimizing the emergence of microbial resistance. Francisco García-del Portillo (Centro Nacional de Biotecnología-CSIC, Madrid) reported data on how Salmonella controls intracellular proliferation within fibroblasts, a cell type in which this pathogen establishes a persistence state. Data obtained in non-growing intracellular bacteria revealed that the two type-III secretion systems that this pathogen has are temporally regulated in a strictly defined manner inside the fibroblast. Loss of this temporal control results in bacteria that either proliferate or are killed by the host cell. These data highlight how infection may proceed only when factors are put into game in a coordinated fashion by intracellular bacteria at precise times upon colonization of the host cell. William Sullivan (University of California, Santa Cruz) reported interesting aspects of the biology of Wolbachia, an insect and nematode endosymbiont that is inherited via the germ line (oocytes). Wolbachia is transmitted through invertebrates and causes important human diseases such as African River Blindness and Elephantiasis. Using Drosophila as a model, W. Sullivan showed that this bacterium during oogenesis utilizes the host microtubule network and the respective motors to first move to the anterior side of oocytes in a dynein-dependent manner and later to the posterior side using kinesin. Host factors such as Gurken (Grk) are required for Wolbachia proliferation. Both the mRNA and protein forms of this host factor influences Wolbachia titers. The Grk protein acts as a transforming growth factor homolog whereas grk mRNA serves as a platform to assemble a protein complex controlling dorsal/ventral determination in Drosophila. Interestingly, Wolbachia colocalizes with grkRNP complexes. Wolbachia and the host could establish a tight regulatory loop modulated by grkRNP function and the extent at which bacterial proliferate. This was a clear example of how intracellular bacterial pathogens and hosts can reach 'balanced' stages ensuring homeostasis in both partners. Pascale Cossart (Institut Pasteur, Paris) described the key role played by mitochondria in Listeria infection. This organelle 'fragments' upon bacterial infection in a process dependent on listeriolysin-O (LLO) and the uptake of extracellular Ca2+ (Fig 1). Manipulation of the mitochondria status using RNAi against host proteins Mfns and Drp1 affects bacterial infection. In addition, data were presented regarding the role of the Listeria secreted protein LntA in subverting nuclear responses. LntA interacts with BAHD1, a host protein inducing heterochromatin formation. LntA binding to BAHD1 would reprogram the infected cell to up-regulate interferon-lambda (INF-λ) responses and interferon-stimulated genes (ISGs). LntA production must be tightly regulated in vivo since Listeria virulence is attenuated in both ΔlntA bacteria and in variants that overproduce the protein. Altogether, these findings indicate that evolution has probably maintained LntA in pathogenic Listeria to finely tune the host immune response.